Blog
Hydrophobia in Newtown
Published by Brian on Friday 15th April 2022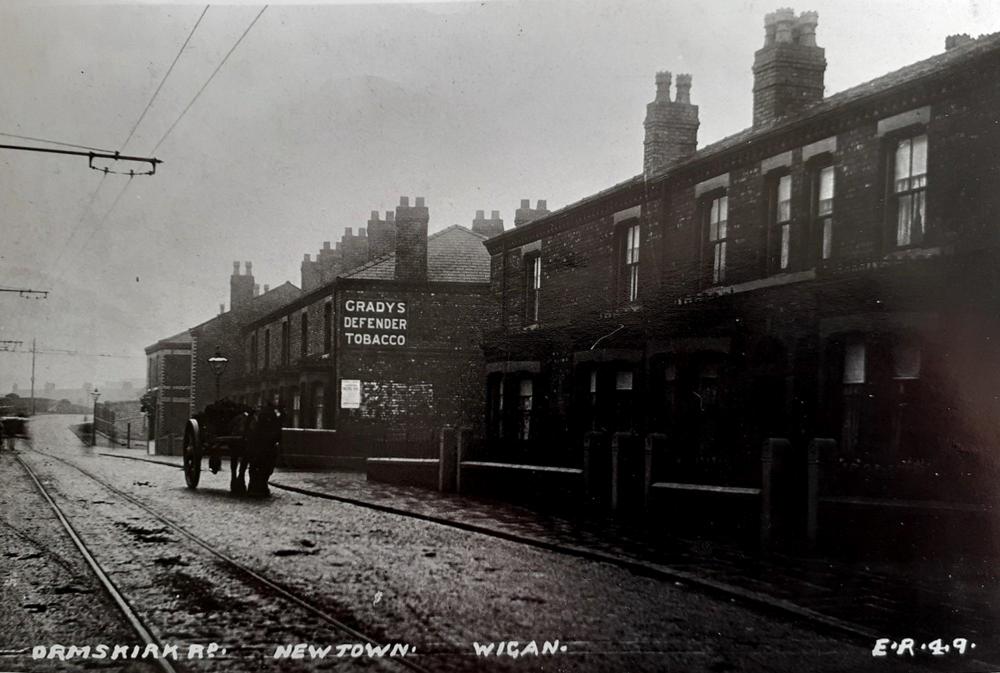 Ormskirk Road, Newtown, where the dog owner lived.
I came across an interesting article about a woman that died from hydrophobia (rabies) in the late 1800s.
It beggars belief, the "supposed dog" was a cross between a retriever and a sheep - lord only knows what kind of dogs were roaming the streets in the past, scary. Here is the article in full.
Wigan Observer and District Advertiser 5th January 1881
DEATH FROM HYDROPHOBIA AT NEWTOWN

  Jane Daniels, wife of James Daniels, colliery engine-man, 20, Albert-street, Newtown, near Wigan, died on Friday night from canine madness. It appears that on the 19th August as Mrs. Daniels was returning home in the evening, after visiting at a neighbour's house, she was attacked by a large black dog - a cross between a sheep and a retriever. She was bitten on the leg just above the ankle, causing a wound about the size of a two shilling piece. She frequently complained of pains in her leg, and a few days afterwards was confined. During her confinement she was attended by Dr. Berry, of Wigan. The woman recovered, and no serious effects were expected from the dog bite. Dr. Berry was again called in on Thursday, when he learned that the woman had become seriously ill the previous day. He found well-marked symptoms of hydrophobia, and treated in the usual course. Dr. Dolan, of London, the well known authority, was telegraphed for, and he and Dr. Tatham, the surgeon for the Wigan Union, also attended the woman on Friday, and pronounced it a decided case of hydrophobia. Everything possible was done for the patient, but she died in the evening. There was a frequent discharge of saliva from the mouth, and she was repeatedly attacked with spasms, especially on liquids being shown to her, but none of the barking spoken of in some cases. She expressed a desire for dry crusts in preference to anything else, and, although she tried to drink water when given to her, she was unable to retain it, and was immediately seized with vomiting.
  The inquest on the body was held on Monday morning at the Bowling Green Inn, Newtown, before Mr. C. E. Driffield, district county coroner. James Daniels said the deceased was his wife, and was forty years of age. On the previous Wednesday she was about the house, but complained greatly of her leg and had to go to bed, which she never left. At night she got worse, and on Thursday evening he called in Dr. Berry, who said that she was suffering from the bite of the dog. Her illness increased and she died on Friday evening about six o'clock. Besides Dr. Berry two other doctors, by his wish, attended her. It was on the 19th August that his wife was bitten, about 9 50 p.m., by a dog belonging to a neighbour. He heard that the dog was destroyed the same day as it bit his wife, and had, he was told, bitten several others. His wife was bitten on the left ankle, but the wound healed up, although she felt pain there from time to time. At the time she was bitten she was within two days of her confinement. She was greatly frightened by the occurrence. Mary Jane Wilson, Hanson-street, Newtown, said on a Thursday night about four months ago she was standing at a neighbour's door in Albert-street, when Mrs. Daniels passed towards her own home. Witness heard a scream and then saw that a large dog had Mrs. Daniels by the ankle. Mrs. Daniels fell, and help coming up, witness who was frightened, rushed inside the house. Afterwards she went in and saw Mrs. Daniels, who did not seem a strong woman. Her leg was then bleeding a great deal. Dr. William Berry, physician and surgeon, Wigan, said he was called to the deceased late at night on the 19th August. She had been bitten severely about the left ankle and was suffering from shock, being near her confinement. The wound healed and he had seen her from time to time since. She was of a nervous temperament, and suffered from her leg a good deal, but did not seem particularly anxious as to any result. He was sent for on Thursday, and his assistant saw her that evening, and himself the following morning. He found all the symptoms of hydrophobia present, and of an aggravated form. He telegraphed for Dr. Dolan, of Halifax and London, and he along with Dr. Tatham and witness saw the case. They agreed as to the line of treatment, but it proved of no avail, and witness was present when deceased died on Friday evening. The death was undoubtedly from hydrophobia, attributable, as he had no doubt, to the effects of the bite received last August. Mrs. Dutton, widow, Ormskirk-road, owner of the dog, or supposed dog, was also called. She stated that her dog certainly slipped his collar on the day named. It was not a ferocious dog, and she had never heard that it had bitten any other people. A constable afterwards told her that Mrs. Daniels wished the dog shot, and she consented. The Coroner said it was a great mistake to have had the dog killed. In all these cases it was most important that the animal should be preserved, of course being properly secured, in order that it might be ascertained whether the dog was suffering from rabies or not. The jury returned a verdict that death resulted from hydrophobia, the effects of a dog bite in August last.