Blog
Wigan Murder, 1925
Published by Brian on Thursday 17th September 2020
Whilst browsing the Wigan chronologies I came across an entry on May 19th, 1925 which read: "James Winstanley, collier, 588, Warrington Road, Goose Green, committed for trial at Chorley Police Court on charge of wilful murder of Edith Horrocks Wilkinson."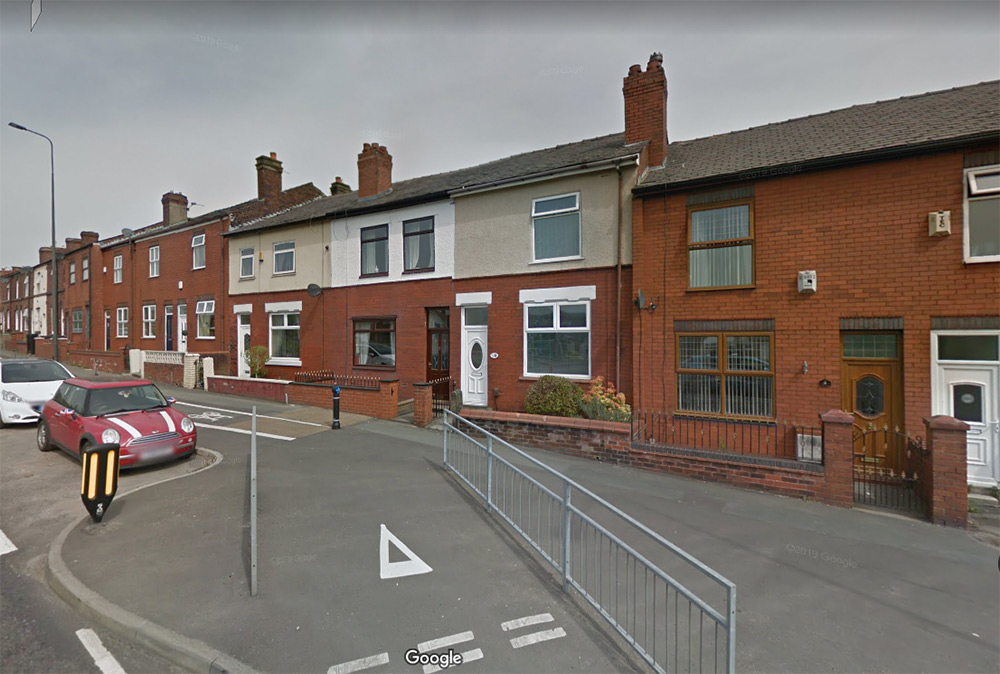 588 Warrington Road (centre), Photo: Google
Exactly one month later, on June 19th, 1925, the entry read: "James Winstanley (29), miner, Goose Green, sentenced to death at Lancaster Assizes for Wilful Murder at Shevington of Edith Horrocks Wilkinson (27), barmaid, employed at Shakespeare Hotel, Wigan."
On July 20th, the entry was "Hearing of Appeal of James Winstanley against sentence of death at Lancaster Assizes."
The appeal against the death sentence failed. On the 5th of August, 1925 the entry read: "Execution of James Winstanley at Walton Gaol."
I read the reports and newspaper articles of the time. Such a sad case.
James Winstanley had known Edith from the age of 16. They dated for a couple of years then Edith met a Mr. Taylor and ended her relationship with James. Edith had a child with Mr. Taylor. For some reason, probably to look for a better life, Mr. Taylor moved abroad, to America. He kept in touch with Edith and even sent her £10 (a lot of money then) so she and their child could travel to America to be with him.
Edith thought about moving to America for many weeks but in the end decided to stay in Wigan. She got back together with James. Unfortunately James' mother died and James became depressed. It was reported at the time that James acted in a "strange manner". Soon after, James murdered Edith by strangulation on the towpath of the Leeds to Liverpool Canal close to the Navigation Inn at Gathurst.
James left a note in Edith's pocket confessing to the murder. When arrested he said "I'm not afraid to die, I can lead you to her body." He was taken to the area and pointed out the where he had dumped her body. He said: "She asked me to do it, so I did, and I would do it again."
I searched the cemetery indexes on wiganworld and found her grave, It was plot number
Q69
at Wigan Cemetery. I tried my best to locate it but alas, I couldn't find it. A few gravestones were missing and some were illegible.
Back then, there were was no forensic evidence, no DNA, no specialist teams… From 19th of May to 5th August (less than 3 months) James was charged, tried, committed and hung. Such a speedy sentence! I don't know the answer here, right or wrong but nowadays, death row inmates usually have 20 to 30 years to appeal.
Comment by: Dave johnson on 26th November 2020 at 14:06
This house is where my mum was born. Jimmy was her uncle and by all accounts Edith was not the angel she was made out to be?
Comment by: Rob Johnson on 28th December 2020 at 16:54
Edith was my Great grandmother. Her daughter (my grandmother) became Edith White and lived happily near us in Winstanley with husband William in the 70's-90's before she moved to Knott end on Sea. Mr Taylor was Percy, he and his brother Bill went to USA and we have extended family there. I know little of Edith Wilkinson as to protect my grandmother the story was kept from her. I do not think that his guilt is in doubt as he confessed to his father when he got home, his father immediately contacted the police, There was speculation about accidental death S&M ETC. Having read a bit about the trial, I think it was probably a crime of passion as she threatened to leave him and perhaps nowadays it would have been manslaughter due to his mental state. I do not believe I am related to Dave Johnson who made the earlier comment
Comment by: rob Johnson on 29th December 2020 at 12:32
Apologies it was Harry Taylor not Percy