Photos of Wigan
Photos of Wigan
Album Contents
Album Contents
Wigan Album
Shops
21 Comments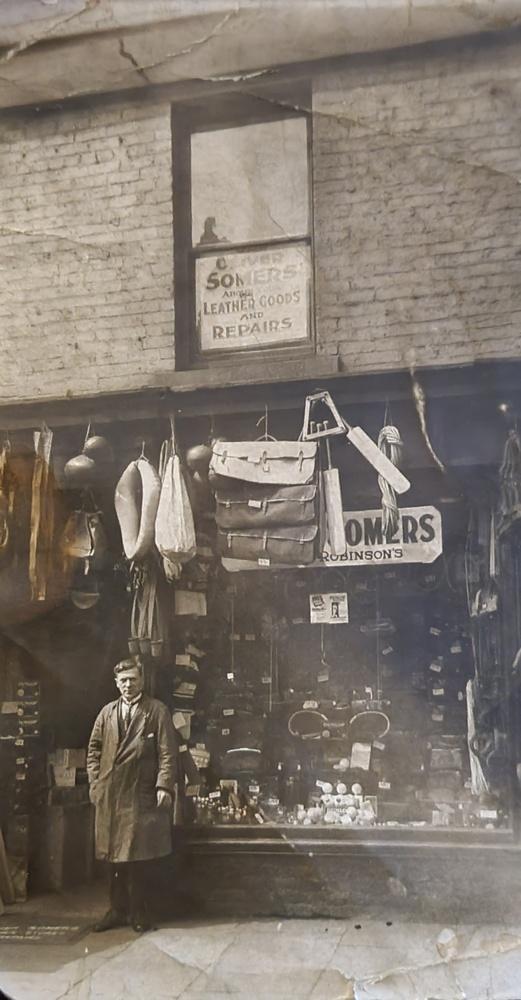 Oliver Somers Shop Mesnes St. c.1920's/1930's
Photo: RON HUNT
Views: 1,871
Item #: 33519
Oliver Somers outside of his shop 1930's. I'm sure every boy in Wigan of a certain age, has bought something from this shop in his youth. From Sports Kits to Air gun pellets.This shop sold them. I used to go in and pick up the UMBRO brochures, showing the different football shirts, of all the Football League clubs Also the brochures showing Dinky Cars. Wish I still had them I bet they are worth a few bob these days..
Thanks to Jennifer McMath, Oliver's granddaughter for the photo.
I got my Brownie Outfit from there in 1960! In later years, I often wondered how many Wigan children were puzzled about how Father Christmas got down their chimney carrying a bike from Oliver Somers'!
Comment by: Ray on 28th January 2022 at 22:35
Irene.... Father Christmas is capable of anything and everything, Surely, You
and me still believe in him. Best regards, Ray.
Comment by: Edna on 28th January 2022 at 22:44
This shop holds a lot of memories for me,Thank you for photo.
Comment by: Poet on 29th January 2022 at 08:35
Football kits were simple affairs then . A red shirt with white trim could be transformed from Man Utd into Liverpool just by swapping white shorts for red .
I remember the bright yellow laces being so long you had to wrap them round the boots to tie them . After a while , with the newness gone , you stopped cleaning the studs after every game . They became encrusted with dry mud which eventually came off in one sole shaped cast with holes in it .
Ray, of course I believe in him! I'm sure you've read Tom Walsh's story of when he was Father Christmas at Lowe's Department Store in Wigan. He asked a little girl what she wanted for Christmas and she crossly informed him that she had already told him in Debenham's! When I worked at Debenhams and we had a grotto with Father Christmas in it, ,the staff always called him "Father Christmas"...."Good morning, Father Christmas", "See you tomorrow, Father Christmas", even when there were no children around to hear us. We just said it naturally, as I think we all believe in him really, so how old we are!
Comment by: Veronica on 29th January 2022 at 09:33
Notice how items are hung high up to deter any tea - leafs. It was always well stocked this shop and up -market. I don't think I ever bought anything from here as I was only into roller skates and skipping ropes and I had a second hand bike. I got my roller skates from Stan's toy shop on Greenough St.
Comment by: Albert.S. on 29th January 2022 at 12:46
Was it J.J. Broughton that were the proprietor's of the sports outfitters in Market Street?.The name seems to have a familiar sound to it.
Comment by: e on 29th January 2022 at 13:41
A smell you can bottle ,
on a mantelpiece save
Like a chamfered worn flagstone , on a memory filled pave ,
You can't tell the young
ones of the richness inside ,
They've not yet smelt the essence of a perfume called Pride ...
Yes, Albert, it was J J Broughton in Market Street, but was it also J J Bradburn at some point? Both names ring a bell with me. xx
Comment by: Albert.S. on 29th January 2022 at 16:31
Now that you have mentioned J.J.Bradburn's, Irene, that is also familiar to me. I may be mistaken, but I seem to recollect a young man, in the Market Street shop, having the first name Stan.
Comment by: Pw on 30th January 2022 at 14:54
Oliver Somers also sold shotguns and they were displayed in the window in the 60's.
Comment by: CJAlan on 1st February 2022 at 06:59
I remember Oliver Somers as a child - didn't the shop eventually close in the 1980s or early 90s????

Interesting mention about OS once selling shotguns - there was a 'bullseye' painted on the elevated wall at the side of the building on Mesnes Street that was there for many years.

I remember it as I once asked my Dad if there was some sort of RAF connection to the premises.
Comment by: Mr X on 3rd February 2022 at 00:25
Weren't there two Oliver Somers shops in Mesnes Street? I remember the one opposite the old Whelans supermarket that became Morrisons with the white Michelin man attached to the first floor window.
Mr X, I think you're right....it was on the opposite side of the road at one time, and I think Robinson's Sports Shop took over the premises when Oliver Somers moved. Robinson's, besides sports goods, also sold beautiful quality leather bags and purses.
Comment by: WN1 Standisher on 3rd February 2022 at 09:15
CJAlan, Mr X. The firearms part of Oliver Somers was taken over by Timothy McAvoy who, when shooting became popular ( ? ), moved to a small shop on the High Street, near the traffic lights in Standish. When it became even more popular, he bought the ex Dog and Partridge pub, round the corner in School Lane and converted that to a gun shop. He's still there today and doing rather well.
Comment by: Albert.S on 3rd February 2022 at 09:40
Just a little deviation. At the end of the row, on the opposite corner from the Market Hotel, there was a jeweller's one wintry night in 1960, a couple of scoundrels did a smash and grab.
Snow was on the ground, Bill Cox, the beat Bobby traced their footprints into Dicconson Street, were he found the two, and arrested them.
There was a notice put up in the Jeweller's window praising the police.
I believe in later years Bill became a superintendent, in Wigan.
Comment by: Veronica on 3rd February 2022 at 12:08
Did Bill Cox come from Wigan Albert? Just asking as I have a lot of Cox ancestry in my family tree. All around Scholes in the 1870's of Irish heritage. My Grt Grandmother was a Cox with a lot of uncles all from Leitrim. William was a name passed down through the generations. One of them was at Spyon
Cop ! Interesting story btw.
Comment by: Albert.S. on 3rd February 2022 at 12:40
Yes he was a Wiganer Veronica. I do believe that he is no longer with us. May he rest in happiness, and peace. Quite a few years ago I met his wife, in Sacred Heart Church, in Blackpool. She was with a party from Wigan, visiting Blackpool. Tom Walsh may know Bill's history.
Comment by: Veronica on 3rd February 2022 at 13:58
Thanks Albert , I'll mention him to Tom next time I hear from him. When I was doing my Family History I knew about the Cox's but didn't realise they came from Ireland, it doesn't sound to be an Irish surname.
my dad Stan had a shop part of Oliver Somers in Market Street at the side of the stairs which went up to the Spiritualist church. We had a small showroom opposite the door to the church, my favourite thing was the mini trampoline
Comment by: P on 12th April 2022 at 12:15
Got my first bike from Oliver Somers .In 1976 during the summer ,it was a raliegh budgie think its the only New bike I've ever owned lol.