Photos of Wigan
Photos of Wigan
Album Contents
Album Contents
Wigan Album
Shops
7 Comments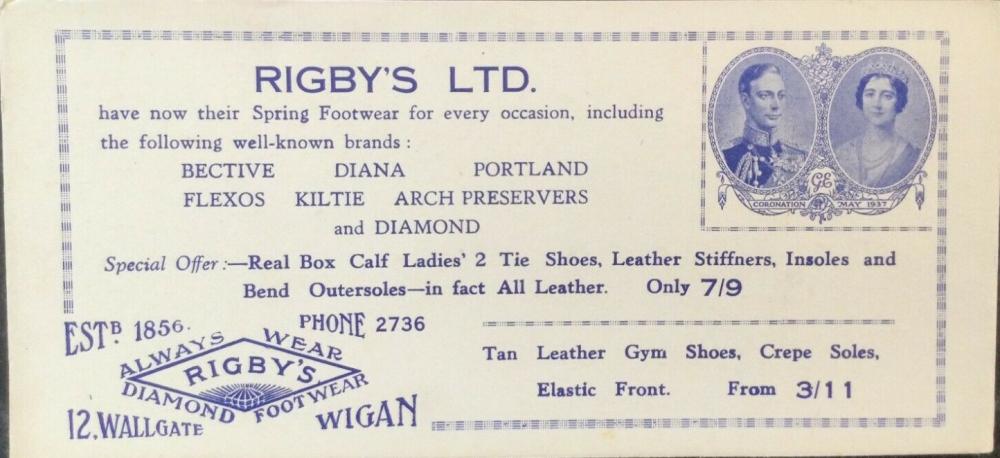 RIGBY'S SHOE SHOP WALLGATE 1937 CORONATION
Photo: RON HUNT
Views: 477
Item #: 33477
A COMMEMORATIVE BLOTTER ISSUED BY RIGBY'S SHOW SHOP WALLGATE FOR THE 1937 CORONATION
Comment by: DerekB on 29th December 2021 at 18:45
Would this be the same Rigby's who until the 70s had a shoe shop at the top of Library St. adjacent to what is now The Moon under Water?
Comment by: Cyril on 29th December 2021 at 20:51
I remember Rigby's shoe shop too Derek and it may well have been the same family business, there's a photo (27314) of it on the Album. https://www.wiganworld.co.uk/album/photo.php?opt=4&id=27314&gallery=LIBRARY+STREET&offset=0
Comment by: Albert.S. on 30th December 2021 at 11:44
Cyril, far be it for me to try to teach anyone as to how to suck eggs, but the simple way that I look for a previous W.W.A. photograph, I go to the top of W.W.A. Where Q search v is. Type in #:27314, and it produces the desired photograph.
Comment by: Cyril on 30th December 2021 at 20:43
Hello Albert, if you are happy doing that then please do carry on, and I do include the number of the photo in the Album for those who choose to do that, but some folks may wish to copy and paste the link I include into their browser bars or if they use Google Chrome browser like I do they can highlight the link and right click to choose to go direct to it, both these open the link to another window without losing the original window they are on. It's just a matter of choice doing what you are happy with. All the best.
Comment by: Albert.S. on 31st December 2021 at 13:08
Thank you Cyril. I am of simple function, as now, shortly becoming eighty eight years of age. At seventy four, I had never been involved in the computer world, and still wouldn't have been, only a friend badgered me into it, for which I am thankful to him.
Comment by: Cyril on 31st December 2021 at 17:43
Good for you Albert, you come across as very competent so your friend must have taught you well, long may you enjoy your computing.
Comment by: Albert.S. on 1st January 2022 at 10:32
Thank you. Very kind words Cyril. May 2022 be everything that you wish for yourself and for your family.