Photos of Wigan
Photos of Wigan
Album Contents
Album Contents
Wigan Album
Newspaper Cutting
10 Comments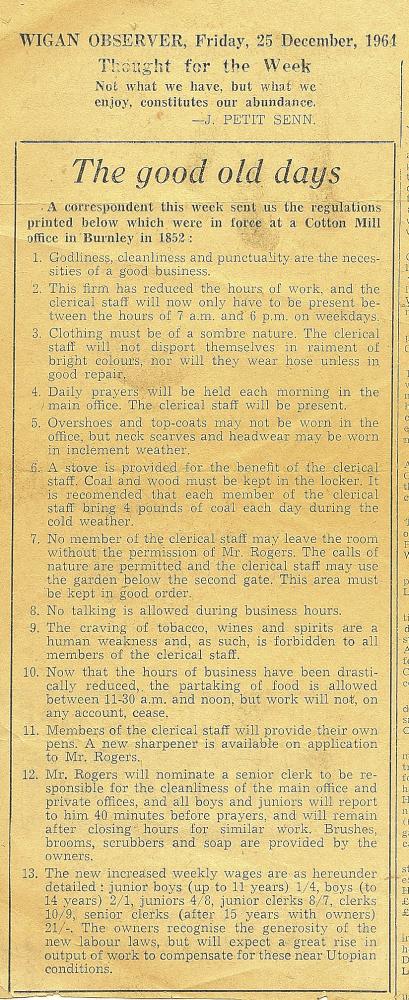 "The Good Old Days" extract -Wigan Observer 1964.
Photo: Barrie.
Views: 643
Item #: 33352
Found this cutting from the "Observer" in Dad's diary for '64 and thought would this be allowed in todays ' world.
Comment by: Cyril on 26th September 2021 at 18:28
Near Utopian conditions? Seems like one step up from the workhouse, I don't know how much 4lbs of coal was then but I'd imagine it would be a big chunk of their wage bringing it in every day in a bad winter, and how did the junior boys manage to bring it in on one shilling and fourpence a week? I can imagine Mr Rogers lording over them and probably had a moustache too that twitched when glaring at them for using too much soap. Like Mickey Finn (James Finlayson in Way Out West) below:
https://upload.wikimedia.org/wikipedia/en/c/ca/JamesFinlaysonPublicityHeadshot.jpg
Comment by: Poet on 27th September 2021 at 09:16
I think we need to be a little cautious with this document . There seems much sarcasm in it . Perhaps a creation of someone who felt the reforms hadn't gone far enough .
Comment by: Roy on 27th September 2021 at 11:47
I totally agree with Poet and MG.
Comment by: Cyril on 27th September 2021 at 13:14
Even if it was written in jest there's some essence of truth about the working conditions, it's a known fact that in cotton mills the gates were closed on the dot and wouldn't be opened even if the gatekeeper saw any employees running along the street, and those employees who were late not only lost a days wage they were also fined for a days wasted steam.

There are some very interesting to read books in the Archives at Leigh, they're records of the harsh conditions and terrible injuries folks working in local mills endured, was it any wonder William Blake called them dark and satanic.
Comment by: Edna on 27th September 2021 at 14:07
It does state that the regulations were in force in a cotton mill office in Burnley in 1852.
Comment by: Veronica on 27th September 2021 at 15:32
Very Charles Dickens... Hard Times, Christmas Carol, Bleak House etc.... perhaps his finger print was on this ....not saying he wrote it mind you. He loved his melodrama, brought up in the shadow of the debtor's prison .......
Comment by: Barrie on 27th September 2021 at 17:30
I chuckle over No.7- Calls of nature coupled with use of the garden!!!
If I remember a few years ago, Channel 4 had a drama based around Quarry Mill in the 1800's and that showed mill workers being locked out if they were late for work so pay was docked. Sure was hard times then.
Comment by: Karen on 27th September 2021 at 17:44
I remember the channel 4 drama,I saw the employees having gruel/,porridge doled out to them in their hands ! Don't know how much poetic licence they used.
Comment by: Albert.S. on 28th September 2021 at 12:13
In this advanced technological age do employees still clock on, and off, using a card inserted into the machine?. Sixty eight years since I last used that system.