Photos of Wigan
Photos of Wigan
Album Contents
Album Contents
Wigan Album
Old Library now the History Museum
15 Comments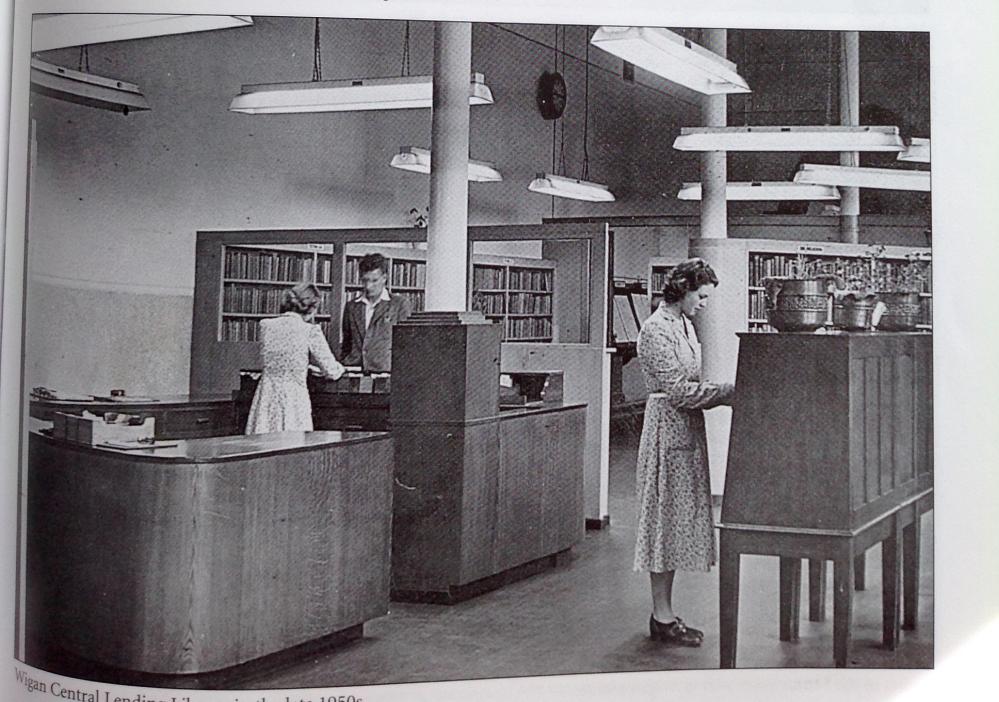 Wigan Library
Photo: Veronica B
Views: 1,010
Item #: 33243
How it used to be in the 50's
I liked libraries back then when you had to be quiet and the staff didn't have a radio playing behind the desk! I loved having my books stamped and still have my cardboard library tickets from Abram Library, (sadly no longer a library.....it is now a Community Centre). I loved the mobile library too, as a child....it used to visit Ince on Tuesdays. I wish I'd kept my tickets from there too!
Comment by: Veronica on 13th August 2021 at 11:23
It's exactly how I remember it when I first joined the library. The assistants with their flowery nylon overalls. You could hear a pin drop, and you whispered when speaking to the assistants. It's hardly recognisable now when you go in the History Museum.
Comment by: Carolaen on 13th August 2021 at 11:24
Lovely picture that brought back many happy memories of the 1960s. I can still remember that sense of growing up when I moved from the Children's Library to the "Adults" as we called it.
On the picture you can see where you handed in your returned books - where the man is. You got your new books stamped out at the front of the desk.

The woman on the right is looking at the directory box which had alphabetical drawers cards indicating the title of the books and the Dewey reference indicating where they would be on the shelves.
Iin front of the reference box (off to the right of the photo) was the record (as in LPs) library, which widened my musical knowledge as the years went by

You can also see in the middle of the photo the broadsheet newspapers on the racks in the reading room next door.

In my minds eye I can still walk ariund evry inch of that Library including the Reference Library upstairs where I used to do some of my homework.
Comment by: Helen of Troy on 13th August 2021 at 12:57
Reminds me of my days working in a Carnegie Library in Kent. It was a lovely building, the main library was sort of round with a central stained glass dome in the roof & a colourful tiled floor.

PS Veronica, the B wouldn't be for Belshaw by any chance ?
Comment by: Veronica on 13th August 2021 at 13:44
I had forgotten about the LP records - I too borrowed them. I distinctly remember borrowing South Pacific, because I had seen the film. I can't remember if you paid to borrow them for small amount. I had a Dansett record player, if the needle was wearing out , I found if I put a piece of soap on the 'arm' it played ok! ... I borrowed others I had never heard of ...there was some high brow LPs but I stuck with recordings of films such as Carousel and Westside Story. I don't think there was any so called 'pop music' .
Comment by: rainh on 13th August 2021 at 13:45
What a wonderful picture this is . We loved going in the library as kids because we had to behave , this gave us all the giggles . Each of us would say shhhh! trying to blame the others , which made us giggle even more . Only when the lady librarian raised her eyebrows did we giggle into some kind of order . Thank you for the lovely memories Veronica .

Oh to be again, to be again , to walk again ....
How we walked ... before ..
Comment by: Veronica on 13th August 2021 at 14:55
No it's not Helen, my surname is of Dutch origin and I get fed up of folk saying
" That's an unusual name - where does it originate?" I feel like a record myself explaining. My maiden name is far more simple... The photos I have put on here are under my Family page and it is Catterall.
Comment by: Helen of Troy on 13th August 2021 at 16:47
Thanks Veronica, its only that I am helping a friend with family history & am looking for a Veronica Riding whose maiden name was Belshaw, she came from Ince.

Now, I'm going to look at your Catterall family photos
Comment by: Elizabeth on 13th August 2021 at 17:41
Veronica,you were lucky to manage to get into the Museum in Wigan,I tried yesterday as the website stated open Thursday to Saturday,but there was a notice on another of the windows saying closed until further notice,staff are dealing with other duties of critical care??!!
Comment by: Veronica on 13th August 2021 at 18:58
That's strange Elizabeth because the 'Life Centre' Library is open.
Comment by: Edna on 13th August 2021 at 22:49
Veronica, to think we used to go down to this library age 11/12 on our own, unheard of today to let a child go such a long way.I loved the library.We thought we were important when we joined.Its there I caught the reading bug.
Comment by: Veronica on 14th August 2021 at 08:04
I agree Edna, the Children's Library on Station Rd was where we went usually on a Saturday morning or in the Summer holidays if it was raining. That's if we weren't going to Scholes Pictures. I felt more grown up joining the Adult Library - no messing about in there.
Comment by: Mick on 14th August 2021 at 12:58
I can remember being in the library when somebody came in on windy day all the books would flutter some of them even falling off the book shelves.
The women librarians always wore long skirts to stop the draught
Comment by: Veronica on 14th August 2021 at 14:01
That might have happened in the Shangri-la library Mick. It didn't happen in Wigan Library the old oak doors prevented any windy blasts, and as you can see those ladylike ladies would not have allowed their skirts to rise above their knees....!
Comment by: Elizabeth on 14th August 2021 at 16:50
I know Veronica,I was surprised about it being closed as I had checked the website beforehand.I think it had been updated in between looking and visiting.