Photos of Wigan
Photos of Wigan
Album Contents
Album Contents
Wigan Album
Central Park
5 Comments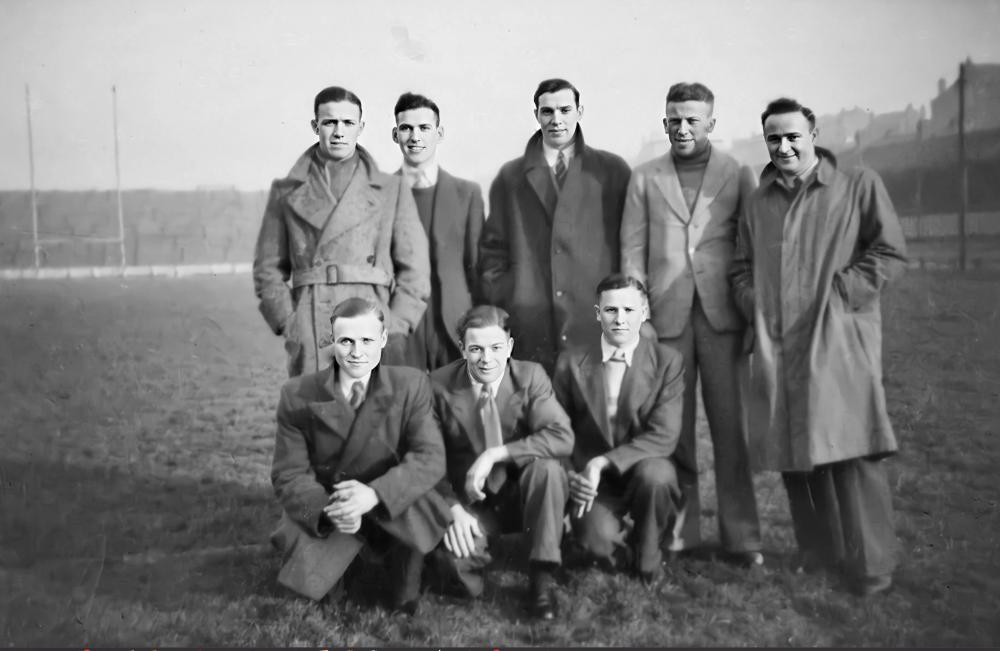 Central Park 1940, unbeaten season.
Photo: Keith
Views: 567
Item #: 33846
Some members of the Wigan team gathered at Central Park, possibly October/November 1940. I know all names bar one. The gentleman on the front row, extreme left, is unknown to me. Using past records my best guess is Sid Kyte born in Ince (Warrington Road) in 1920 who played just 6 games for Wigan in the 1940-41 season. His last match was November 9th 1940 and by December 25th he was playing for Salford. If anyone can help identify him I'd be very much obliged.
Comment by: Keith on 18th June 2022 at 18:45
The rest of the entourage are as follows:-
Back, L to R., Vic Johnson, (1939-1942, 18 Apps, 11 tries), - Jack Cunliffe, (1939-60, 441 Apps 84 tries 364 goals), - Jack Bowen, (my father, 1938-1948, 150 Apps, 32 tries, 8 goals), - Johnny Lawrenson, (1938-1949, 219 Apps, 187 tries, 128 goals) - Hermas Llewellyn M.M. (not a member of the Wigan Club, I will explain this later).
At front, L to R., Sid Kyte? (1940-41, 6 Apps, 1 try) - Tommy Bradshaw (1939 -1952, 302 Apps, 35 tries), Martin Ryan (1940-1952, 300 Apps, 67 tries, 58 goals).
Comment by: Keith on 18th June 2022 at 19:55
Hermas Llewellyn was, like my father, Welsh. The Wigan Club in 1938-39, had 16 Welsh players on their books, it was almost a Welsh enclave. It 'attracted' some other Welshmen who were working away from home and they socialised with the Wigan Welsh. Hermas was one of them, he was a carpenter who had left the Amman valley to find work in the north. Like my father and several other Wigan players, the Welsh language was their natural tongue, English was something you 'picked up' when you went to school.
However, unhappy with his boarding house, and despite warnings from his Welsh colleagues, he moved to different digs. As warned, he was quickly 'called up'. He was killed in North Africa on 15 February 1943, he was 29 years old and is buried at Tripoli War Cemetery, Libya. He served with the 275th Field Company, Royal Engineers, which was attached to the 51st Highland Division. Lance Corporal Hermas had been awarded the Military Medal during the battle of El Alamein, the award was published in the London Gazette of 11 March 1943.
Comment by: Keith on 28th June 2022 at 19:23
It looks as if I may have made an error in identifying the gentleman on the extreme left at the back. I had him as Vic Johnson but I've just come across a Harold Caldwell, who eventually turned out for Keighley. He appears on another website, with a photo, who I believed to be Vic Johnson. If the correct identity is Harold Caldwell then he made a total of 18 apps for Wigan and scored 6 tries, in the two seasons, 1940-41 and 1943-44. He represented Keighley in 1945.
Comment by: Derek on 29th June 2022 at 14:41
Keith, back to square one, your original identification was correct. Extreme left on back row IS Vic Johnson. You can confirm Harold (Harry) Caldwell on the Saints heritage site, it has a photo of him.
Comment by: Keith on 29th June 2022 at 16:58
Thank you so much Derek. Looks as if I've been making a rod for my own back, great to get it cleared up.