Photos of Wigan
Photos of Wigan
Album Contents
Album Contents
Wigan Album
Prior Family
14 Comments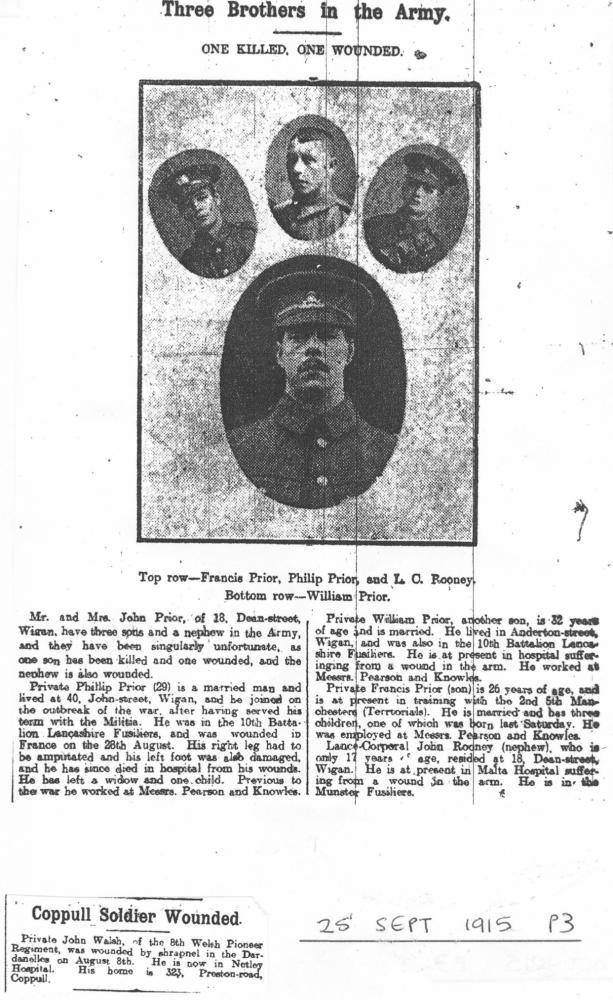 Philip Prior, brothers and brother in law.
Photo: Daniel Catterall
Views: 550
Item #: 33945
My 2x Grt uncle Philip prior, brother Brother in law.
Comment by: Veronica on 2nd August 2022 at 21:24
Yes I have this photo Daniel. Philip Prior was Nellie's father. Her mother was my grandmother's sister. They all lived at 40 John St where your grandad and I were brought up. Plus Philip Corner is the spit of his grandfather.
Comment by: Daniel Catterall on 3rd August 2022 at 11:52
Yes my grandad said the same about Philip Corner, also Philips brother for a time lived with them. Philip and Margaret also had two girls before Nellie that both died just before Nellie.
Comment by: Veronica on 3rd August 2022 at 16:53
Yes that's sad Daniel it happened a lot in families in those days. I found the same looking into Edna and Thomas Yates early years of marriage as well, they lost babies.
I used to think 40 John St was ' haunted' I'm not surprised…..
Comment by: Daniel Catterall on 3rd August 2022 at 17:35
So where there more than 6 of my nan Catterall siblings? I know there was Gladys.
Yes it was Very common sadly, there was a lot of child death or dying at a young age with Levi and Margaret's, I'd managed to workout there where 15 children in total but only could name 13 of them.
Comment by: Veronica on 3rd August 2022 at 17:50
Yes I think there were 2 baby boys that died. You can also find them on here under the cemeteries section. They lived in George St at the beginning. Edna died on New Year's Eve 1936 or 37. I have quite a few records of Thomas Yates ancestry as well, his parents and grandparents.
Comment by: Daniel Catterall on 3rd August 2022 at 18:36
Oh right, there where also 3 boys And one young boy Aged 15 who where Herberts sons, the one who was 15 had died of pneumonia and was buried in the Family plot with Stan Herberts oldest son.
Comment by: Veronica on 3rd August 2022 at 19:00
Yes it's easy to get waylaid with all the strands of brothers and sisters. I tried to keep to one line at a time but it can't be helped when you stray off course.
Comment by: Daniel Catterall on 3rd August 2022 at 20:13
True, they had big family back then and not to mention there siblings family's.
In regards to the Yates, when they lived in Grt George street was there some association to Queens hall?
Comment by: Veronica on 3rd August 2022 at 22:19
Yes there was Thomas Yates mother Elizabeth, and I think it was her daughter who was called Margaret, but I would have to look at my records. Elizabeth was born at Blackrod ( Little Scotland). Her maiden name was Moore. I have got back a few generations there as well.
Comment by: Daniel Catterall on 4th August 2022 at 08:39
Argh yes, didn't know that she was from blackrod, some reason I found that Around the time Thomas was born in 1895 and a few of Thomas's older siblings and Herbert where living in Cadishead until they moved to grt George street where Albert was born.
Comment by: Veronica on 4th August 2022 at 09:26
Elizabeth Moore and her family before marriage also moved to Upholland . And then to a Regent St off Greenough St. Anyway Daniel you'll have to get your grandad and gran to bring you up to W/H …you can look in my records.
Comment by: Edna on 4th August 2022 at 22:13
Veronica, Daniel. I think it's wonderful, you have so much knowledge, about your ancestors. I am intrigued. Its lovely.
Comment by: Rev David Long on 5th August 2022 at 13:16
Veronica, does your Prior line include another WW1 casualty - John Oswald Prior, who is commemorated on his parents' (John and Mary Ellen) grave at St Joseph's Wrightington? They lived on Tunley Lane, and he lived on Ormskirk Road at the time of his death.
Comment by: Veronica on 5th August 2022 at 16:40
As far as I know Rev David the Priors all lived around and in Scholes. Anderton St,Dean St and John St were all close by. I only know of the above ones who were in fact in laws. Philip Prior,
who died of his wounds, was married to my Grt Aunt. Their daughter was my father's cousin but they were brought up together in the same house, more as brother and sister. I have nothing in my records of John Oswald Prior. They may be related but I couldn't say. (Would he have worked at the same place as these brothers as that may be a clue,- Messrs Pearson and Knowles?).