Photos of Wigan
Photos of Wigan
Album Contents
Album Contents
Wigan Album
Halliwell family
27 Comments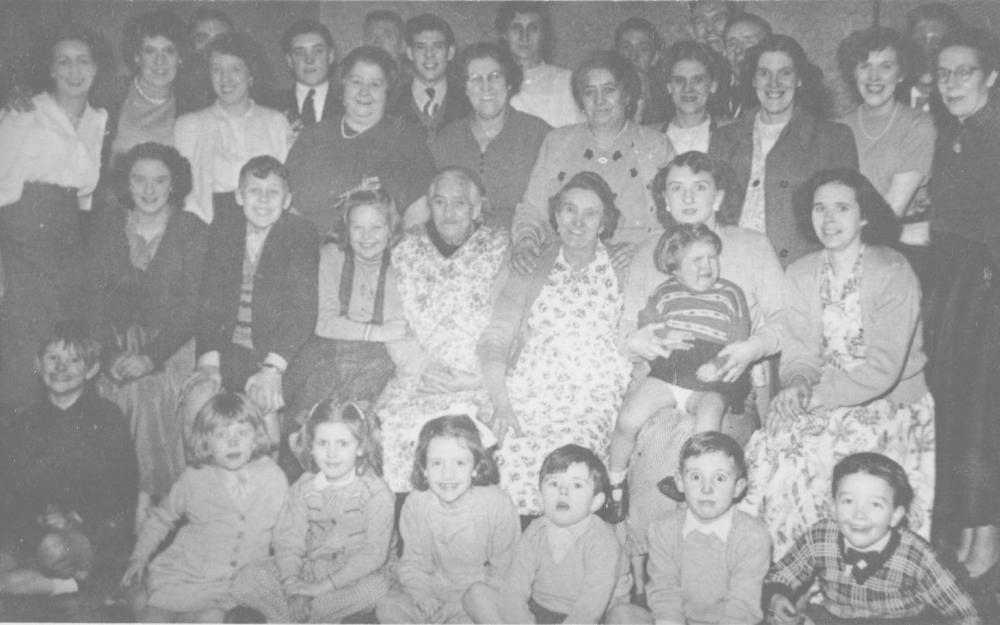 Mary Halliwell Birthday Circa 1953
Photo: David Halliwell
Views: 559
Item #: 33726
This is a birthday celebration for my great grandma Mary Ellen Halliwell (nee Burrows), the elderly lady in the centre of the photo. On her right shoulder is my grandma, Sarah Halliwell (nee Cartwright) and the lady immediately to her left and the other two immediately behind I believe to be Mary Ellens daughters. On the second row immediately behind Mary is my Dad Joe Halliwell. The date is a bit of a guess. It would be wonderful if anyone out there could put names to the other faces.
Comment by: Veronica on 12th May 2022 at 16:08
That's a treasure trove of a photo David for ancestry purposes. Your grt Grandmother as head of the family and you yourself now a grandparent. Great to look back on .
Comment by: Edna on 12th May 2022 at 21:50
These are really lovely photos, of great grandparents, to have in your family, its something I regret not having.Did they come from Scholes David?
Comment by: Elizabeth on 13th May 2022 at 08:05
Are the people on this related to the Halliwell family from Anderton Street in Ince?
Hi Edna. Thats a good question. I know my grandma Sarah and my dad Joe lived in Union Street (which was a street or two behind and parallel to Wellington Street) So they were definitely from Scholes. I have seen evidence that Ellen and her husband William lived in Kays Houses at Little Westwood for a while. The majority of family I knew growing up lived in Scholes, so if I had to hazard a guess, I think this photo was probably taken somwhere in Scholes.
Comment by: Veronica on 13th May 2022 at 09:34
I remember Union St on Hardybutts it was only a few yards from John St. ( I used to pronounce it as Onion St) you could cut through there and come straight on to Scholes it would bring you out near Pie Joes. Just wondering if you were related to the Halliwells I knew David. My friend Pat who emigrated to Australia her dad was called Frank. There was a big family of Halliwells around Scholes some lived on Platt Lane or thereabouts. I should have visited Pat before the lockdown and it was called off .
Comment by: David Halliwell on 13th May 2022 at 15:33
Hi Elizabeth. I am not aware of my family being related to the Halliwells of Anderton Street. But I wouldnt be suprised if we were branches off the same family tree at some point in time.
Comment by: David Halliwell on 13th May 2022 at 15:38
Hi Veronica. I wish I knew if I was a distant relative of your friends. Quite likely I would have thought as my ancestors seem to have lived in the scholes/ince area for many generations. However, I cant confirm that, sorry. Also, interesting you mention John St. I recently found out that my mum Gladys (born Taylor, nee Austin before marrying my dad) was acually born on John St.
Comment by: Veronica on 13th May 2022 at 16:27
My dad was born in John St as well as the four generations before him David. I bet he knew her if she went to St Pat's especially. Pat's Dad Frank had two sisters and another brother Hughie . They lived in Holland St near St Catherine's church. Probably there is a link somewhere along the line. Do you know the number of the house she lived at? We lived at number 40 but my grandparents and Grt Granparents lived in other houses on John St.
Comment by: David Halliwell on 13th May 2022 at 18:57
Alas Veronica, everyone who could have answered that question has long since passed away. I do know that my mum was born in the mid to late 1920s and her mums name at the time would have been Elizabeth Taylor. But I think that when my mum was quite young, they moved to lower ince.
Comment by: Elizabeth on 13th May 2022 at 20:17
Thanks David,they were lovely.
Comment by: Ian on 13th May 2022 at 21:51
The surname of one of my very close friends at school was Halliwell and, at the time, he lived in Scholes.
We didn't stay for school lunch, but my friend went home for lunch and I went to my grandparents house for lunch. We always went together as my grandparents house was about 400m further on from where my friend lived.
On the way back to school, he would wait for me and we walked back to school from his home.
Such happy memories.
Comment by: Donald Underwood on 14th May 2022 at 14:59
It would be difficult to be born in Wigan and not to be related to a Halliwell or an Atherton,Fairhurst or Winstanley

In my case,Hugh Halliwell ,who for many years was the landlord of the Crown in Platt Lane
Comment by: Veronica on 14th May 2022 at 16:50
That sounds like a relative of my old school friend Pat Halliwell who lived at the bottom of Platt Lane and had an Uncle Hughie. They emigrated to Perth Western Australia Donald U. I should have been visiting her in 2020 but it wasn't to be unfortunately.
Comment by: David Halliwell on 15th May 2022 at 09:45
Hi Ian, Probably a coicindence, but I used to walk from School to home in Scholes at lunchtime with a lad called Ian. Whelley Middle very early 70's.
Comment by: David Halliwell on 15th May 2022 at 09:50
Hi Donald, I fear you are correct. I remember signing on at Brocol House when I was 16. The system was to deal with people in alphabetical order. I have never seen so many Halliwells in all my life!! She called my name and 4 of us answered simultaneously.
Comment by: Ian on 15th May 2022 at 12:25
Yes, you did!
And, just to let you know, here is a question: How well can you now play the accordion? :-)
Comment by: David Halliwell on 15th May 2022 at 14:38
Hi Ian, So it is you. Good to hear from you buddy. As for the accordian, I wasnt dedicated enough. So can play a little, but way off being an expert. You still living in Wigan?
Comment by: Steve on 15th May 2022 at 18:53
I to had Halliwell relatives years ago they lived in Wallgate !
Comment by: Ian on 15th May 2022 at 19:44
Hello David,
As we say, it's a small world. Quite a number of decades have passed since those lunchtime days and since I last saw you. I believe, we were school kids when we last saw each other.
It is absolutely amazing to look back on all those years and to wonder how certain things occurred, such as: both living in Wigan, not too far away from each other, growing up in Wigan, possibly going in-and-out of the same shops and pubs, yet never seeing each other.
Then! All these years later, coming across each other on this forum due to an uploaded photograph and a name.
I dearly hope you are very well and life is good.
Comment by: David Halliwell on 15th May 2022 at 20:01
Hi Ian,
Its not very likely that we were in the same shops/pubs. I left Wigan in 1979, spent time in Leeds/Lincoln and Barrow before settling in South Wales. But I do miss Wigan. The pictures Ron puts up on this site are amazing. I find myself walking through the streets of my childhood which have long since disappeared.
Comment by: Ian on 15th May 2022 at 22:29
David, do you ever visit Wigan?
Which town or village do you live in?
By the way, in answer to your question: No, I don't.
Sadly, not only have many of those old houses and streets gone, but also some of those school kids that went through the same school gates as we did are no longer with us.
Only a number of days ago, I received the very sad information that one of my dear friends had passed away.
A time ago, I received the information that Evy had passed away.
By the way, Jeff T. has uploaded a number of photographs and one is of the rugby team with Mr B. (games teacher) on it. I'm not on it, because it was taken at the time I had a serious accident. If you recall, I was almost fatally injured by a car and ending up in hospital and off school for a while.
Luckily, I grew out of my daredevil thoughts and actions, which I am sure that my parents were extremely thankful for. Although, only slowly and not without many injuries and worries.
But! I am still here and still relatively fit.
Comment by: David Halliwell on 16th May 2022 at 11:14
Hi Ian,
So sad the news about Evy I remember him well I think he lived in Boyswell house when we were kids. I did find Jeff T's rugby photo on this site a few years ago, it was amazing to see the old faces. I dont think I've seen any of them since 1973. I completely forgot about your accident, but good to hear that you're in good shape!!
I live on the outskirts of a village called Caerleon on the northern side of Newport.
I dont get to Wigan very frequently now, my mum passed in 1997 and my dad in 2005. We come over from time to time to pay our respects and put flowers on their graves.
Comment by: Ian on 16th May 2022 at 19:38
So sorry to hear about your parents passing away. It is very likely that there are only a few parents still with us and possibly, very few teachers. I met, by accident, Mr B. (games teacher) in a pub on Wigan Lane about three years ago. I was having a few beers with two friends when one of them said hello to him as he was walking past us. He stopped to have a chat, but he didn't recognise me. My friend spoke to him about recognising me and when I mentioned a few things about myself, Mr. B. said, 'Is it...+ my name'. I was quite astounded that he remembered my name and remembered so much about my athleticism etc.
It is very sad about Evy, he was a nice lad and I think most of us, if not all, got on very well with him. He did live in Boyswell House. I am sure that he either lived on the top floor or the next to top floor.
Remember that we used to walk past the block of flats on our way to Wigan Baths. I remember, Evy sometimes joined us on our way to the baths. I'm not sure how he or his mum managed to persuade the teacher or the headmaster to allow this, but I always found the staff quite friendly and understanding so they possibly said that it was fine.
With regard to the photograph of part of the rugby team, I was amazed to see what a motley crue we were and quite rough looking. At the time, I felt that we just looked like ordinary 'quite presentable' school kids. Probably, sign-of-the-times, because clothes, trainers, rugby boots, soccer boots et al were quite expensive in comparison to the normal wage and, as to say, cost of living. I remember getting my first pair of Royals with Dr Martens air-cushioned soles for school and they cost about £16.00, which was a lot of money back then.
Also in regard to the photograph, I was amazed to see that some players were missing, such as: Stephen S., Alan F., Peter F., Banksy, Martin M. and yourself. Of course, I know why I was missing and that was because the accident happened on the morning we were playing an important match - either a semi-final or final. My mum had to phone Mr. B. to tell him what had happened and the news that I couldn't play.
By the way, as this is an open forum I do not wish for you and I to convey too much and certainly no extremely personal information about people we have known. Therefore, it may be better to ask admin or Ron for my email address and so you can contact me that way rather than using this forum.
Of course, due to the passing years and probably our lifestyles, I am sure there is a lot to talk about.
By the way, if the photograph had been taken much later and not 1953, I would have given a guess at you being the small lad at the front, almost in the middle of the front row. But, as both you and I know, it was taken before you were born.
Comment by: Ian on 16th May 2022 at 23:35
Up to the age of around sixteen, I saw quite a number of the pupils from our year at Whelley because they were at the same High School as me. But, since leaving High School, I have only seen a very small number of them.
One of my close friends (he didn't attend Whelley Middle School) bumped into Stuart S. last year in the Boar's Head and he has bumped into Tommy J. quite a number of times.
By the way, there is a photo of some teenagers with motorbikes on here; I believe that you might know some of them, because they were at your school. One of them (Bill J.) was in my class at junior school.
Comment by: Donald Underwood on 17th May 2022 at 11:47
Veronica.Patricia Halliwell not known to me.The Hugh Halliwell I mention is related to me in two ways
His mother in law was an Underwood and his son James married a niece of my grandmother James & his wife kept the Grapes in one of the Morris Streets

I was right about the 4 surnames.There are over 600 of each of them buried in the old Wigan Cemetery in Lower Ince
Comment by: David Halliwell on 18th May 2022 at 08:19
Hi Ian, I contacted Ron. He has left you a message.
Comment by: Ian on 18th May 2022 at 09:40
Hello David, I have passed on my address and so you should get it soon, if not already.
Also, I thought that it would be better to leave this post to the topic in question, which is to do with trying to obtain names of your relatives.
Of course, I wish you the best of luck in your search for family names.
On the topic of family research, my uncle collected as much information as he could regarding family history. He visited relatives for information and to borrow photographs.
I remember him being sat at the table with my mum and the table surface being full of photographs and papers about relatives of distant past. It was amazing to see photos and learn about my family/relatives of long ago.
I believe that my uncle traced the family back to the 1600's.
Probably, the most amazing part of this kind of research is, you see a strong resemblance between relatives and relatives of long ago - even with yourself.
As I said, good luck with your search and I hope that it brings along more photos, positive information and great enjoyment.