Photos of Wigan
Photos of Wigan
Album Contents
Album Contents
Wigan Album
Isherwood Family
9 Comments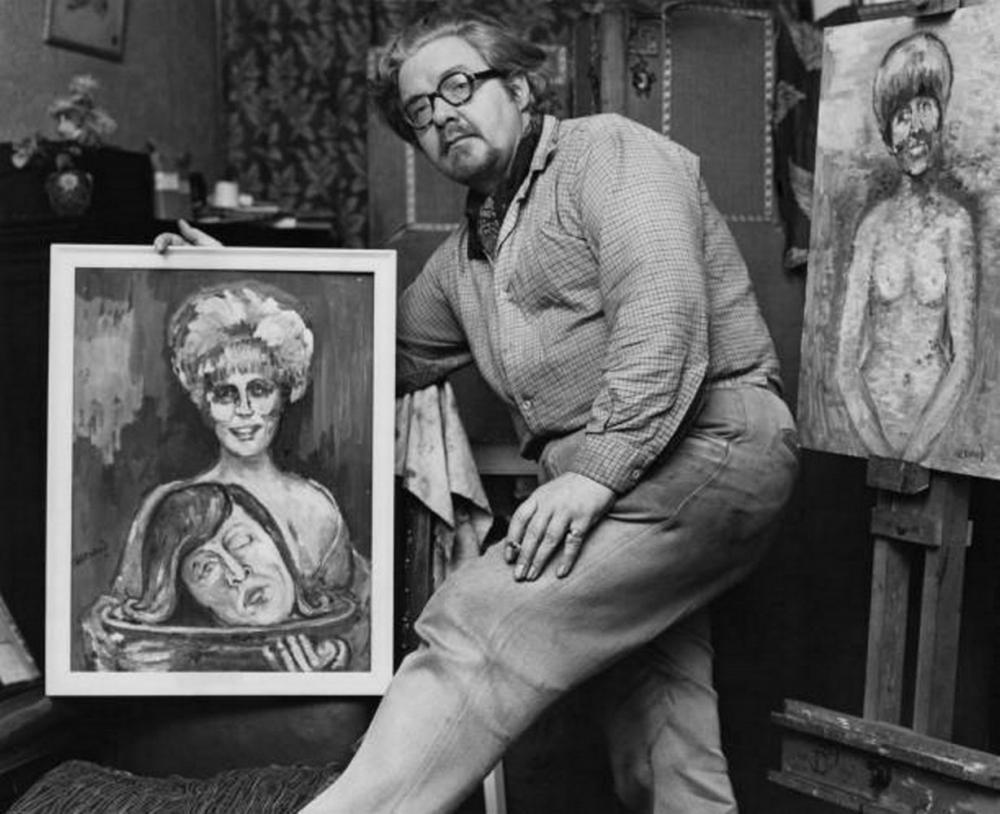 LAWRENCE ISHERWOOD PAINTING 1
Photo: RON HUNT
Views: 799
Item #: 33587
LOOKS LIKE THIS PAINTING COULD BE CALLED SALOME?
Comment by: John G on 16th March 2022 at 14:15
I can see my mother in law has been posing for Lawrence again.
You can spot that Bob cut a mile off.
Comment by: Katie on 16th March 2022 at 16:01
Not to my taste,but it takes all sorts.
Comment by: Veronica on 16th March 2022 at 17:36
He painted some more traditional French Impressionist scenes which were quite nice. I had to google to find them. I was quite surprised.
Comment by: Cyril on 16th March 2022 at 20:13
To own a genuine Isherwood painting now you'd have to fork out thousands of pounds, though at times when alive he would be bartering paintings in exchange for fish and chips from the chippy on Earl Street and groceries from Atkinson's on Mesnes Road.

https://www.hepplestonefineart.com/product-category/artists/james-lawrence-isherwood-artist/

I read that publicanTony Callaghan (the son of the then chippy owners) fastened some of the paintings to the ceiling of the pub, formerly the council rates and valuation office, that he owns on King Street West, hopefully they'll be behind protective screens.

Geoffrey Shryhane, the man at the Obbie, is an avid fan of Laurence Isherwood and also the Appley Bridge artist Theodore Major, their paintings don't do anything for me, though I'll have a google for those French impressionist paintings Veronica.

https://www.clark-art.co.uk/artists/108/15180/theodore-major/farm-at-appley-bridge
Comment by: WIGANER on 17th March 2022 at 09:00
Cyril a bit of an over estimation, you can pick up Isherwoods paintings for a few hundred pounds. It's THEODORE MAJOR's paintings that are worth a few thousand.
Comment by: Veronica on 17th March 2022 at 09:23
He painted hundreds Cyril but you will find them. His Cornish paintings are nicer than anything he did in Wigan.
Comment by: Cyril on 17th March 2022 at 14:10
Wiganer, don't be fooled as there are a great many counterfeits out there, and not just Isherwood but Major and Lowry also, whatever is collectable or fashionable some scammer somewhere will be doing a great number of copies.

If Isherwood paintings are priced at a few hundred they most certainly are fake, there's always plenty of them on eBay and described as being found tucked away in outhouses, attics or cellars during house clearances.
Cyril, you are right there are a couple on EBay for 800 and 900 pounds but IN THE MANNER of Isherwood but a genuine one for 4,500 pounds. We bought one many years ago when the family had a sale in Wigan Town Hall and have it in the dining room.