Photos of Wigan
Photos of Wigan
Album Contents
Album Contents
Wigan Album
HARRY PEMBERTON
13 Comments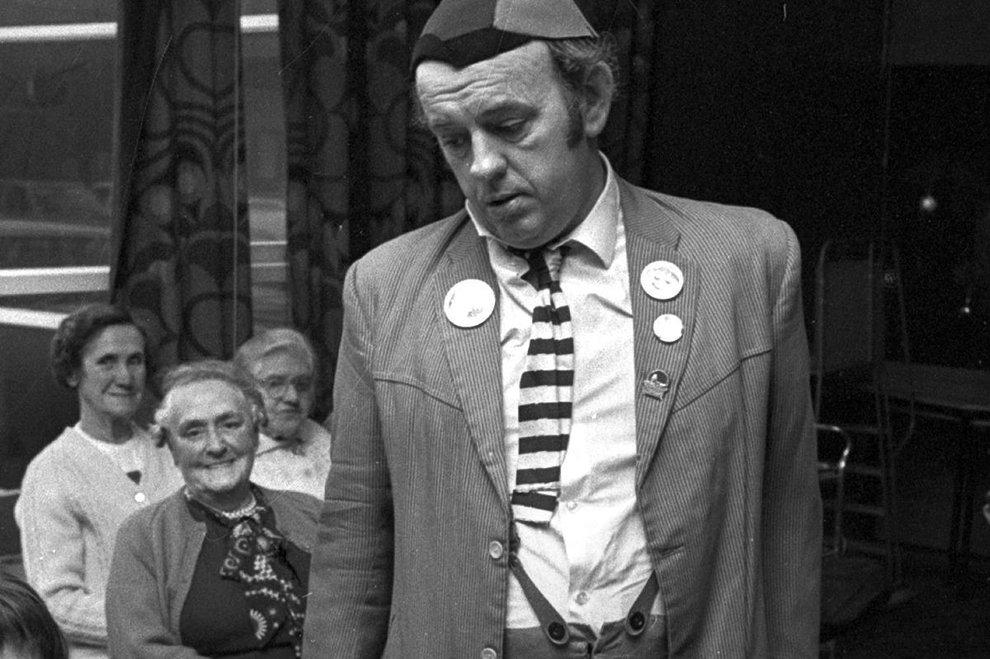 HARRY PEMBERTON
Photo: RON HUNT
Views: 1,397
Item #: 33532
A rare photo of one of Wigan's best and well ,loved comedians Looks like it was taken in a nursing home? around the mid 1970's. I have seen him dressed as a little lad and a soldier. Although you had heard some of his jokes numerous times, at various locations around the town, he still made you laugh out loud.. A PROPER COMEDIAN not like the so called COMEDIANS today.
I think this could be a photograph taken by Frank Orrell?
Comment by: heckingfell on 12th February 2022 at 11:46
I used to be a "pot boy" at Lamberhead Green WMC in the early 1960's when Harry was on the circuit. If Harry was the turn then the place would be packed and the anticipation of the audience was something to behold. A truly great entertainer!!!
Comment by: Ray on 12th February 2022 at 13:55
I remember seeing Harry Pemberton a few times locally, He was a very
funny and entertaining comedian. Harry wasnt like many comedians who
just stood at the microphone told joke after joke, He had a certain style
which often included banter with the audience. Another regular comic
who appeared often at clubs around the Wigan area was Walter Horam,
known as " Wandering Walter ". He spoke in a very clear Preston accent
and left gaps between every 2 or 3 words, for example, He would say
Good evening......Ladies.....and Gentlemen...... Toneet......I am gooing to......
tell thee......one or two raspers.
Comment by: Mick on 12th February 2022 at 14:39
Harry lived in our street, he was always doing good turns for the locals , He spent a lot of his spare time at Mere Oaks school.
He would come into the local club after doing a show and crack a few jokes.
He used to play the accordion at at our street bonfire.
He was always involved in Shevingtons annual Carnival.
He once wallpapered our bedroom.
Me and my family used to have rides along the canal on his boat which was named PemBroke.
I worked at Bickershaw Labour Club in the 1970s to early 1980s and saw this Gentleman, (and I mean that word with a capital "G"), quite a few times. No swearing, just good fun. He didn't need to use bad language....he was very, very funny without it, and that's what I call a Comedian. Lovely, lovely man!
Comment by: tuddy on 12th February 2022 at 19:42
I've probably posted this story before about Harry, but one tale he used to tell was when his Mother went to Kaye's army surplus shop in Darlington Street to buy him something to wear for school. He said for the next two years he turned up at Whelley School every morning dressed as a Japanize Admiral.
Comment by: Mick on 12th February 2022 at 23:16
A photograph of Harry Pemberton from Whelley taken by Frank Orrell ?
Oh Tuddy! That made me laugh, made me forget about the gum surgery I've just had a couple of days ago. Made my day, lol.
Comment by: wigginlad on 13th February 2022 at 08:30
only saw Harry perform once in one of the Wigan clubs, he was hilarious, a really funny man.
Comment by: Albert.S. on 13th February 2022 at 10:58
I remember him telling one story of a chap that was for ever pestering the doctor for a sick note. The doctor gave him one, but as to why the sick note was issued, he put a line through it. This he didn't notice. When he produced it at the pit's offices. The under manager said. " what's this?, showing him the line. Quick thinking Bill replied. "It shows that I'd had a stroke".
Comment by: Tuddy on 14th February 2022 at 22:04
Glad you enjoyed it Mrs M, but the credit belongs to Harry.
Comment by: Dougie on 16th February 2022 at 20:15
Another photo taken by me of Harry & Angie at an old age members Christmas party at Garswood Hall Bowling club, I was the photographer and did I get some stick off him, Harry at his best in them days

https://i.postimg.cc/dDPCL8Wf/PICT0032.jpg
Comment by: Dave Allen on 18th March 2022 at 19:14
I recall Harry telling a joke.
" I feel sweatier than a postman's sock on Norley Hall on Giro day"
Brilliant.
Comment by: ged on 30th March 2022 at 16:40
Harry was the best i think he could have got on TV,