Photos of Wigan
Photos of Wigan
Album Contents
Album Contents
Wigan Album
hough
13 Comments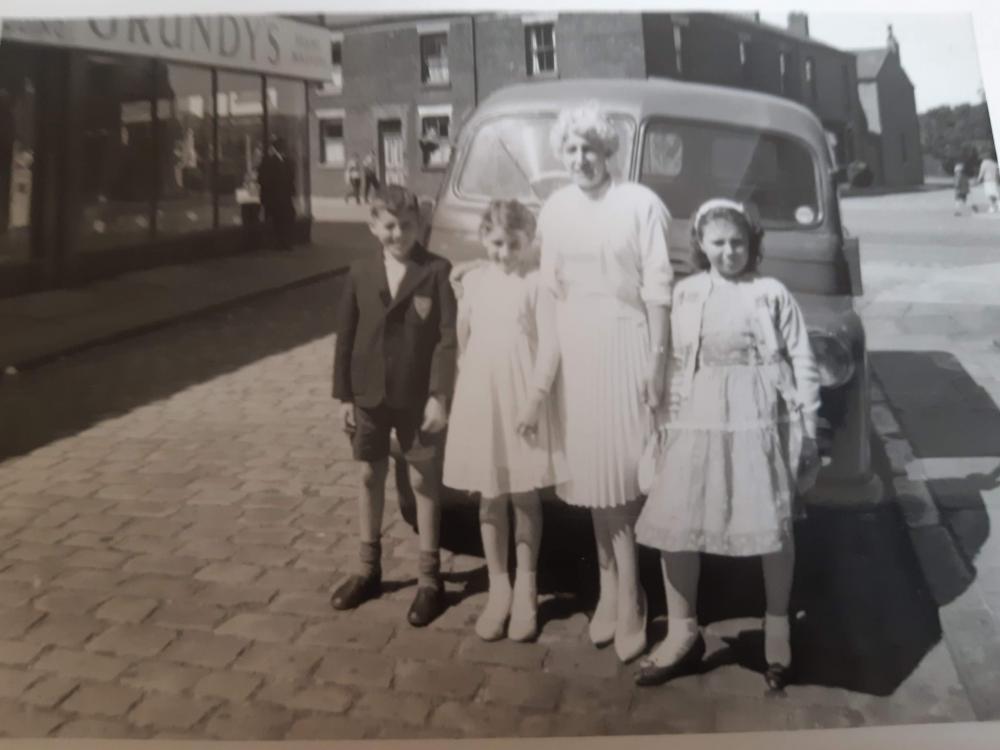 hough family
Photo: alan hough
Views: 961
Item #: 33350
me my sister and mum and a friend front of dads bedford van keble st anybody remember grundy`s furniture shop
Comment by: Cyril on 23rd September 2021 at 17:33
I'm not from Higher Ince but I do remember Grundy's, I worked at the Co-op in the late 1960s and many times would deliver around here, I'm glad that I saw the area before they knocked the stuffing out of it, likewise the areas of Scholes and Wallgate too.
Comment by: CJAlan on 23rd September 2021 at 18:25
I may have dreamed this up, but was Grundy's furniture once located on Hallgate, near to the Royal Mail Depot many years ago?
Yes, I remember Grundy's well. My Mam and Dad had a display cabinet from there when I was a little girl and they bought a writing bureau in the late 1960s; there was a gouge in the wood and Grundy's sent a French Polisher round to attend to it and you would never have known the fault had been there! CJAlan, wasn't it Mc Curdy's furniture shop in Hallgate? I have a copper warming pan on my chimney breast that I bought from McCurdy's just before I was married. Of course it may have been Grundy's at some point.
Comment by: Maureen on 24th September 2021 at 09:24
My hubbys Aunt Nell was the cashier there for quite a long time.
Comment by: Maureen on 24th September 2021 at 09:35
Yes CJ Alan..it did finish up near the bus station..Alan Grundy used to bring hubbys Aunt Nell a bottle of Whiskey every Christmas until she passed away,he's a lovely man and very often see him out on his bike...we got our first bedroom furniture from there..a Wrighton suite..paid monthly of course..it was beautiful.
Comment by: CJAlan on 24th September 2021 at 09:44
Irene

The reason I remember 'Grundy's in the town centre was that we had a neighbour in my childhood street in Pemberton with a surname called Grundy who was a joiner by trade.

I am sure there was a furniture place called Grundys on Hallgate as I remember asking my mother as a young child if the business was connected to our old neighbour!!!!

If my memory is not deceiving me, I am sure the Grundy's I am referring to was on Hallgate in the premises that is now used by the Groundwork Trust (as I say next door to the Royal Mail depot).

The Job Centre used to be next door, before it moved to the end of KIng Street.

CJ
Thanks, CJAlan. I know McCurdy's was on Hallgate but was probably a completely different shop! I believe Mc Curdy's also had a shop in Scholes. I vividly remember buying my copper warming pan for my "bottom drawer" before I got married. It was £20.....quite a sum for me in the early 1970s but I just fell for it....I liked old-fashioned furnishings even at 20 years old. Of course my friends were buying sensible things like bedding and towels but I never regretted buying my warming pan and it is here in front of me on the chimney breast.
Comment by: Elizabeth on 24th September 2021 at 12:45
Brilliant pic,everywhere looks so tidy and neat compared to now.Yes,I remember Grundy's very well on Manchester Road,always good quality items in there.I inherited a light oak dining table from my auntie,still using it today. I remember buying a rug from the shop in Hallgate.
Comment by: DerekB on 24th September 2021 at 13:30
Irene, Mc Curdy's did have a large furniture shop in Scholes. It was opposite The Balcarres pub which is still there and still open! (Not sure if The Balcarres is strictly the the correct name. I always get confused with this pub and the one near St.David's church at Haigh and which one is named The Earl of Balcarres)
Comment by: Mick on 24th September 2021 at 15:12
Grundy's did relocate to Hallgate I bough a house full of furniture from them when I came to back to live up here in Shevy.
I can remember they had a Goldfish in a tank on the counter that swam upside down.
Comment by: CJAlan on 24th September 2021 at 15:19
DerekB

I'm not too sure if the Balcarres in Scholes is still open. Wasn't it set alight by an arsonist at the start of this year?

CJ
Comment by: Edna on 27th September 2021 at 14:17
Yes The Balcarres is still open in Scholes, and it's the one that's called The Earl of Balcarres.There was a fire earlier this year, but its been done up.It was arson.
Comment by: CJAlan on 27th September 2021 at 19:05
Irene, Mick & Maureen

Thanks for the replies about Grundy's. In a way, Grundy's and of course Pennington's on Millgate were the 'crown' furniture traders in Wigan for many years.

I don't actually remember Grundy's closing - I am assuming they maybe called it a day at some point.

CJ