Photos of Wigan
Photos of Wigan
Album Contents
Album Contents
Wigan Album
EDWARD BARNES
4 Comments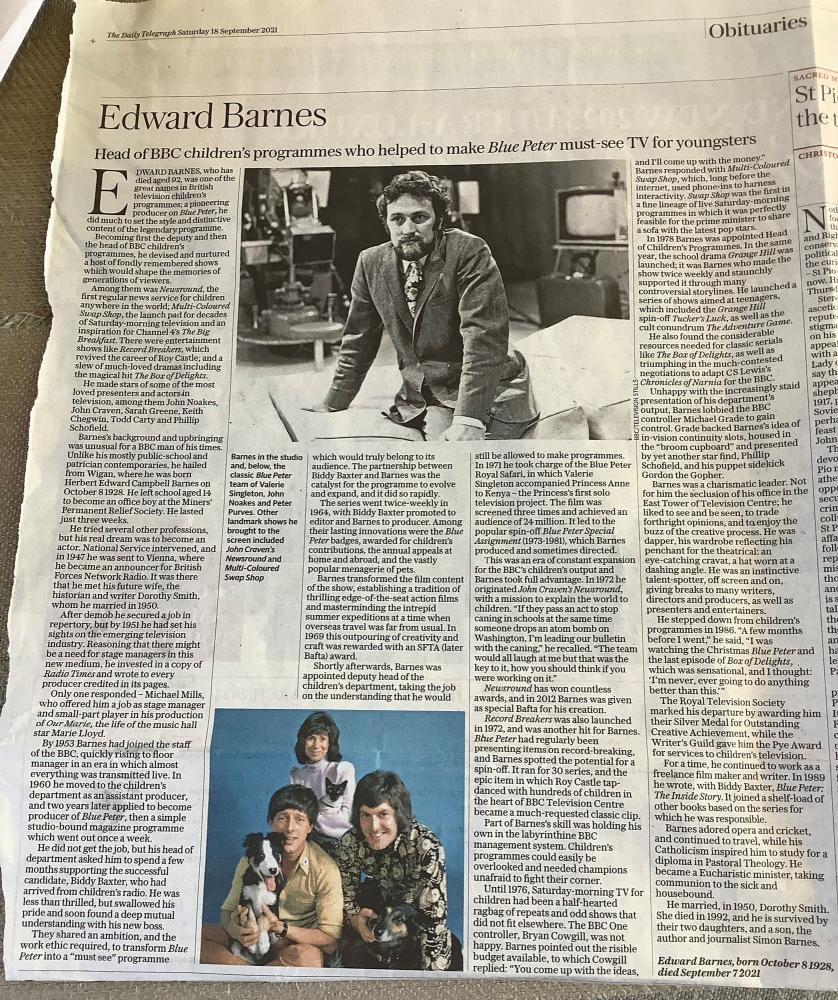 OBITUARY EDWARD BARNES
Photo: RON HUNT
Views: 642
Item #: 33335
Must say I had never heard of this man but he appears to have had an illustrious career in British television.
Comment by: Cyril on 21st September 2021 at 20:42
I'd never heard of him either, but on reading his BBC obituary he was very diligent in creating excellent children's programmes for the BBC. We should be pleased that when telling folks where he was born he flew the flag for Wigan at the BBC, on the other hand it makes no mention of his Wigan roots.

https://www.bbc.co.uk/newsround/58437339
Comment by: Edna on 22nd September 2021 at 10:05
I remember the Multi-Colured Swop-Shop mentioned in Edward Barnes Obituary, my son was a big fan of this programme, every Sat morning.It was announced once,that Swop Shop was coming to Wigan Rugby ground, its now Tesco.I think it was 1976/77.My son couldn't wait to go, that's were he met Keith Chegwin.All the kids took something they wanted to Swop.. Does anyone remember this?
Comment by: RON HUNT on 22nd September 2021 at 10:12
In another obituary I've seen it mentions he went to Gidlow School I think Geoff Shryhane has done a piece about him in this week's Observer
Comment by: Cyril on 24th September 2021 at 14:30
Have read Geoff's article on Edward Barnes, it's very good with plenty info about him, apparently he led quite an illustrated life too.

I remember the BBC Swap Shop show Edna, though I can't recall it being at the rugby ground, I remember too there being fierce competition for children's Saturday morning TV between the BBC and ITVs madcap show TISWAS