Photos of Wigan
Photos of Wigan
Album Contents
Album Contents
Wigan Album
hough
12 Comments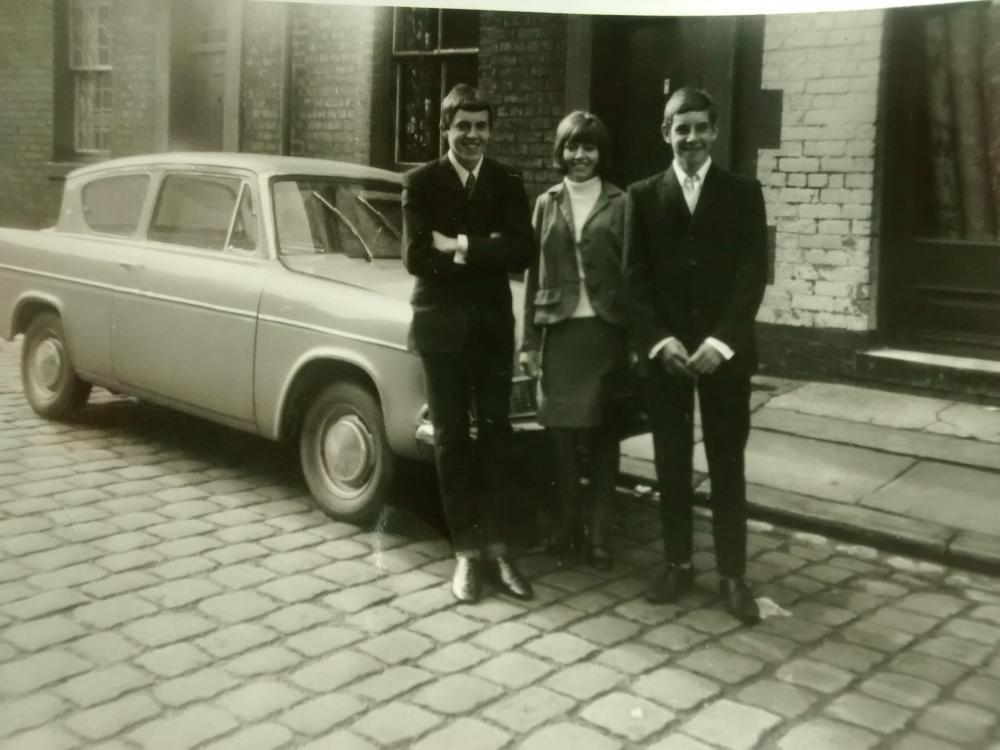 me + sister + friend
Photo: alan hough
Views: 1,330
Item #: 33224
me my sister and a good mate geoff tomlinson sadly geoff not with us anymore
Comment by: Helen of Troy on 1st August 2021 at 07:29
A smart group of young people....not a ripped & ragged pair of jeans in sight. Those were the days !
Comment by: Veronica on 1st August 2021 at 10:11
I agree it was normal wear for lads to wear suits and ties. Nowadays it's only if they're going to an interview for a job or a wedding. ( then you see the shirt hanging outside the trousers!) Some of the girls now with tattoos all over their legs and arms remind me of old sailors. Surely they will come to regret what they've done to themselves. They look dreadful it makes me shudder when they walk past.
Comment by: Elizabeth on 1st August 2021 at 12:50
I agree Veronica,what gets me is if they had varicose veins they would be mortified,but the tattoos look as bad if not worse !
Comment by: john on 1st August 2021 at 14:59
I have a couple of small tattoos on my arms. They were nice and colourful in 1966 when I had them done. They look dreadful now - just horrible purplish blobs. There will be tears a'plenty for lots of these young people when they get old.
Comment by: Veronica on 1st August 2021 at 15:06
They will probably end up with varicose veins Elizabeth. All that ink and needles perforating the skin can't be good, it'll be an NHS job later on....it's an addiction with some people. Imagine when they are old with wrinkled skin and tattoos.
Comment by: Veronica on 1st August 2021 at 15:18
It was always a male thing to do but on women they look awful.
i wouldn't even have a tiny one.
Comment by: alan hough on 1st August 2021 at 15:29
forgot to put the street name it was keble st higher ince cant remember the year 1965- 1966 i think
Comment by: Josh on 1st August 2021 at 19:09
If you were a representation of the youngsters of your generation you have done an excellent job. The boys look really smart and Alan's sister extremely stylish.
Comment by: Albert.S. on 2nd August 2021 at 09:30
Is that your dad's car Alan?. Ford Anglia, isn't it?.
Comment by: Maureen on 2nd August 2021 at 09:36
I bet their parents were very proud of them looking so smart,I remember getting a pair of semi dangly earrings on pay day in my teens..I brought them home..showed them to my Mam,my Dad promptly took them off me and threw them in the fire saying "You've gone far enough now". My Dad was a big gentle man and for him to do that I knew that I was just following the trend..that day I changed my outlook on fashion to make him proud of me...God knows what he would think of ripped jeans etc..when you see anyone dressed smartly nowadays it stands out like a sore thumb,but oh don't they look grand.
your correct a ford anglia and yes that was my dads car
Comment by: Rev David Long on 13th August 2021 at 21:17
Sorry, Maureen, but that episode with your 'big gentle' dad is just so sad - and your reaction is even sadder. What was wrong with your expressing yourself by buying dangly earrings? Why couldn't he have appreciated your celebration of yourself? Why shouldn't you 'follow the trend'? Maybe it was the time when 'men were men' - but it wasn't the best time for women to be themselves.