Photos of Wigan
Photos of Wigan
Album Contents
Album Contents
Wigan Album
WW1
11 Comments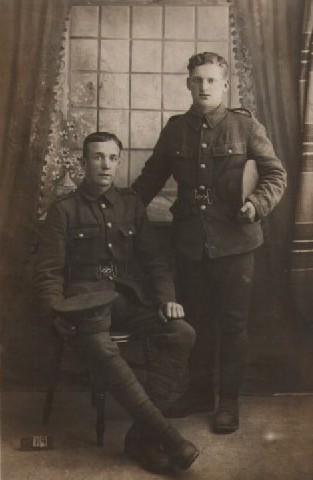 Two Wigan soldiers
Photo: Ros Jones
Views: 755
Item #: 33150
Pte John Henry Jones and (probably) Pte Nicholas Ashurst
Comment by: Ros Jones on 20th May 2021 at 23:24
Standing is my gg-uncle, Pte John Henry (Harry) Jones, of Ince. He served in the 6th Btn, South Lancashire Regiment, and was listed as missing presumed killed, aged 20, on 9th August 1915 at Gallipoli. I believe his friend is Pte Nicholas Ashurst, of the 7th Btn, KIA in France in October 1916.
Comment by: Rev David Long on 21st May 2021 at 10:11
John Henry Jones is listed on Ince Cenotaph in Lower Ince Cemetery. Although posted Missing since 9 August 1915, confirmation that he was presumed dead was only given on 11 November 1916. His address was 5 Park View, H Ince. He was a drawer at Moss Hall Colliery, and attended Rose Bridge Wesleyan Chapel.
Comment by: Tom on 21st May 2021 at 11:05
Fred holcroft wrote a book about local men in gallipoli it's called ( just like hell )Henry's name is in there
Comment by: Veronica on 21st May 2021 at 17:37
Tom is that book still available? I would like to buy that one if possible. My grandfather was at Gallipoli his name is John ( Jack) Catterall. I wonder if his name is in the book. He lived at Ince at the time.
Comment by: Ros Jones on 21st May 2021 at 21:30
Thanks David! So glad to hear he's named on the cenotaph. Another reason for me to make it to Wigan some day. I've seen the newspaper article from November 1916 reporting his death, and it's so awful his mother Elizabeth had to wait a year for any news.
Comment by: Tom on 21st May 2021 at 22:08
Hi veronica l got mine from Fred holcroft years ago he as wrote a lot of books about local lads in ww1. and they are very good.you could try the history shop he ,he also wrote in the past for ward magazine or try Google
Comment by: Veronica on 21st May 2021 at 22:57
I'll try the History Shop then Tom. I do have one of his books about the Boer War with local men. Thanks.
Comment by: Veronica on 22nd May 2021 at 09:43
Looked on Google for the book it's mainly 'unavailable' but very expensive to buy if there is one. The ones I have of Fred Holcroft's are worth a lot as well.
I'll keep trying I would love to read that one Tom. Could you check if John Catterall's name is in there for me please? Much appreciated.
Comment by: Tom on 22nd May 2021 at 13:35
Hi veronica l think the history shop have the book but you can read the book but l dont think you can buy it there, not seen any john caterall l don't know if you know the its said the Victoria cross awards were chosen by the the men l had a relative Kia in lancashire fusilier 7/ 8 /1915 let's not forget them
Comment by: Veronica on 22nd May 2021 at 14:09
No we must never forget. I have a record with his medals and when he landed in Gallipoli in 1915. But he was in two regiments with two numbers. Perhaps he transferred to the Lancashire Fusiliers after Gallipoli. I don't know. The service records were destroyed in the Blitz, I would still like to read the book. Definitely will call in. I have most of his other ones but not the one on the Somme which I think he was there as well according to my dad. Thanks Tom.
Comment by: Rev David Long on 23rd May 2021 at 15:47
Ros, just in case you were wondering - there is no John Henry Jones on the Wigan Cenotaph - and the John Jones, of the South Lancashire Regiment, who is listed, is said to be someone else.