Photos of Wigan
Photos of Wigan
Album Contents
Album Contents
Wigan Album
Powell
11 Comments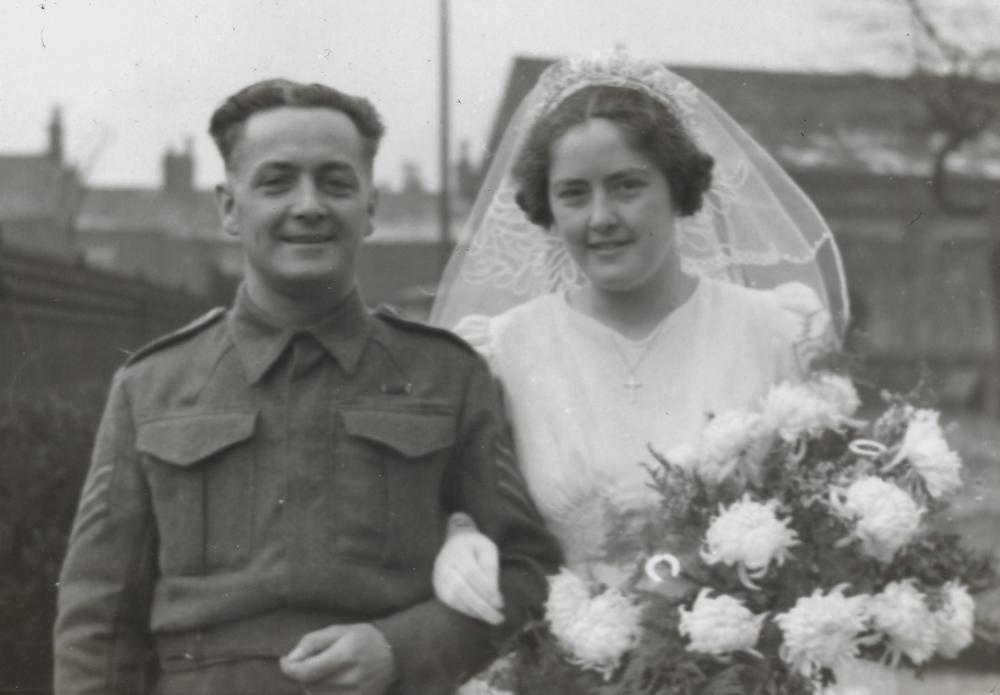 Maud Powell wedding
Photo: Barry C
Views: 803
Item #: 33088
Photo of Maud Powell with her brother Thomas in 1941.
Comment by: Helen of Troy on 12th April 2021 at 07:30
A lovely bride, such a gentle face. A happy day for her.
Comment by: Veronica on 12th April 2021 at 09:22
I always wonder when I see these wedding photos of Wartime how they managed with their coupons to buy the material for the dress. Did all the family chip in with their clothing coupons etc. Or was it borrowed as many girls did then. Whatever happened with this wedding they certainly turned up trumps. The bride looks lovely.
Comment by: Albert.S. on 12th April 2021 at 14:03
Veronica. I was only a lad during these times so I didn't have any call to be interested in weddings. I did know some got their dresses made out of parachute material. I suppose it was the ways and means act.
Comment by: Veronica on 12th April 2021 at 16:28
I thought about that Albert but her dress looks like a fine brocade. I.e. A pattern in the satin. I have heard about that happening I suppose they would have had to know somebody who worked in the making of parachutes. I believe the silk made lovely underwear as well.
Comment by: Albert.S. on 12th April 2021 at 19:24
No such luxury in those days Veronica, just your pants, and try and get your shirt tails in the necessary position.
Comment by: Veronica on 12th April 2021 at 20:11
So it wasn't just the Scots who went 'commando' Albert.
Comment by: English Electric on 13th April 2021 at 10:25
It wasn't just clothing and material in short supply back in those days.

As I understand it, during the war most personal photography was heavily restricted. Partly because the photographic chemicals, developers etc. were all needed for the war effort, and no doubt the government was also keen that no-one was out and about taking photos of sensitive subjects such as factories and train movements.

Presumably professional wedding photographers and the like could get rationed supplies, so you could still have a limited number of photos.
Just have to hope the photographer knew what he was doing and they all turned out good 'uns.
Comment by: Veronica on 13th April 2021 at 13:55
I remember asking my mother why there were no wedding photos from her wedding she said much the same as you English Electric. I don't think they even owned a camera then. It is pity that many people couldn't record an important event like that. Especially if they were married many years. Many didn't even have a honeymoon. Can you imagine that happening today. It was hardship all the way for the war generation.
Comment by: Albert.S. on 14th April 2021 at 09:53
I suspect Thomas was in uniform quite a while before, 1941, and the outbreak of war. Holding the rank of sergeant, and wearing a medal ribbon.
Comment by: Eric R on 16th April 2021 at 22:38
Albert - The ribbon looks like the Efficiency Medal 1930, awarded for service in the Territorial Army. Pity we are not able to see the colour of the ribbon. Perhaps Barry could confirm?
Comment by: Barry C on 17th April 2021 at 16:37
Yes he was in the Territorial Army at one point, we don't have any medals/ribbons of his unfortunately Eric.