Photos of Wigan
Photos of Wigan
Album Contents
Album Contents
Wigan Album
Bryn
11 Comments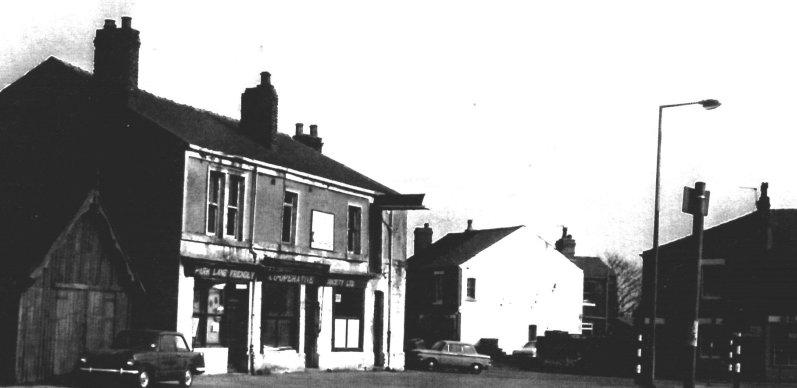 Co-op at Bryn Cross, c1974 - now demolished.
Photo: Ron Valente
Views: 4,795
Item #: 982
Old Co-operative store at Bryn Cross, around May 1974 before demolition.
Comment by: John McMenemy on 12th March 2010 at 12:29
My grandad Joeseph Corcoran was the manager of the Co-op at Bryn
Comment by: graham on 12th April 2011 at 14:46
I can remember it very well,the first shop looking at the photo was the greengrocery,the manager used to be John Marsden & kath duffy used to work with him,next to that was the butchery dept,then around the corner was the grocery dept & the last shop was the drapery,a lady of landgate estate used to run this, i cannot rememder her name.
Comment by: Priscus on 17th May 2011 at 10:21
At one side of the wooden shed (behind the car), stood a barrier to prevent vehicles going through: tubular steel, and about three feet from the ground, made it a favourite gathering point for kids- tumbling over it as a sort of 'assisted' somersault. Come on! any of you out there remember?
Comment by: JK on 27th January 2012 at 22:39
In 1891, my relatives, Sarah and Uriah JONES were living at 5 Crippins Buildings with their family, can anyone tell me just whereabouts this would be located in Bryn?
Comment by: Mike Hesketh on 20th May 2012 at 22:13
I lived in the row just to the left of this photo. We had a hardware shop (Hesketh Bros) there up during the sixties. The Blakemores had the Post Office (next to that wooden shed) & the Greens had the shop just travel agents across the road in the right of this photo.
Comment by: AP on 20th June 2012 at 15:05
JK,

Enter Crippins buildings in the search box above. There is some discussion of them elsewhere on this site.
Comment by: JOSEPH GREEN on 29th June 2012 at 01:36
LIVED JUST ACROSS THE ROAD. GREENS TRAVEL AGENTS. AS A KID REMEMBER TONY AND MIKE HESKETH AT THE HARDWARE SHOP
As a child, till the age of about 12, I lived at No. 304 to the left of the photo. My mother used to work part time at Hesketh's Hardware shop. The shop shown here was the main 'supermarket' in the area at the time.
Comment by: Kathleen Hodgkins nee Mc Garry on 22nd October 2013 at 21:05
Remember the old Co-op very well and Greens Travel Agency he sold sweets as well and would only let 2 or 3 children at anytime. Used to live on Whithill Sreet then moved to Grange Road.
Comment by: Anne Doyle on 19th January 2017 at 18:41
I remember Mr Corcoran even though I was quite young. He was always pleasant and he used to bike home to old road everyday for his lunch. If he saw you he would always wave.
Comment by: Jane Prescott (nee Carney) on 10th September 2021 at 21:34
How lovely to have a stroll down memory lane, used to go to infant school (Rose Hill) with Tony Hesketh and also mated around with Kath McGarry. I have very happy memories of these times and the freedom we used to have as kids was priceless. Remember the old Co Op had a massive book on the counter where they entered what you owed for your shopping and paid at the end of the week, can you imagine?? Anyway hope anyone reading this is keeping safe and well, take care.