Photos of Wigan
Photos of Wigan
Album Contents
Album Contents
Wigan Album
Empress Ballroom
6 Comments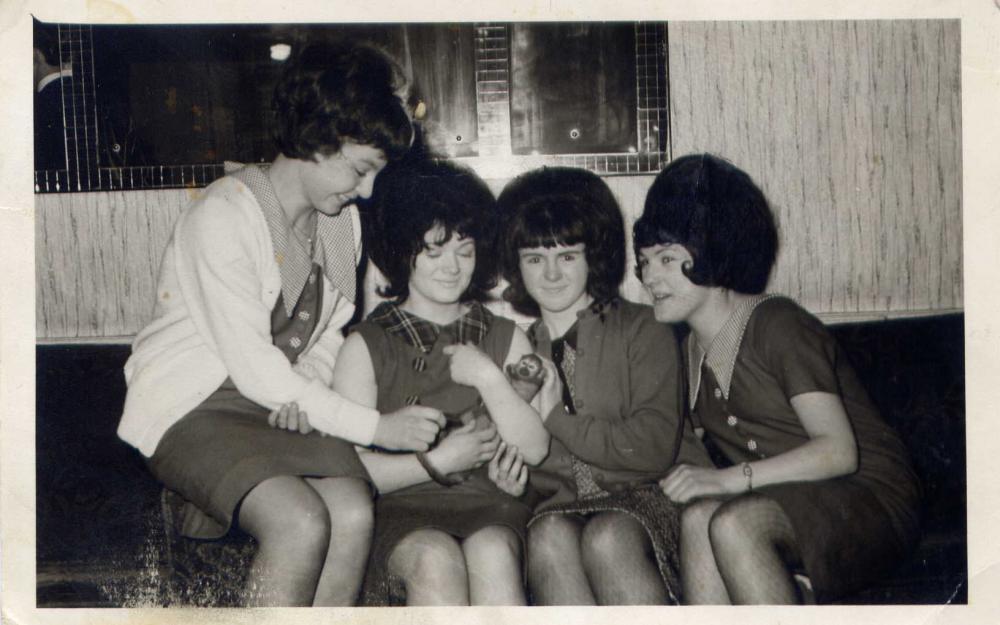 Christmas Eve, 1963 at the `Emp'
Photo: Kathleen Millett (nee Powell)
Views: 6,976
Item #: 8647
Janet Atherton, Carole Atherton, Anne Winnard and
Kathleen Powell. Schoolfriends at Upholland Grammar School. Aged 15.
Comment by: Frank Healy on 13th January 2009 at 13:33
Hi Kathleen. 45 years on, what do you think of the hairstyles? :o)
It took some doing to get it like that!
Rollers, back combing, lacquer.
Couldn't cope with all that now.
Comment by: Viv Middlemass on 21st April 2009 at 20:06
Well, I think the styles are fab but I remember getting flies caught in the backcombing on sports day - yuk! i ended up with Sandy Shaw style - long dark hair - still is but a bit shorter and out of a tube - keep the hair dressers in business. Age is a state of mind and i am still 26.
Comment by: Kath on 29th April 2009 at 21:49
Amazed we didn't go bald with all the backcombing & lacquer.
& what about the `kiss curls'? I remember going to bed with sellotape stuck on my face to keep them in place & then having red marks all over my cheeks in the morning!
Comment by: Bill Hart on 3rd February 2011 at 22:43
Hi Kath... www.lankybeat.com is looking for for pics like this... any chance of a copy?
Comment by: kath millett on 16th April 2011 at 22:36
Hi Bill, only just seen message. will look on website & email pic