Photos of Wigan
Photos of Wigan
Album Contents
Album Contents
Wigan Album
Driving Lane Wigan
31 Comments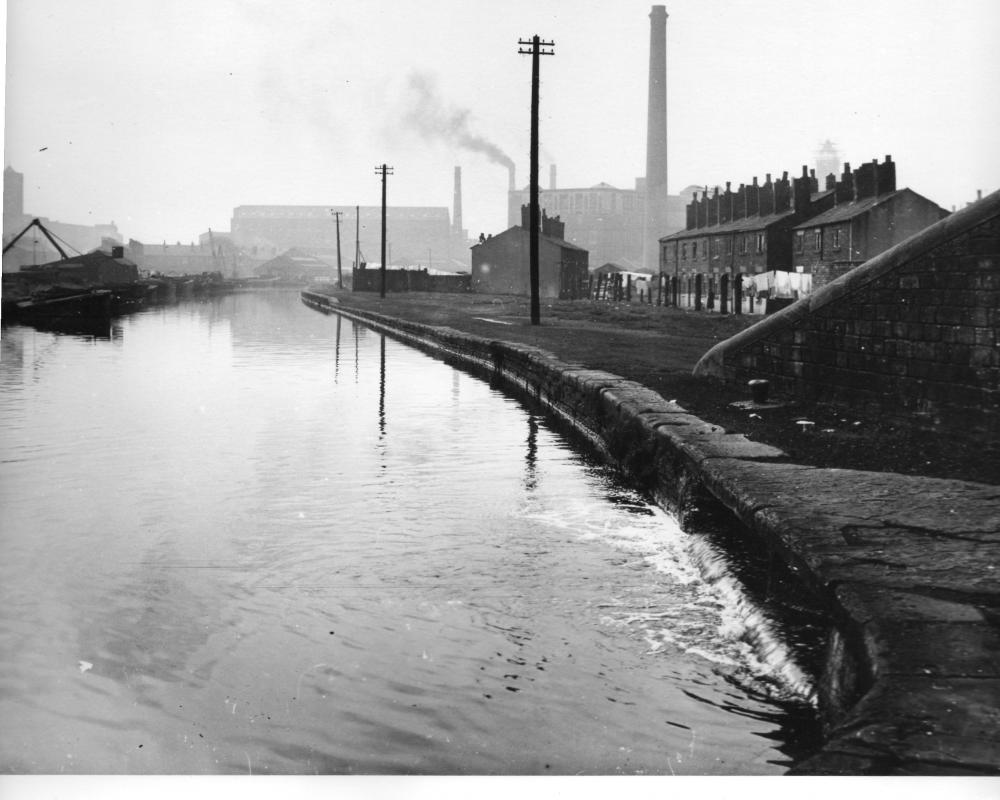 Driving Lane.
Photo: john bretherton
Views: 6,312
Item #: 8268
Driving Lane off Chapel Lane.My dad was born here.
Comment by: Margaret Wall on 12th December 2008 at 11:59
I love this photo. It says so much about the old industrial Wigan. It would make an excellent subject for a painting and it also brings to mind George Orwell's writings from his famous book.
Comment by: joan whittle on 12th December 2008 at 15:05
My grandma used to live in one of the houses that back on to the canal. I was born there and also my mum.
Comment by: John B on 12th December 2008 at 16:02
Comment by: Harold Lowe on 12th December 2008 at 16:07
My uncle Lawrence Lowe lived in the first house has you look at the picture other relations also lived here,Hickey's,Dillons,
John,is Annie Bretherton a relation of yours?she also lived here.
Comment by: RON on 12th December 2008 at 16:52
Where abouts was it? Trying to work out by looking at the chimney.
Which side of Chapel lane was it on?
Comment by: Catherine on 12th December 2008 at 17:23
Isn't that Trencherfield Mill in the background to the right? Great photo.
Comment by: john bretherton on 12th December 2008 at 17:43
Lowes,Hickeys and Dillons are all related to me and Annie Bretherton was my dads sister.His name was Harold.
Comment by: Neil on 12th December 2008 at 19:56
Just looked up this area on an old map, to pinpoint it on todays Google maps, it ran parallel to the present Bridge Street on the industrial estate from a junction with Chapel Lane running along the canal towards Wigan Pier, I think you can just make out the boat repair yard that is still in use.
Comment by: John S on 12th December 2008 at 23:06
John is there a date to this photo? 1910, 1930, 1950
Great photo
Comment by: Jim Latham on 13th December 2008 at 09:52
Driving Lane is marked on the map which was re-surveyed in 1892 and the map was then re-issued in 1894
Comment by: Harold Lowe on 13th December 2008 at 14:25
I knew Harold Bretherton when he lived in Greenwood avenue
Worsely Hall.
To answer Ron's question, it is looking west from Chapel Lane, and the tall chimney is at Trencherfield Mill. Eckersley's is the mill in the centre, and Western Mills (with the big tower) is to the left. Only one of the chimneys visible (Eckersley's) is still standing. It is the one that is smoking, and it was shortened to little more than a stump in 2005. Trencherfield chimney was demolished in the early 1970s, but otherwise the mill remains virtually intact.
Are we on the main Leeds and Liverpool canal, or the branch that leads to Leigh and beyond? Never been stuck like this at locating a position!
Comment by: Jimmy on 14th December 2008 at 12:12
Tony, This photo is looking from Chapel Lane towards Wallgate. The mill in the background is Eckersleys which has now been converted to apartments.
Comment by: Jimmy on 14th December 2008 at 12:34
Correction the mill that has been converted to apartments is Trencherfield Mill (have just seen photo a day) the top of this can just be seen over the houses
Comment by: Andrew Lomax on 14th December 2008 at 12:51
The mill in the centre being Swan Meadow Mill, owned by James Eckersley. Western Mill and the other two were built by Nathaniel Ffarington Eckersley. They both amalgamated in 1900 to form Eckersley's Ltd.

Amazing photo by the way, do we have a date for this picture?
Two of my classmates cae from here,one was called Eric Lamb,
the other was Harry Bretherton,He may possibly be your father
My father Christopher Finch was born 11a Driving lane in 1902. parents Robert and Jane.
Comment by: john bretherton on 20th March 2009 at 11:08
Harry Bretherton was my uncle.
Comment by: annie bretherton and catherine on 1st April 2009 at 17:00
thanks john for putting this photo of where i used to live, it has brought back lovely and wonderful memories, especially one when your dad dunked me in the canal lol, love from auntie annie (Bretherton)
John,I`m sorry that you use the word was when refering to Harry.We were friends at All Saint`s school
Does anyone remember the 'Charnock' Families of Driving Lane
No's 19/21/23/28? All lived here late 1890's early 1900's.
what a great photo,i was born there just of driving lane.CROSS ST,in 1941,so many happy days,so many goods friends.and very good memories,i can still name all the familys living in driving lane,this photo must been have take around 1948,thanks for sharing your photo John..
Comment by: k charnock on 27th December 2011 at 17:11
with regards to the charnock family in driving lane that was my father william and uncle billy and grand father
Comment by: Theresa on 7th February 2012 at 22:20
Wonderful photo. My great great grandma lived at 3a in 1871 when she was 2 (Ambler)
Harold I have been doing my family tree and my grandma (Molly) said to contact you! Could you help me please?
Comment by: David on 7th March 2021 at 19:56
Pemberton and forshawnos also lived there,number 29and 34 respectively. I am curious to know more about driving lane
Comment by: David on 7th March 2021 at 20:06
Trencherfield mill was built 1907 according to the stonework plaque, the scaffold around it on the picture shows it being finished or repaired, my best guess is 1907
My mum was born in driving lane Betty Dillon 1942 with Mum Alice (Lowe) & Dad Tommy Dillon
Sisters Winnie & Mary & brother john. & also nans brother Jimmy Lowe. His mum died so nan brought him up. Can't wait to show mum photo. The dillons are related to Brethertons & Hickeys
Comment by: Carole on 28th August 2021 at 14:40
My mum lived at 27 Driving Lane, Jean Anglesea. Parents Nellie & John Anglesea and a sister Phyllis. She remembers most of the above. She was 86 this year and 4 when they left Driving Lane.
Comment by: David Paxton on 30th August 2021 at 14:00
My Great, great, great Grandfather James Paxton (born in 1837) and his wife Mary lived in Driving lane from 1857 until 1861.
My Great grandfather James Paxton, who later became an Alderman in Wigan was born in Driving Lane in 1860.