Photos of Wigan
Photos of Wigan
Album Contents
Album Contents
Wigan Album
Spring View
13 Comments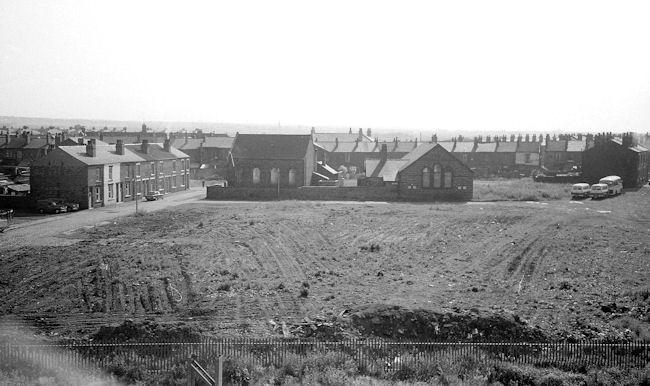 Spring View
Photo: Thomas Sutch
Views: 3,703
Item #: 7770
Spring View from railway, June 1975.
For those who don't know the area, the central feature is the buildings of the Hope Street Independent Methodist Church. The church itself is still standing, having been extensively renovated recently, but the school buildings behind have been demolished and housing now stands on the site. All the terraced houses in view have been demolished. The two minibuses (Ford Transits) and the small coach, a Bedford VAS, in Marsden Street, off Taylors Lane, are part of the fleet of Les Jackson, the rest being visible in the next shot, which shows his garage and yard. I showed a copy of the pics to Les at the weekend, and he was delighted to see his fleet of the day. Unfortunately he doesn't have any photos of the coaches he operated down the years. We do, however, have some adverts which he placed in various Parish publications, which I will upload to WW directly.
Comment by: geoff on 28th October 2008 at 20:20
when i attended spring view school,we used to use hope st chapel for some pe lessons.i seem to remember quite a few splinters.
My father, John (Jack) Baxendale, b 1915, grew up in Spring View and I believe taught Sunday School at the chapel in the centre of the picture.
Comment by: Chris Dunn on 22nd February 2010 at 23:23
The old school buildings used to house a youth club in the early eighties and its funny that I've only ever known Elizabethan Drive being there and this picture seems pre dates it.
The next pic (#7771) shows how far Elizabethan Drive had reached at the time.
In the 40s this area of Spring View was known as thowd hag. The people who lived there were the salt of the earth. When I delivered papers to Mrs Aldred, she would give me a pint cup of tea, Very welcome on a cold winters day. You could not wish for kinder people, really lovely folk.
Comment by: jim on 4th November 2011 at 21:24
in reply to edward albert was mrs aldred at 15 haywood st as this was my mother thank you
Comment by: jim12 on 9th July 2012 at 19:13
does anyone have a picture of haywood st or railway terracei would love a copy thank you jim
Comment by: Albert. on 3rd November 2012 at 20:00
Sorry Jim. I've only just returned to this item. In reply to your question."Yes it is your mother I am referring to. A great lady"
i used to live at back of this church street was called thurston street.as anybody got any photos of the street.
When I was a child in the 1940s we used to attend this church. My granny (Jane Ann Reynolds nee Kyte) sang in the choir and I used to go with my grandparents every Sunday evening plus Sunday School, in the school building at the back, every Sunday afternoon. All the comments about the good kind people who used to live around here are correct. I never heard my grandparents swear or say a bad word about anyone. Spring View was populated by the salt of the earth and I miss how it used to be more than I can say!
Comment by: jimmy Edwards on 19th October 2013 at 16:15
Left Spring View in 1963 used to have woodwork in Hope St ,taught by mr Halliwel he was a good teacher .go on Spring View School to see his photo