Photos of Wigan
Photos of Wigan
Album Contents
Album Contents
Wigan Album
Lower Ince
12 Comments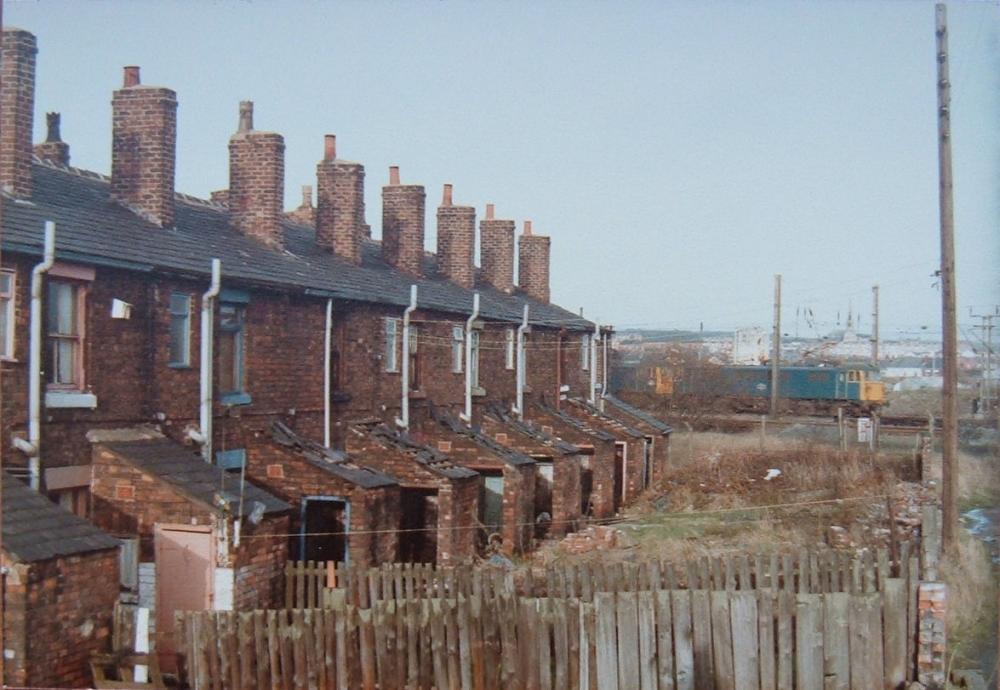 Westwood Cottages, Lower Ince
Photo: Steve Carter
Views: 5,520
Item #: 7722
In what could be a picture from an earlier age, only the livery of the passing locos and the overhead wires help to date this view taken on 30th December 1983.

Tucked between Westwood Power Station and the West Coast Main Line, they could be reached via a subway under the railway and most if not all were derelict at this time.

It is believed that they were built at this remote location to house workers at a nearby brick works.

Comment by: Gerard Hilton on 23rd October 2008 at 16:17
Some one was asking about the Westwood Cottages a couple of years ago, i think it was on here, Good photo.
My Dad Brian was born and brought up at number 7 and I have lots of memories of visiting my Grandma Green here.
It was me that asked about Westwood Cottages a year or two back. My family lived there in the 19th century. What a great photo. Many thanks Steve.
Comment by: P DOYLE on 23rd October 2008 at 20:27
Are these not the ones known as Kays houses.Kay had one or two pits there and probably built them for his miners
Comment by: Catherine on 24th October 2008 at 15:17
My Grandad was brought up in Westwood cottages. I'm not sure what number though. I think these are the houses known as Kays Houses from what I've been told.
"Westwood Cottages", "Kays Houses", and "Little Westwood" all refer to the same thing, i.e. the two rows of cottages that stood over the railway line in the corn fields in Lower Ince.
Comment by: Evelyn on 24th October 2008 at 18:11
Elaine,we are obviousley related.Your dad Brian is my second cousin and I met him by chance at the Monaco Ballroom where we go sequence dancing.We haven't seen him for a long time,I hope he is keeping well.
David Lewis,Elaine and her dad Brian are another branch of your mothers Green family.
Comment by: Steve Carter on 24th October 2008 at 20:35
To be honest I had no idea of what name they were known by until I checked the OS Maps for the area which listed them as "Westwood Cottages".
The same maps revealed that originally this terrace was built back to back i.e. instead of 20 houses of 2 Up/2 Down there were 40 house of 1 Up/1 Down.
Kays Houses were built by the family living in Westwood Hall, which was nearby. The family had a pit on the west side of the Hall. It is likely that they were built as colliers' houses for those who worked the pit. There is a set of 1974 pics on Flickr of the cottages. Google 'Ince-in-Makerfield'. Thanks for this pic - it's the latest I've seen of the cottages. It's surprising how many folk in Lower Ince came from there, or are related to those who did.
Comment by: stueey on 25th October 2008 at 01:05
I asked about this place about a year ago.....was cleared up though. Great picture
I find it difficult to understand how these houses could ever have been, as Steve Carter has suggested, part of a double row of back-to-backs. Either the centre line of the supposed two rows is the present apex of the roofs, which would make them very tiny homes indeed (1 up, 1 down?), and the units were halved in number but doubled in size by knocking a hole in the dividing wall between each pair of houses, and the privvy/ coal sheds were added, or the a similarly-sized row backing onto this one was completely demolished, and the roofs restructured. Seems like an awful lot of expense to halve the number of tenancies you had on offer. I suppose someone could do some research with the Census Returns....
Hello to everyone on this thread, I hope to email you all personally this week end and chat some more if you have some spare time. I have just come across this link, but am so, so glad I did(three months late!.

I have been researching the social history of the two rows of cottages known as Kay's houses/Little westwood for the last years, and the place has a very special place in my heart.

The Kearsley's branch of my mothers family have lived in them since they were built between 1851 and 1861 until they were 'pulled down! in the 1980's. I am discovering so much about their unque history during this time. I have managed to traced most of the Halliwell's, Green's Johnson's and Kearsley families, and partly the Hollands and Mossley's, and come across a few other surnames! From the information on the census' between 1841 and 1911. Please if you are interested to trace any family that may have lived in Kay's during this time, email me and I send you the details. mmburns.tutor@yahoo.co.uk

Id love to share my findings and am always looking for people who can share more modern memories to add to my research.

Hope not to bore you, but Ive pick up on a few bits that I discovered some of the answers to over the last year.

The Kay family did build the cottages and the family continue to own them until Miss Kay died in the 1980's, not found the exact date yet. The census lists coal workers as the main occupation, but some brickmakers were listed as living/lodging there on the 1861. I will check out the pit ownership of the Kay's, so thank you for the tip.

Back to Back - they were built with a room in the front, facing the street, with one room above. A stair case in the middle of the house. One room facing the back yard with an room above. One family would live in the front and another in the back, both would shared the staircase. The privy was at the back, so people in the front row would have to walk around the whole row! Very large families lived in the two rooms, one up and one down. Both sides of the house had a open fire, with it's own chimmey. Toliets in each yard came later in the 1900's. During the 1930's the two part were 'knock through' to become one home, but bathroom's were only added in the 1950/60. Ive got a long way to go with my research, but would but so grateful if any of you could share any memories or information. Hope to chat to you all soon.