Photos of Wigan
Photos of Wigan
Album Contents
Album Contents
Wigan Album
Market Square
7 Comments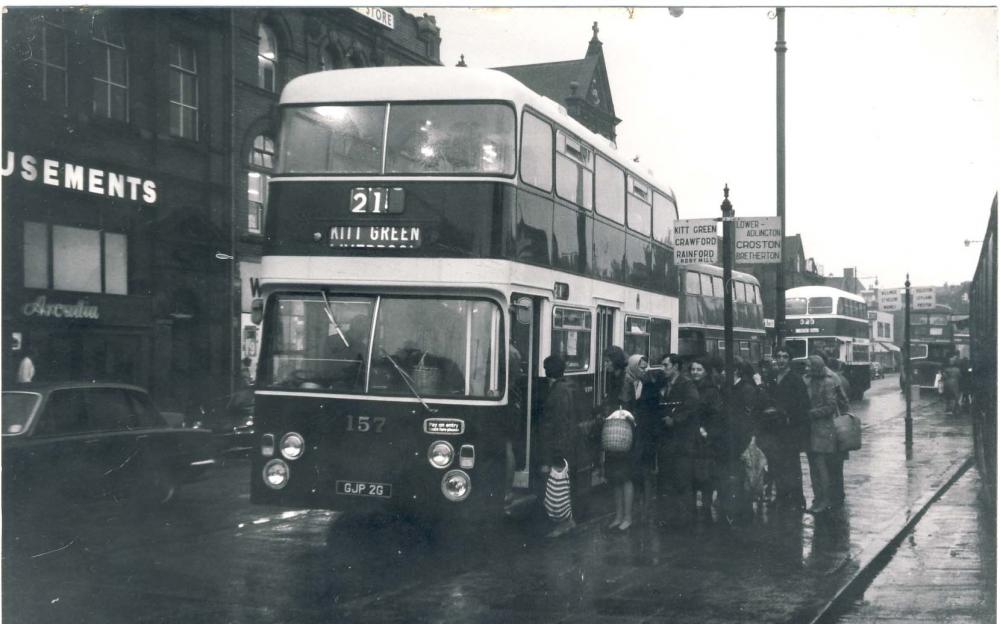 Market Square Bus Station / Hope St
Photo: John
Views: 2,616
Item #: 6670
Photo showing the bus station on the Market Square and Hope Street Wigan before the galleries and the new Market Hall were built.
Taken in Christmas 1970 you can pick out Whelan's Supermarket and the Amusement Arcade which if I remember was owned by Ken Cowap the former Wigan Athletic Chairman from the 1970's
Comment by: rubyshoes on 16th July 2008 at 17:55
I notice that there isn't a plastic shopping bag in sight.
Comment by: Gibo on 24th July 2008 at 16:12
door way between amusement arcade and supermarket that led up to the room at top night club
Ah, but, Rubyshoes, them were the days. When everyone carried a shopping bag.....I am getting closer to knowing your real name....Wigan in the fifties and sixties... no one who has not been there will know the MAGIC of Wigan back then....only Rubyshoes and me...!!!!!
Comment by: Duncan on 4th March 2011 at 10:32
Who remembers the Don Cafe and Roy Cafe further along Hope Street, remember going to the Don Cafe on Sundays after the swimming baths.
Comment by: Jeff on 17th April 2011 at 12:00
What was in the building before Dave Whelan took it over for his first supermarket. It was near to, if not next to the Savoy Chippie!!
Comment by: Tom Clancy on 19th November 2012 at 16:38
Comment by: Jack on 30th June 2014 at 01:27
Wow!! What a memory. Cheers John.