Photos of Wigan
Photos of Wigan
Album Contents
Album Contents
Wigan Album
Market Square
17 Comments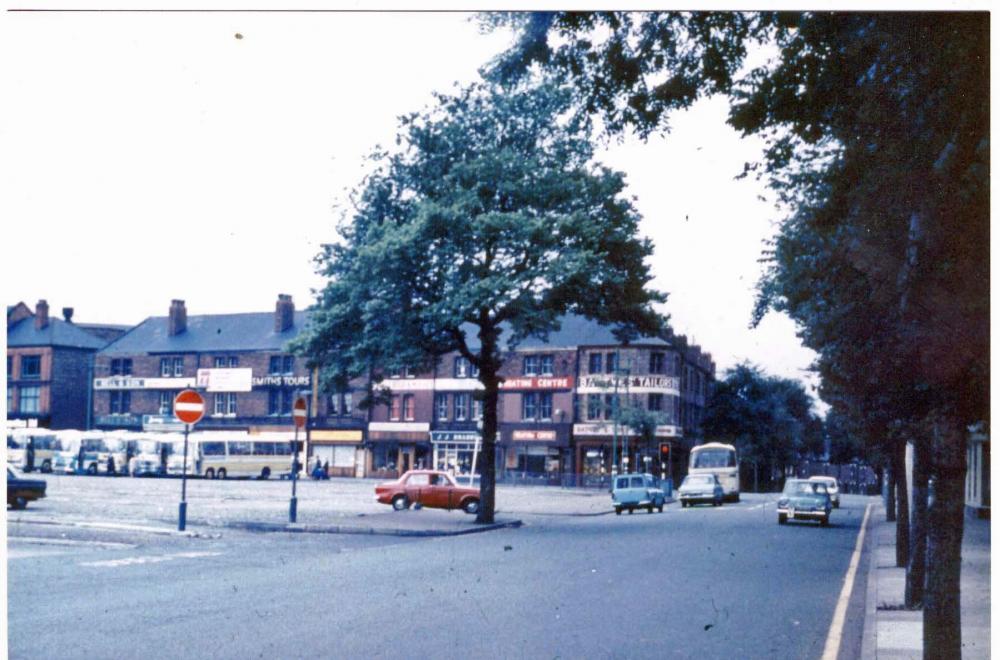 Market Square
Photo: John Collier
Views: 5,540
Item #: 6237
Photograph of Market Square probably 1968. Note the coaches lined up picking up passengers and their luggage, likely to be very early on a Saturday morning. You can also make out the original JJ Bradburn shop at the bottom of Market Street, if only the owner knew then what would become of his name
Comment by: Peter Mason on 30th May 2008 at 20:13
I knew Johnny Bradburn when I was but a child. It's amazing what a little bit of ingenuity and taking a risk can do
I remember JJB when he was opposite side of market square (Whelans Superrmarket) 1972 I used to get 4 carrier bags full for £7 gosh those were the days.
Comment by: June on 2nd June 2008 at 19:30
I remember my first chinese meal,at the Pacific ocean restaurant in Market Street.Didn't have a clue what to order !Settled for chicken chow mein and it was brilliant.Went back often after that.There was another chinese restaurant in the same block,but its name eludes me,no doubt someone out there remembers.
Comment by: John on 2nd June 2008 at 21:38
The other Chinese Restaurant was the Happy Palace with a big red neon sign outside
Comment by: June on 3rd June 2008 at 13:40
Many thanks John,as usual someone comes up with the answer.
Comment by: Bob Aspey on 3rd June 2008 at 15:13
Nice picture John and interesting comments by others but I believe JJB shop was originally opened by JJ Broughton (hence JJB) and many years later bought by (as Peter says)Johnny Bradburn who I think was a teacher at Wigan Grammar School....Dave Whelan who owned Whelan's supermarket on the market square sold out to Morrisons (I think) and subsequently bought out JJ Bradburns on the other side of the Market Square....Hence the now famous JJB empire..Well done Dave.
Comment by: Frank Healy on 4th June 2008 at 14:22
Hi Bob. Johnny Bradburn was definitely a teacher at the WGS. I remember him well. As far as I know, he's still alive and kicking.
Comment by: russ on 10th July 2008 at 22:29
Thats a great pic, it brings back a lot of memories. I used to love going to the pacific ocean, especially downstairs.
I remember stopping in at the Johnny Bradburn shop on my way home from WGS in 1957-58. I found his prices were extremely high in relation to the other shops in Wigan offering the same items (chemistry). But, good luck to him, he is famous, country wide.
Comment by: Alan Leigh on 28th July 2009 at 11:01
The JJB origin is from JJ Broughton who originally opened and owned the shop, and later sold the business to Johnny Bradburn.
As a small boy I lived in the same block from 1943 to 1948 and was regular visitor to JJ Broughton I believe Dave Whelan was a regular customer. One of the salesman at JJB; his name was Reg he used to inform me and show me the latest Dinky Toys, all toys at this time were scare following the recovery after the war. The shop which is now Creations was then Roy Turners, their business moved to Mesnes Street. Smith Tours then occupied the premises with Websters Tours 2 doors further down, Smith Tours origanated from Carlton Coaches which eventually became Shearings.
Comment by: Duncan on 4th March 2011 at 10:35
I remember going to Smiths on Market Street for a job interview, that would be about 1976, it was Smiths-Happiways-Spencer by then.
Comment by: Fiona on 14th March 2011 at 23:34
My dad is originally from Wigan, and his cousin had a pharmacy I believe in this area by JJB's.
Does anyone have any information about the happy palace? the manager/ employees names? someone called harry lun and pak tak chan?
Comment by: Jim Latham on 10th March 2012 at 09:11
Sad to say Johnny Bradburn died about 3 years ago. He was a pupil at WGS from 1931, got a degree in English, and then went back to WGS as a teacher. He finished teaching middle/late 1950's, when he took over the JJ Broughton shop in Market St. His initials were JJB, so continuing the JJB name. Later in life he became a member of the Anjou Society, Wigan's twinning association. His Funeral Service was held at the United Reform Church, that's the one more or less across from the Cherry Gardens.
Comment by: Marcia on 12th June 2013 at 16:36
Yes, I can vouch for J.J. Broughton Sports Shop being the original name before "Johny" Bradburn (also J.J.) bought it, because my father-in-law, Reginald Farrimond worked for J.J. Broughton and then J.J. Bradburn. He is mentioned here somewhere and referred to as Reg., as he was known. Reg started with J.J. Broughton at the age of 14 and only retired in his 70's when he was working for Johny Bradburn, so everyone seemed to know him. He was a quiet and caring man, who apparently was one of the last people to be able to string a tennis racket manually with cat-gut. I am 73 now and my mother and her sister used to go to Reg for their tennis racquets to be re-strung. I remember when married to Ken, son of Reg, we borrowed Johny Bradburn's car, for a holiday to Scarborough. I think it was a Humber of some description and Yes, he was a teacher at the Wigan Boys' Grammar School and has since sadly passed away. Dave Whelan of course subsequently bought the shop and the rest is history!
Only just seen this story.My dad was born in Hindley 1902.In 1909 his father bought him a Meccano number 3 which I have.A plaque inside has the name J.J.Broughton 76 Market Street,Wigan.He sold toys as well as sports goods.John Jarvis Broughton was born in Grantham and trained as a Mechanical Draughtsman before he opened the shop.