Photos of Wigan
Photos of Wigan
Album Contents
Album Contents
Wigan Album
Whelley
12 Comments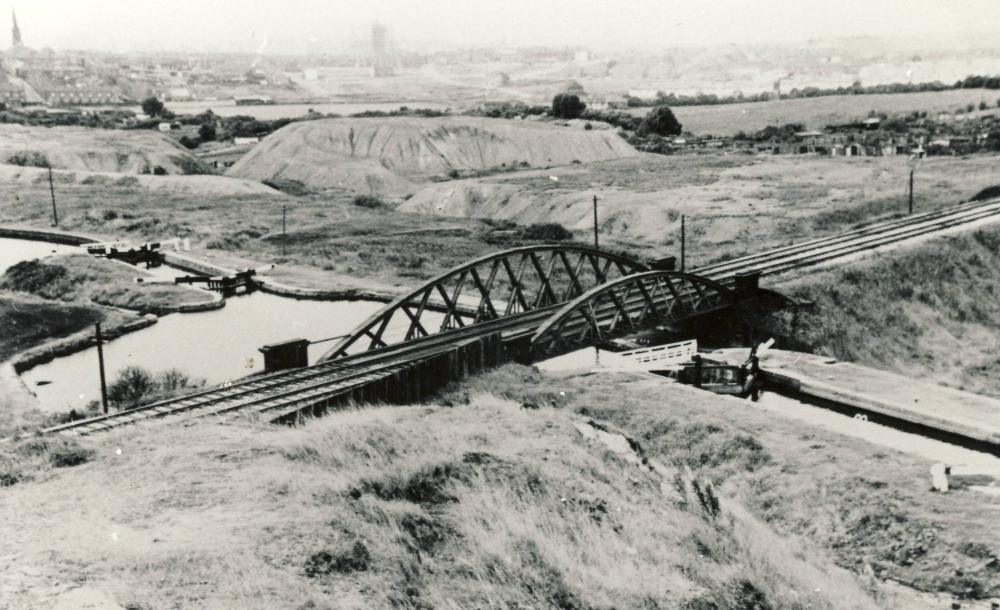 Canal Bridge Whelley Loop Line
Photo: Karen Smith
Views: 5,091
Item #: 5440
1968
Comment by: dk on 13th March 2008 at 18:29
Excellent, Karen. The railway photos over the last few weeks have been outstanding.

dk and Karen, can you E.Mail me please. I would like to use some of your photographs on a DVD about Wigans Pits and Railways.
Comment by: dk on 13th March 2008 at 20:07
Sure thing Winder. All of these pictures of Karen's are superb.
Comment by: xxStuartxx on 14th March 2008 at 21:53
Excellent photograph.
Those 'Grey Hills' always seemed bigger.
dk,,,gray hills,,,,centre foreground,,,,could be the "site of one of your pevious pics described as "lancs volcano" i remember there were just such areas(for want of a better description)and they were all diiferent colours red and the like due to all diferent chemicals in soils ,,after all it was made up of industrial waste as you well know,,,,
wow karen what a tremndous set of pics you come with not to mention the one from dk,s pics,,
karen this one take me back,,will have to go and stand on same spot,,,top left dk,,st catherines church,,,leader st and houses across bottom,,backs of wells st,,,,with it looks like St catherines Rec behind it???
Comment by: dk on 15th March 2008 at 22:40
Can't get over this picture. I'm still repeatedly clicking on it Jim. I don't know about the "volcano" slagheap is it could well be here though I have been thinking about the Scot Lane slag heap for a bit. But I do think that Mick on "View over Wigan" pic5154 is right. The shape and size of the grey hills (seems bigger than I remember) and the grass fields behind on this picture seem to confirm that shot as Platt Lane fields. This was our playground in 1968.
Comment by: hilly on 30th July 2008 at 19:15
What a picture ! It is taken from the " Rabbit Rocks ", or " The Slaggy ", as we used to call it. St. Catherine's Church is in the top left, the white prefabs of Durham Street at the top, right of centre. This was our stompng ground, too. And one memory I have of this is that wild mint used to grow in between the grey hills, and you could smell it in the summer, when you went jumping over the streams down there. Superb ! Thanks for posting this picture.
Excellent photo, from a vantage point I well remember.
It's interesting to see what different people call things. My friends and me used to call this hill 'The Rockies' and the other bigger hill we could see beyond, when viewed from Whelley, we called the 'racing car', because its profile was very much like that of a 1950/60s racing car.
Comment by: Andy on 7th May 2010 at 21:53
The hill from where the picture is taken is the old slag from the Top Place steelworks or Pancake Hill as we used to call because of the shape of the waste on the hill.
Comment by: Jim banks on 17th August 2011 at 14:52
Hi folks. I'm like Vic I remember the hill in the foreground as the Rockies - it has great lumps of slag waste dumped on it from the old Kirkless iron works. They looked like lumps of rock or concrete.
Grey Hill in background - sledged down them many a time in winter.
Comment by: John Chorlton on 26th September 2016 at 12:38
Lovely view of an area that looks the complete opposite now.