Photos of Wigan
Photos of Wigan
Album Contents
Album Contents
Wigan Album
Wigan North West Station
14 Comments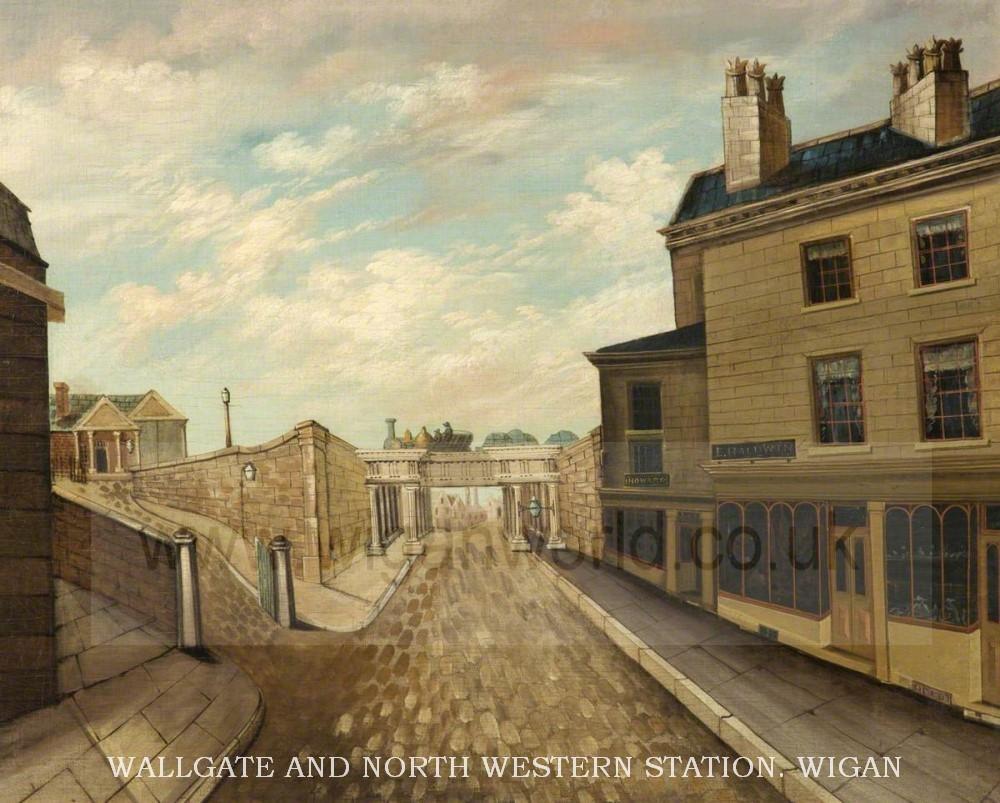 PAINTING OF THE ORIGINAL STATION 1832
Photo: RON HUNT
Views: 777
Item #: 33933
A very rare image of the original station. Looks like it could be a Thomas Whitehouse painting, as he was painting scenes of Wigan around the 1820's
Comment by: Veronica on 28th July 2022 at 10:06
Lovely to see this, so much detail in it as well.
The road is a lot narrower for a start and the slope up to the station is quite steep.
Comment by: John Brown on 28th July 2022 at 14:52
Comment by: Jarvo on 29th July 2022 at 12:38
1820's? The railway wasn't built until the 1840's. This is a mock-up painting and bears no resemblance to Wigan whatsoever.
Comment by: James Hanson on 29th July 2022 at 14:27
Jarvo, I've pointed the facts out numerous times, but the admin don't want to know the truth. "Well, it's Wiggin world, and we only post what we think is true on here.
Comment by: RON HUNT on 29th July 2022 at 14:33
Just checked the info. and it would seem that the station was relocated to this position in 1838
Wikipedia:-
31 October 1838 The North Union Railway opened between Wigan and Preston and connected with the line from Parkside.
Wigan station was relocated to its present position.
Appears that the date of the painting isn't correct but no reason to believe that this isn't an image of the station how it was then? Its quite easy to misread a 2 for an 8 ?
The original painting is in the Archives.
Comment by: John Staveley on 29th July 2022 at 16:35
Archivists do excellent work, but I have also found when researching Walker Bros that they make typos like the rest of us, which causes a lot consternation.
Comment by: baker on 30th July 2022 at 17:30
got to say its a damn sight prettier than the present station
Comment by: Andrew Lomax on 30th July 2022 at 21:35
I don't think anybody posts on Wiganworld as a point of fact. Actually, questioning it creates debate in the comments and hopefully we all come away better off in the end.

My own opinion is it's not Wigan, if it was there has been much artistic license. The biggest giveaway for me are the Greek/Italian columns serving as Wallgate Bridge, totally out of character.

That's how you create conversation James.
Comment by: Pam on 31st July 2022 at 01:02
A painting is just that, a painting. No need for the shirty comments. Carry on Ron.
Comment by: Dave johnson on 31st July 2022 at 10:43
Does anybody remember the two iron bollards outside Robinsons saddlers?
Comment by: RON HUNT on 31st July 2022 at 11:05
Definitely Wigan.... Just checked the 1869 Directory :-
92 Wallgate W.Baldwin. SWAN AND RAILWAY INN . nameplate on painting shows an E? BALDWIN
94 Wallgate Edward Howard. Boot and Shoe Maker Nameplate on painting shows HOWARD
Comment by: Veronica on 31st July 2022 at 11:12
The artist may have painted it from his imagination as to how it could possibly look in due course. He may have had wind about the planned work. Just my opinion.
Comment by: RON HUNT on 31st July 2022 at 13:27
Andy, check out this image You will see the columns of the bridge are the same.
https://www.wiganworld.co.uk/album/photo.php?opt=5&id=31361&gallery=Wallgate&page=5
Comment by: Cyril on 31st July 2022 at 14:34
How chic the bridge looked and would still do now if those Corinthian columns had been kept to support the bridge, though some idiot would have crashed a vehicle into them or a council from a time past would have objected to them.