Photos of Wigan
Photos of Wigan
Album Contents
Album Contents
Wigan Album
Scholes
13 Comments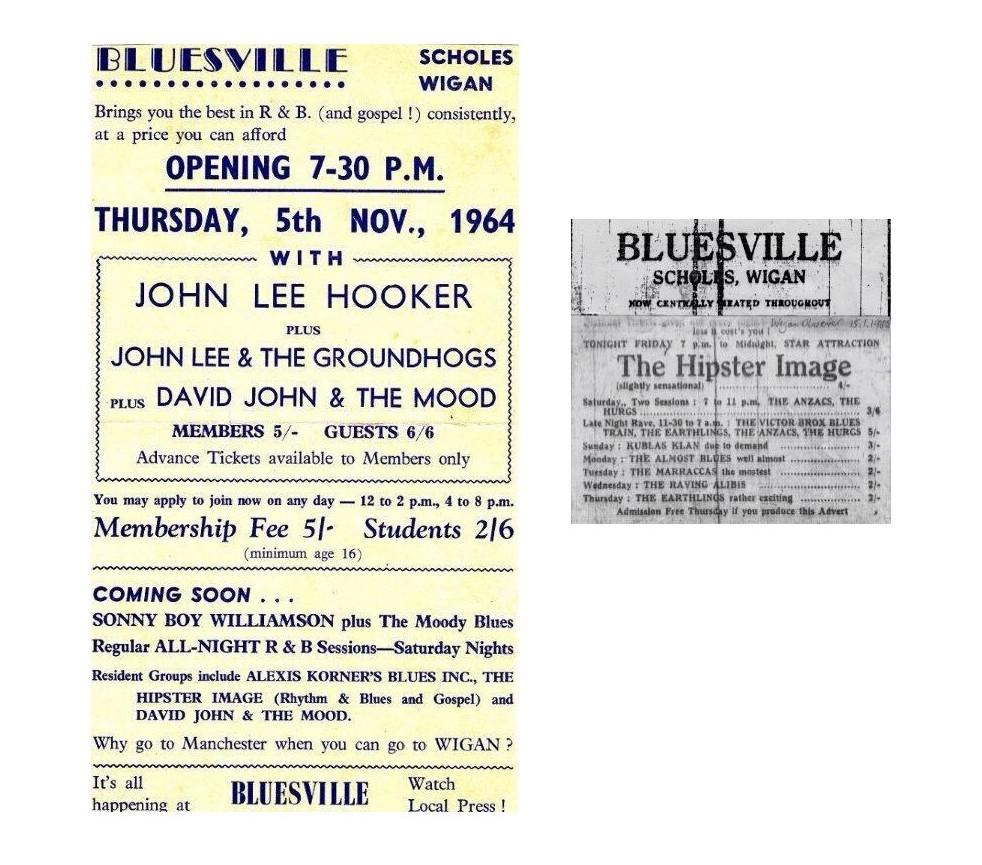 BLUESVILLE 1960's
Photo: RON HUNT
Views: 491
Item #: 33923
Thanks to Tommy for the images. Did anyone go there? Can't believe the MOODY BLUES played there???
Comment by: RON HUNT on 25th July 2022 at 09:23
Images sent to me by "chooch from Kirkby" Anyone remember him, He was a regular at the club?
Comment by: Elizabeth on 25th July 2022 at 11:56
Some of the most influential blues players on this programme,incredible.John Lee Hooker,tickets 5 shillings,and soon to follow Sonny Boy Williamson and the Moody Blues.Statement 'why go to Manchester when you can come to Wigan',how times change.
Comment by: Veronica on 25th July 2022 at 13:47
This place was once the Scholes Picture House. Who'd have thought it! I never went there after the Picture House closed.
Comment by: Edna on 25th July 2022 at 21:44
I never went either Veronica, after it was Scholes Pictures, hard to believe this was on our doorstep!!
Comment by: Brendell on 26th July 2022 at 09:11
I frequented this venue for a while, can't remember seeing John Lee Hooker or Sonny Boy Williamson there but I wish I had!! I remember it being a very atmospheric blues club.
Comment by: David Halliwell on 26th July 2022 at 09:22
I joined when it opened, think my membership no. was 006. Remember, John Lee Hooker and Moody Blues hadn't made it big at that time.
Comment by: Neil Barker on 26th July 2022 at 11:25
Went o Scholes Picture House to see Glenn Miller Story with my mate Charlie from Knellers butchers and our gang from De Havilland.
Comment by: Eric on 26th July 2022 at 19:13
This was a all-nighter well before the casino
Comment by: Pete Rammy on 27th July 2022 at 09:14
Ron went there in the 60s,still got the business card off the victor brox blues train group,all nighters there before the casino.
Comment by: Pete Barker on 28th July 2022 at 19:13
This must have been when they also brought Sister Rosetta Tharpe over from the USA and ITV did a TV broadcast from Chorlton railway station ? Rosetta Tharpe has a clip from this show over on Youtube . The crowd were on one platform and the acts were on the opposite railway platform. She has only recently been belatedly inducted, years after her death, into the Rock & Roll hall of fame . I only found out about Sister Rosetta Tharpe very recently and wow she was amazing. She played lead guitar before almost everybody. She is now regarded as the 'Godmother of Rock & Roll'.
Comment by: Janet on 30th July 2022 at 06:53
Seen that clip of Rosetta Tharpe,it's brilliant.
Comment by: chooch on 30th July 2022 at 09:28
Can anyone remember the period, the Bluesville was open?. My memory is fading. I do remember locals pointing out the "Drug Squad" arriving in the early hours. To my surprise it was a guy in a flat cap and tweed overcoat with a belt. If he was undercover, it didn't work. I will avoid saying they were more "innocent times", they were "our" times. We were deffo not innocent (or guilty) just young and happy to be alive. Did anyone go to the Heaven and Hell in Manchester?
Comment by: Ian on 30th July 2022 at 17:12
Never went to the Bluesville Club because it was before my time, so sadly missed out on seeing those great musicians.
But! I know one of the members of David John & The Mood. I haven't seen him for a while, but the last time we met was in a cafe; we sat drinking coffee and spent a couple of hours talking about music and the past music scenes, musicians, venues etc.
This was a band which should have been more successful and probably would have been if circumstances had been different.
Sadly, the lead vocalist passed away almost ten years ago.