Photos of Wigan
Photos of Wigan
Album Contents
Album Contents
Wigan Album
King Street & King Street West, Wigan
8 Comments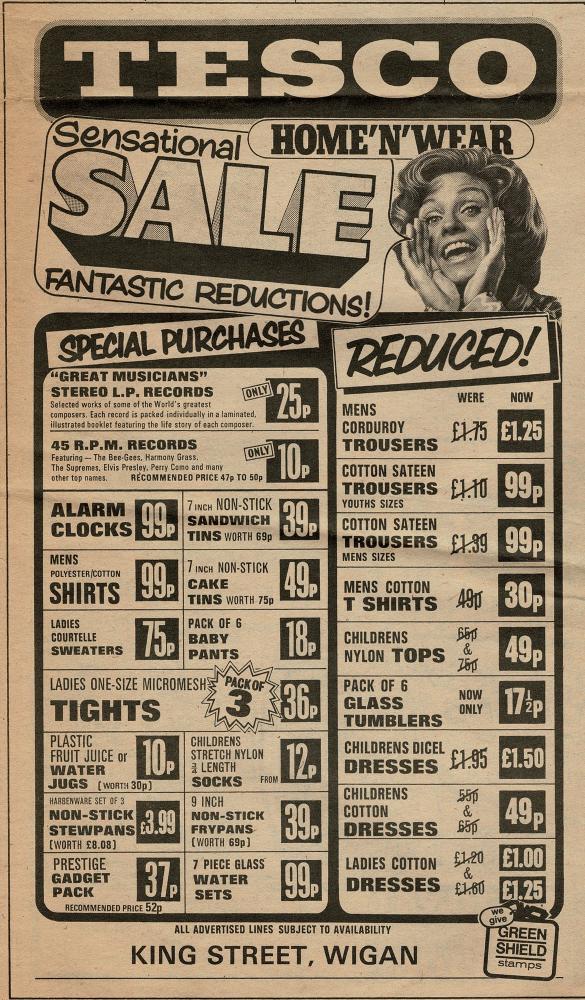 TESCO KING STREET PRICE LIST MAY 1971
Photo: RON HUNT
Views: 418
Item #: 33917
PRICE LIST FOR ITEMS ON SALE AT TESCO'S KING STREET BRANCH 1971. WAS THIS THE FIRST TESCO STORE TO OPEN IN WIGAN?
CANT BELIEVE IT'S OVER 50 YEARS AGO
I remember Tesco's in King Street, although we used to shop at Lennon's Supermarket, (further down King Street and on the opposite side), when we first got married in 1974. I used to get my wage from Debenhams in a little brown envelope on a Friday afternoon and we would go straight to Lennon's. I think I only ever went in the King Street branch of Tesco once.
Comment by: Maureen on 24th July 2022 at 13:09
My youngest Son was born in 1970 and I bought quite a few of his baby clothes from here and up to the age of six when we moved house...and they were really good clothes..got all his underwear here and socks Winter clothes and Summer,I couldn't fault them.
Comment by: Veronica on 24th July 2022 at 13:58
Hard to believe everything was so cheap but it all changed with decimalisation I think.
I remember soap powder being 3s/6d.
Also I used to buy 2 chump chops from Hibbert's butchers where I live and they cost 5 shillings for two- and they were big 'uns.
Comment by: Cyril on 24th July 2022 at 15:26
You didn't get points then you got Green Shield Stamps, if the customers before you had refused them their allocation came out with yours as well with loads coming out of the till, though if I remember rightly they were only worth around a 1/4p per stamp and you needed a lot of full stamp books even to exchange for basic goods. The store probably only lasted around 10 years or so before closing, it did have competition from Lennon's as mentioned by Irene and also from Whelan's which was the better placed supermarket with being more central and also next to the bus station.
The British currency changed over in February 1971, with the old 'shilling' money becoming a thing of the past. This poster from Tesco's was probably their clever way of helping customers become use to the new format of 'pounds & pence'.
Comment by: Edna on 24th July 2022 at 22:47
I used to shop here, you forget what the prices were then. Looking at the advert now, those prices were unbelievable. But my wage around that time was only £6.
Comment by: Elizabeth on 25th July 2022 at 07:55
This was across from where I worked in King Street,so it was used,along with Lennon's,by myself and work colleagues.Dresses for £1 and £1.25,can hardly believe the prices then !
Comment by: Mr X on 25th July 2022 at 22:21
This is after February 1971 with the new decimal currency prices. A small box of matches then was 1/2p! The new coins were now in use, but the shilling and two shilling coins continued, the oldest being King George VI 1947 coins, being the same size as the new 5p and 10p coins right up to the late 1980s and the halfpenny finished in 1984.