Photos of Wigan
Photos of Wigan
Album Contents
Album Contents
Wigan Album
St Williams Ince
8 Comments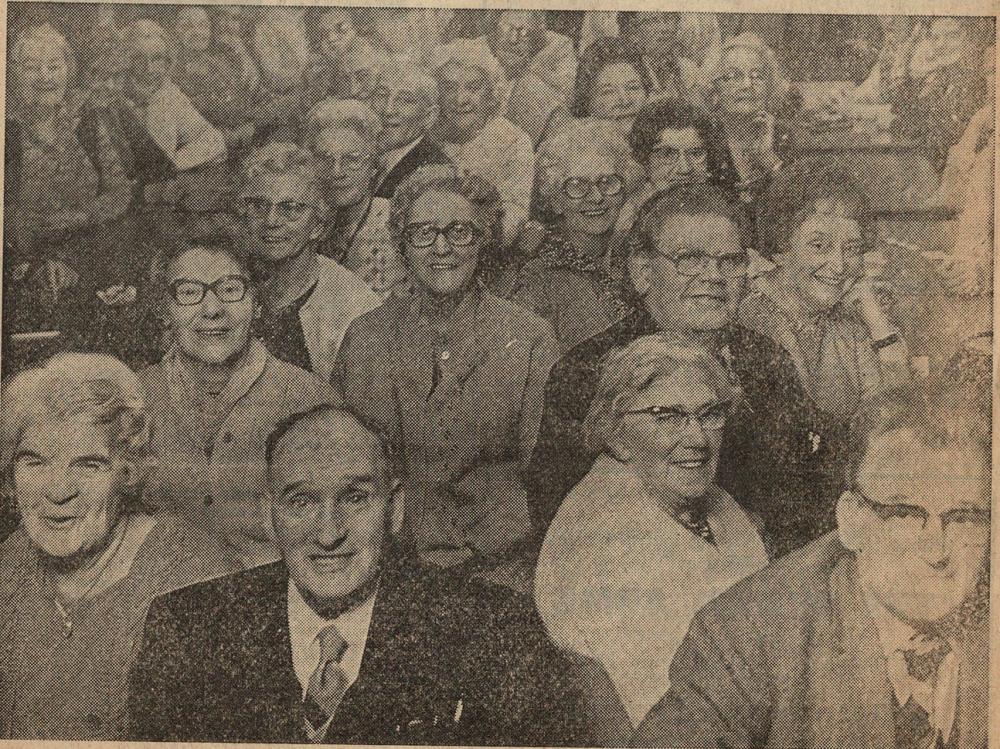 September Club. Ince St Williams
Photo: RON HUNT
Views: 398
Item #: 33915
Cutting from an old newspaper 1971. Names?
Comment by: RON HUNT on 24th July 2022 at 20:44
Appears the women far outnumber the men...Lucky men<g>
Comment by: Bill on 26th July 2022 at 19:15
The lady in the light cardigan at the front is my Aunt Katie, Catherine Fleetwood who worked in the canteen at NCB workshops at Kirkless and lived in The Grove.
The September club was held every Wednesday, concerts for the old folks of Ince with voluntary artists and talented members of the CYMS club also performing.
Comment by: Donald Underwood on 27th July 2022 at 13:13
I take it that she would be related to my old schoolfriend and talented fashion designer Kenneth Fleetwood and also to Mrs Hawkins,Mrs Horrocks and Mrs Bold?
Comment by: Bill on 28th July 2022 at 12:45
Yes you are correct, her brother Walter was Kenneths father, and Ellen Bould and Winefred Horrocks were her elder sisters. Mrs Hawkins was Walters wife Margarets sister.
Kenneth worked with Hardy Amies for many years and designed clothes for Her Majesty the Queen on several occasions.
[url=https://www.independent.co.uk/news/people/obituary-kenneth-fleetwood-1309416.html]Kenneth Fleetwood[/url]
Comment by: Donald Underwood on 28th July 2022 at 18:12
Bill.Thank you for replying

I used to see Ken from time to time here in London

He never changed.Always saw the amusing she of everything.His obituary notice in the Telegraph was rightly glowing
Comment by: Bill on 28th July 2022 at 18:58
Good to talk about him Donald. We didn't see a lot of him after he left for London but his parents and sister Margaret were very proud of his achievements.
Comment by: Donald Underwood on 28th July 2022 at 21:07
His parents were always kind and hospitable to me in the 1950s
The fourth person seated on the right, leaning with her elbow on the table is my paternal Grandmother Hannah Kennedy (nee Wall). At this time she lived at 306 Ince Green Lane which now is the last terraced house on the right hand side if you're heading towards Warrington Road. Born in 1901 so she would have been 70 the year this photo was taken. She was known as Cissy to her friends and family, and was quite a character, and lived to the age of 88. I still remember her husky laugh, which was quite endearing. A lovely decent lady.