Photos of Wigan
Photos of Wigan
Album Contents
Album Contents
Wigan Album
Hindley
7 Comments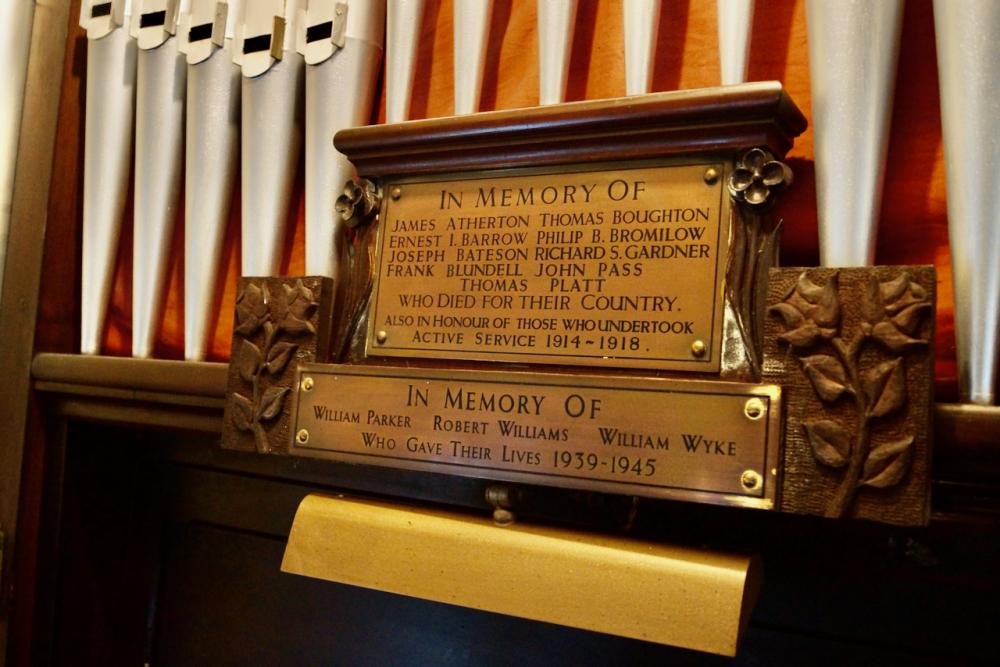 War Memorial plaques, Hindley Unitarian Church
Photo: Rev David Long
Views: 807
Item #: 33527
The plaques on the organ in the chapel.
Comment by: Edna on 4th February 2022 at 21:31
These plaques need to be kept safe for those who gave their lives for this country.
Comment by: Cyril on 5th February 2022 at 14:53
Your right Edna they should be kept somewhere safe in memory of the men, women and animals killed in service, but apparently all the fixtures and fittings are included in the sale, if the organ is to be removed then hopefully the buyer shall allow them to be moved elsewhere.

David's photos of the organ are also on the War Memorials website:
https://www.warmemorialsonline.org.uk/memorial/266904/
Comment by: Edna on 5th February 2022 at 19:59
Thank you Cyril,I'll have a look.
Thanks for the plug, Cyril. The site you give has copied the entry from the Imperial War Museum's site (the IWM site does the reverse as well). The url for the IWM entry is: https://www.iwm.org.uk/memorials/item/memorial/85750
I also created a record for two sets of photographs of all those from the Chapel who served, which is stored at the Tudor House Community Centre, along with other local memorials: https://www.iwm.org.uk/memorials/item/memorial/85950
Your reference had me looking at the images I made at the time - and has led me to revise that record to add close-ups of the photographs.
I also have images of hand-written pages in the Chapel's Minutes Book which gives details of the nine who died, the list of those who returned, and the names of some of those who subscribed to the fund to buy the organ - which I will now use to create a third record for the Register.
It's sad to see the Chapel up for sale - but there were only a handful of people involved there when I visited in October 2019, so its closure seemed inevitable.
Comment by: Veronica on 6th February 2022 at 11:06
Elizabeth Gaskell would turn in her grave I think. She was a great Unitarian and they were very forward looking in her time especially in the role of women's education. I did my dissertation on some of her novels many years ago.
The three men remembered on the memorial from the Second World War are all mentioned with details of their service in my brother's book; 'Roll of Honour -for the towns and townships of Wigan Metropolitan District' By Eric McPherson.