Photos of Wigan
Photos of Wigan
Album Contents
Album Contents
Wigan Album
Hindley
11 Comments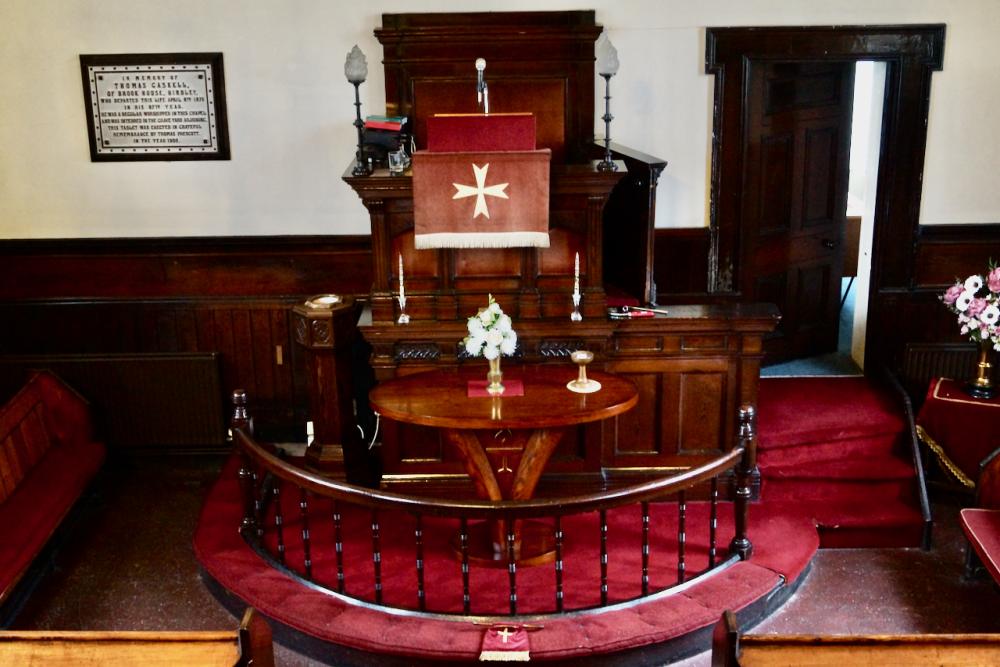 Hindley Unitarian Chapel - up for auction
Photo: Rev David Long
Views: 910
Item #: 33526
The pulpit and Communion Table - the central features of the Chapel in Hindley, which is up for auction this month - guide price £68k.
I was amazed to read that this Chapel built in 1698, is not a Listed Building. Although the later buildings attached to it are not very pretty, the Chapel itself is a gem.
The organ - the Chapel's Memorial to the men killed in WW1 - is included in the sale.
Comment by: Andrew Lomax on 3rd February 2022 at 21:50
Comment by: Elizabeth on 4th February 2022 at 09:55
It really is sad,you're spot on Andrew.
Comment by: Edna on 4th February 2022 at 21:26
How has it come to this, a church up for auction. Yes, a very sad sign of the times.
Comment by: Tom on 4th February 2022 at 21:59
Some one wants to fill his pocket ,all about money now Edna who paid for these churches to be built .
Comment by: James Hanson on 4th February 2022 at 23:02
Don't be surprised if it ends up as a mosque.
Comment by: Anne. on 5th February 2022 at 10:02
When I was in Hindley Operatic Society in the 1960s,we rehersed in the hall at this chapel.I had never been in the chapel itself.It is lovely. Anne.
Comment by: Roy on 5th February 2022 at 10:30
I know of at least two Wesleyan / Methodist Churches locally that have been converted into living accommodation, hopefully this one will e put to good use.
Comment by: Cyril on 5th February 2022 at 14:40
I've been reading about the auction of this chapel in the Wigan Observer, I didn't know whereabouts in Hindley it was - so did a web search, if someone converts it as a residence they'll be handy for Asda, and during winter have a good view of Silcock's fair, that's if they still overwinter it on the land there. Being built in 1700 you would have thought it to have been a listed building, but not so. Photos of the chapel are on the auction website. https://www.pugh-auctions.com/property/25586
Comment by: Elizabeth on 5th February 2022 at 17:41
Cyril,the land behind Market Street where Silcock's used to have their fair equipment has been levelled out for building,the plans are on the wall in nearby King Street.I too am surprised the Chapel is not a listed building.
Comment by: Pw on 13th February 2022 at 11:56
Always a mysterious place to me even though I lived in Hindley.I think I went in once for my Grandads funeral but really too young to remember.A few of my relatives attended this chapel.