Photos of Wigan
Photos of Wigan
Album Contents
Album Contents
Wigan Album
Mariebonne
9 Comments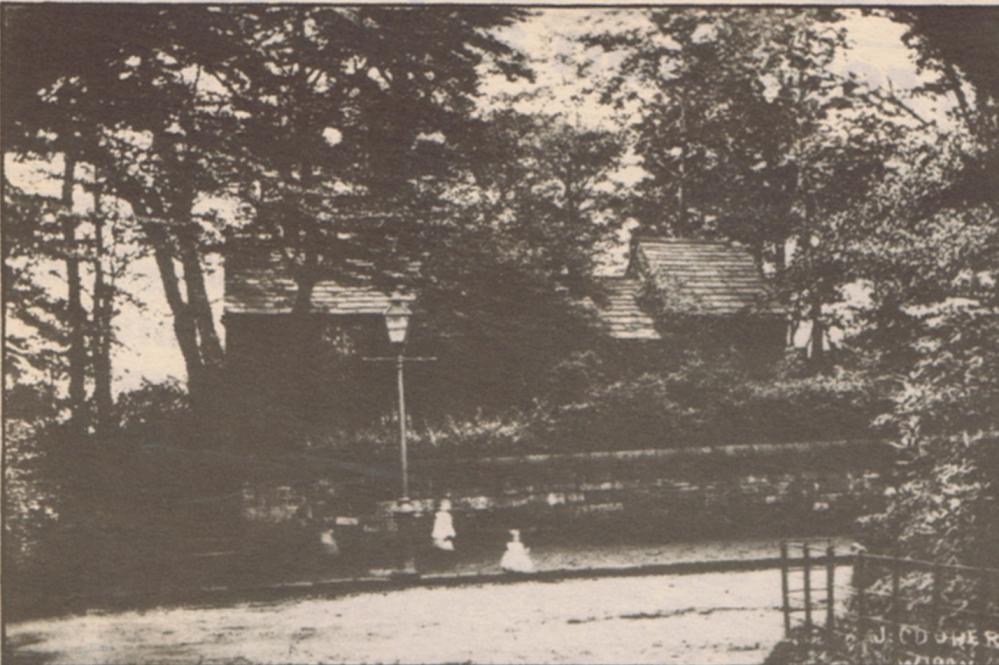 BANK HOUSE
Photo: RON HUNT
Views: 1,128
Item #: 33521
A very rare image of BANK HOUSE which was opposite, what was the MARIEBONNE POST OFFICE. Wigan Lane. It was demolished when the road was widened to allow tram lines to be built. This is the only, obscured view, of the house I've seen after years of searching. If anyone has any images of this house I would be grateful if you would let me know
Comment by: Cyril on 31st January 2022 at 15:49
I can remember reading an article along with a photo of Bank House and I'm sure it was in an early issue of a Past Forward magazine. The article placed the mansion to be overlooking what became Marylebone park and was demolished in the 1920s. There are some ancient tall and very wide beech trees at the side of the tarmac path which runs through there, these allegedly are remains of a tree lined driveway of the mansion from Wigan Lane.
Comment by: Philip Cunliffe on 2nd February 2022 at 18:38
If you look at the National Library of Scotland's maps you will see a map of Wigan 1842 to 52. It is easy to find. This shows the name Bank House and what has to be the hall
Comment by: Cyril on 3rd February 2022 at 20:24
This map is from 1845 - 1846. https://maps.nls.uk/view/102344045
It isn't very detailed though.
Comment by: Philip Cunliffe on 3rd February 2022 at 21:45
Cyril. The title of the map I ve been looking at is Lancashire Sheet XC111 surveyed 1845 to 1846 . Pub 1849.. It's part of a series England and Wales 1842 to 1952.
I know the area very well. However running through what is now the park is the name The Yarrow. I ve never heard of this. This map shows a lot of other detail .
I might have sent the above. Looking in more detail the words Part of the Yarrow Trust run along this part of Wigan Lane
Comment by: Cyril on 4th February 2022 at 15:34
Philip, with the map reference you put on the buildings i.e. The Elms and Bank House are more detailed as are the other mansions around there, The Woodlands, The Hollies, Mariebonne House, Brentwood and Douglas Bank. I'd always presumed that Hurstlea was as old as these other houses, but with it not showing on this map - then not so.

With a net search Wigan Lane must have come under The Wigan and Preston, North of Yarrow, Turnpike Trust, and being a length of road of about 15 miles, that got me wondering where the tolls would have been taken. Interestingly, the tolls were: for every dog or goat drawing any truck or barrow. 1d. For horses drawing any coach, chaise, waggon, cart etc are, one horse 6d, two horses 2s 6d, three horses 3s 6d etc. For any carriage moved by steam or machinery, if with two wheels or less 2s 6d, and if with more than two wheels 1s for each wheel.

http://chorleyhistorysociety.co.uk/pdfs/CHAS_Duxbury_Turnpike_Roads.pdf
http://www.turnpikes.org.uk/map%20Lancashire%20turnpikes.jpg
Comment by: Philip C on 5th February 2022 at 10:19
Interesting information Cyril. I was particularly interested to see the extent of Beggars Walk. It crosses Barley Brook using a footbridge. There was and probably still is hidden in the undergrowth the remains of a small bridge.
There was a tall tree by it and if you look at item #26369 you can see the tree and what could be the location of the bridge
Comment by: Philip C on 5th February 2022 at 12:00
Interesting information Cyril. I was particularly interested to see the extent of Beggars Walk. It crosses Barley Brook using a footbridge. There was and probably still is hidden in the undergrowth the remains of a small bridge.
There was a tall tree by it and if you look at item #26369 you can see the tree and what could be the location of the bridge
Comment by: Cyril on 6th February 2022 at 21:28
In the 1980s I sometimes walked along the path on the fields at the side of Whitley High School, possibly where Beggars Walk once ran, there were springs of water bubbling up in quite a few places on the field and in parts the ground was quite boggy with rivulets running into Barley Brook, the path led to a level crossing over the railway and went to Gidlow Lane, In the 1990s houses were built on this land around where the school was and I've no idea if the path or the crossing is still there. They must somehow have dealt with those springs too before building the houses.

According to this post from 2015 the path and crossing must have gone. https://www.wiganworld.co.uk/album/photo.php?opt=3&id=26078&gallery=Railways&offset=940
I have this view on a postcard, stamped on rear
by J Cooper Wigan