Photos of Wigan
Photos of Wigan
Album Contents
Album Contents
Wigan Album
Standishgate
6 Comments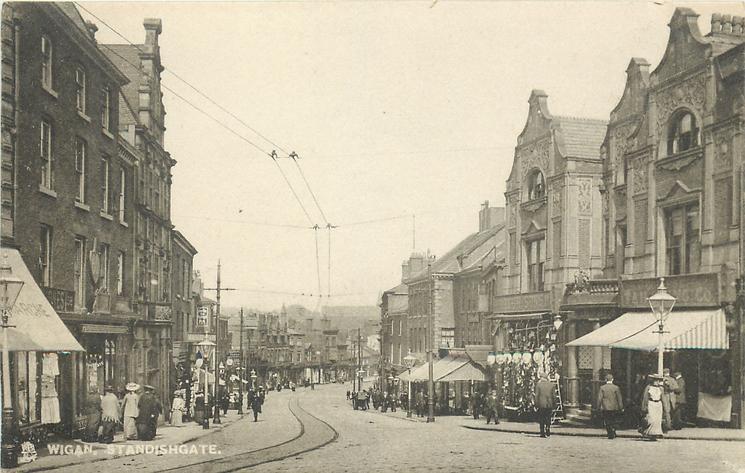 STANDISHGATE 1905
Photo: RON HUNT
Views: 978
Item #: 33483
A Raphael Tuck real photographic postcard taken around 1905.
Comment by: Veronica on 5th January 2022 at 19:03
A very typical Edwardian scene. Lovely photo. I would love to have walked amongst that crowd ...
Comment by: Ray on 5th January 2022 at 21:21
Because there is just one set of tram rails in this picture of Standishgate,
but there are two overhead electric wires, I am thinking that there must
have been a Token system to make sure that only one tram at a time was
on this single line in order to depart from or arrive at Market Place.
The current Natwest Bank to the left, formerly Parr's. Sad to see those buildings on the other side have gone.
Comment by: Edna on 6th January 2022 at 14:58
I was thinking that as well Veronica, I love the long skirts, and shawls.
Comment by: Tom on 6th January 2022 at 19:15
Precious memories how they linger
Comment by: English Electric on 11th January 2022 at 00:15
Ray - regarding the single set of tram tracks - street tramways like Wigan's didn't generally have any electrically-interlocked token system like those used on single line railways.

They relied on Line of Sight working with regular, strategically-positioned crossing loops.

The idea was a tram driver could see that his track was clear all the way to the next crossing loop before departing from the one he was in. There was an official rule like "inbound cars to the town centre get priority over outbound trams" for when two opposing trams wanted to use the same section.

All well and good in normal circumstances, but I wonder what happened in thick fog? Lucky those old trams had those big, round electric lights on the front!