Photos of Wigan
Photos of Wigan
Album Contents
Album Contents
Wigan Album
PUBS
15 Comments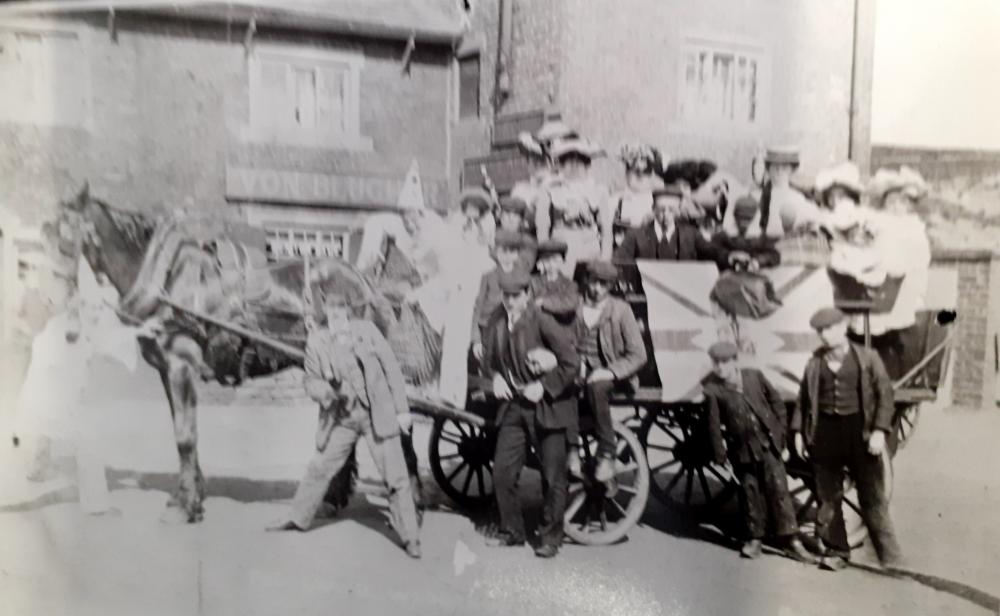 VON BLUCHER PUB WHELLEY 1905.
Photo: RON HUNT
Views: 880
Item #: 33475
WAGONETTE READY FOR THE WIGAN CARNIVAL? OUTSIDE OF THE VON BLUCHER PUB. No.207 WHELLEY. THE LOCATION IS NOW A TESCO EXPRESS. THE LANDLORD AT THAT TIME WAS A Mr. SEDDON.
Comment by: DONALD underwood on 29th December 2021 at 20:34
That would be Moses Seddon Co about thennservative councillor for St Catharine's WardThe Von Blucher,like the King of Prussia in the town centre had to change its name in the anti German feelings of World War IThe Von Blucher became the Alexandra
Comment by: AH on 30th December 2021 at 14:36
the king of prussia was in hallgate opposite the bricklayers & the bay horse the king of prussia yard still exists between hallgate & the parish church
Comment by: Edna on 31st December 2021 at 18:35
I can't believe this is the place we got engaged in the 60s, when it was the Alexandre.
Comment by: Rev David Long on 31st December 2021 at 19:32
Renaming pubs because you don't like the history? - just shows how far back 'wokeness' goes....
Comment by: John on 31st December 2021 at 20:58
They changed a lot of German names during the First World War , even the royal family changed theirs to Windsor from Saxe-Coburg and Gotha. A friend of mine's dad still called this pub the Von Blucher in the 1960s.
Comment by: Carolean. on 1st January 2022 at 10:27
John. And Lord Louis Battenberg became Lord Louis Mountatten - English translation of a German name. PS Battenberg cake gets its name in honour of the family whose colours are pink and yellow.
Comment by: Veronica on 1st January 2022 at 11:51
I suppose they had to change the names as the windows may have been caved in! Changing the name to Windsor couldn't hide the German descent though of the Royal Family even Queen Mary the present Queen's grandmother spoke German throughout her life and her English was with an accent.
My wedding reception was held at the Alexander in the late sixties. It's nearly changed beyond description these days.
Comment by: Veronica on 1st January 2022 at 14:13
I think the pub was the Alexandra maybe in honour of Queen Alexandra wife of Edward the V11 who was of Danish birth.
Comment by: Albert.s. on 2nd January 2022 at 10:30
I believe street names were also changed.
Comment by: Albert.S. on 2nd January 2022 at 11:01
From what I read, it would appear that the Alexandra is no longer a public house. Have many well known public houses in the Wigan area ceased to be licensed public houses?.
Albert - many Wigan pubs have been closed and converted to other uses - or demolished and replaced by housing. I'm sure someone here could give you the list....
Veronica - it may have been re-named after the Alexandra Pit over the road - next to Lindsay Pit. Alexander was a family name for the Lindsay (Balcarres/ Crawford) family - though I've not found an Alexandra Lindsay anywhere.
Comment by: Veronica on 2nd January 2022 at 17:48
That does sound right Reverend - I never thought of that. I'm more into Royalty than Pits! ;~)
Comment by: jud178 on 2nd January 2022 at 18:24
My mothers uncle had this pub around the 1940/50 time.
Comment by: Albert.S. on 3rd January 2022 at 13:02
Wasn't there a school, in the near vicinity. I recollect in the late fifties/ early sixties, these were the last property to be checked by the Wigan Borough Beat Bobby, before it became Lancashire Constabulary's area.
Comment by: Maureen on 4th January 2022 at 10:08
A butchers at the bottom of Caroline St Wallgate was changed from Meinikins to Marsdens.