Photos of Wigan
Photos of Wigan
Album Contents
Album Contents
Wigan Album
Pemberton
17 Comments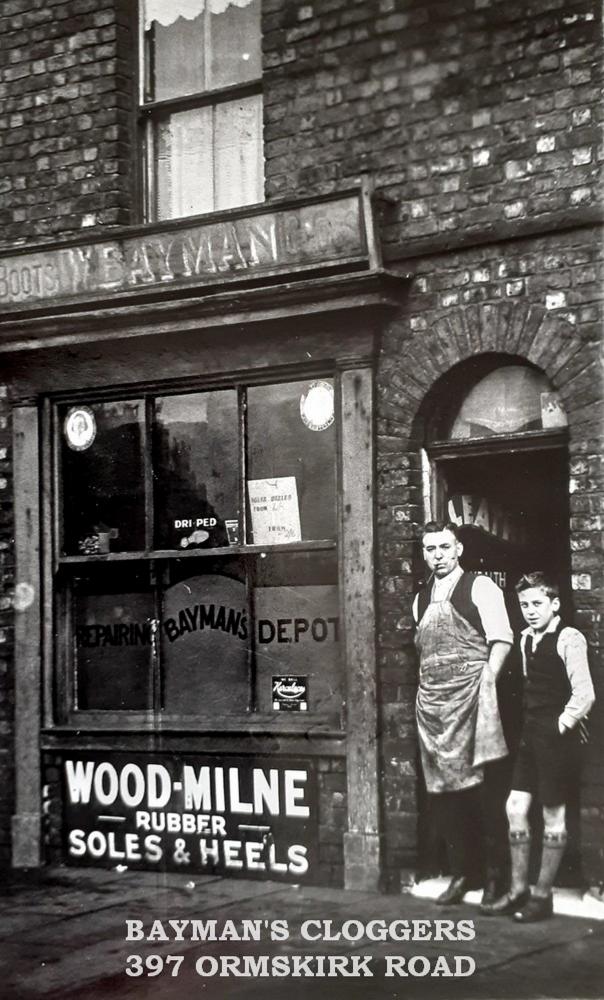 Baymans Cloogers Shop
Photo: RON HUNT
Views: 700
Item #: 33360
Bayman's Cloggers Shop number 397 Ormskirk road.
Comment by: winnie on 9th October 2021 at 16:52
Name: William Bayman
Gender: Male
Marital Status: Married
Birth Date: 14 Apr 1891
Residence Date: 1939
Address: 397 Ormskirk road. (Shop)
Residence Place: Wigan, Lancashire, England
Occupation: Boot & Shoe Repairer - Own Account Household Members Age
William Bayman 48 Boot & Shoe Repairer - Own Account
Lora J Bayman 48 Unpaid Domestic Duties
Harry C Bayman 20 Apprentice Painter & Decorator
Jack Bayman 17 Apprentice Plumber
Elizabeth Bayman 7 School
Comment by: Veronica on 9th October 2021 at 16:52
That's a good 'un. I wish I had photos of the 3 main cloggers I had to go to with my dad's clogs. I'm sure I was hooked on the smell of leather. One of my favourite errands to go on, especially to the famous red head Polly -Do -owt! Dad looks like he's wearing shoes, the lad looks like he's wearing clogs, you can just see the brass tip on his left clog/ or boot.
Traditional cobblers are a rarity now in deed. I don't know how far up number 397 Ormskirk Road is?

I grew up in Pemberton and recall a cobbler called Billy Melling who had a shop on Ormskirk Road in Newtown for many years.

There is still a cobblers in Pemberton on Ormskirk Road (or rather they class it as Orrell after the Fleet Street lights). The shop is opposite Loch Street.
Comment by: alan winstanley on 10th October 2021 at 13:15
Hi i was hoping someone could help me locate where-abouts the Cloggers shop was in relation to for example the Carton Cinema? for i was born in number 461 Ormskirk Road , which was exactly where the Bargain Booze store is or just a few yards up from the Veg shop on the corner near Belle Vue St , Alas i have been trying for years to find a photo of were i was born ! I presume 371 would be near Carnegie Library i think .........alan.w .
Comment by: Cyril on 10th October 2021 at 14:27
Alan, looking on street view it's across the road from where the Carlton was and three buildings up from Cuthbert Street, so practically opposite Belle Vue Street. Betfred is in the two shops that was there originally, with 397 now being the door to an upstairs flat.

I can remember there being a newsagents in the row along there in the 1960s and across the road where you would have lived was Graham Fairhurst TV and Radio and on the corner of Ormskirk Road and Tunstall Lane was Mrs Massams shop, that building isn't there now either.
Comment by: Ray on 10th October 2021 at 15:19
The Cobblers shop at 397 Ormskirk Road is opposite a carpet shop which
used to be the Carlton Cinema. I think number 397. is now a betting shop
called Betfred.
Comment by: TonyL on 10th October 2021 at 22:59
CJAlan - Ormskirk Road actually continues beyond Fleet St Lights. The 'new' shops between the KFC and the Health Food shop are 787 to 797 Ormskirk Road.
The cobblers you mention opposite Loch st is Billy Halseldens. He's been there for years and before that Jimmy Topping had the shop.
Comment by: alan winstanley on 11th October 2021 at 13:38
WOW ! At long last thank you very much Cyril , I have been trying for a very long time to try and get someone who knew the area ,you are spot on also about Graham Fairhurst's TV shop , i remember the time's i had to take the "battery there to be charged up" in readiness for Perry Mason on the radio and a host of other programme's we used to listen to.If you don't mind me asking are you from that area and era? As i recall i was actually born there in December 22 1947 , also a sister Anne born there too in 1950 .. After much complaining to the then housing dept ,we finally moved into a brand new council home in Worsley Mesnes , it felt like winning the pools , no more using outside toilets at back near Ravine Club , Coal fired central heating , and best of all Electric lights ,that was a far cry from the GAS MANTLES / TIN BATH WE ALL SHARED / HAVING OUR OWN ROOMS ... SORRY FOR GOING ON A BIT , But has i have said i'm still short of actually seeing in a photograph that particular row of house's ,SO bye for now CYRIL , and the other member's who have also helped thank you all ... alan w.
Comment by: TonyL on 11th October 2021 at 15:43
Alan Winstanley - are you sure you got your house number right, Alan?
Number 461 Ormskirk Road is on the opposite side, 4 doors past Sherwood Drive as you travel towards Orrell.
The veg shop on the corner of Belle Vue St and Bargain Booze are numbers 456 to 464 Ormskirk Road.
Comment by: ged on 11th October 2021 at 15:51
Alan, Did you ever play euphonium in the Pemberton Band?
Comment by: Rev David Long on 11th October 2021 at 15:57
Alan - you'll have poor Irene Roberts getting into a right tizwaz over your remarks - her idea of housing heaven rejected for a Council House just for the sake of a few inconveniences (pun intended)....
Comment by: Cyril on 11th October 2021 at 19:48
Not quite in that area Alan, but we lived for a time in the 1950s on Davidson Walk and would walk up to there as Ma liked to shop at Mrs Massams, she'd been going to there for some time as the family had moved to Broom Road from High Street in the 1930s, they too like you were overjoyed at all the rooms, hot water, bathroom etc., as previously they'd just had one up and one down, only cold water and had to cook on the open fire. There was also some more shops at the top of Bulteel St we went to, there was a newsagents I can't remember his surname but we called him Larry, and a man on Bulteel St grew his own produce and sold it and I remember his tomatoes tasted divine.

Graham Carr has put an aerial photo of the Ravine Club and surrounding area on the Album, never seen it from above. https://www.wiganworld.co.uk/album/photo.php?opt=5&id=9301&gallery=Ravine+Club%252CPemberton.&offset=0
Comment by: CJAlan on 11th October 2021 at 21:00
Cyril

I grew up nearby (I was born in the late 70s). There are still some shops at the top of Bulteel Street now. In the 1980s, my Nan used to get her daily newspaper from the Newsagents there - if memory serves me right a bloke called Jeff ran it, before an Asian gentleman called 'Nita/Neeta' took it over and it became known as Nita's News. I seem to remember he ran another shop in Worsley Mesnes.

I do recall there was also a toffee/paper shop on Ellesmere Road just a few doors up from the Library with a post box outside. I believe this eventually became a estate/letting agents in later years.

There was also a mini market on Claude Street which was run by Mr & Mrs Lees for many years. When they retired, it was taken over as a 'chain' store, but again this has long since closed.

CJ
Comment by: alan winstanley on 12th October 2021 at 14:41
TonyL ,,, My sincerest apologies my friend we lived at Number 460 ORMSKIRK ROAD ,Sorry for the gaff ..Thank you Tony if you can see the number of first housr after B/B that is 468 and i have counted down to where our's was ,in order there was a
1 MRS Atherton's
2 MRS Baxter's shop
3 MRS Hardacker
4 MR&MRS Winstanley ( us )
5 MRS Callaghan
6 MRS Fallows
ON THE CORNER OR LAST ONE GRAHAM FAIRHURST
ELECTRICAL SHOP
IT hardly seems possible 6 wee cottage type house 's but that's were i was born with my sister ,
This is for you REV David Long ,,( IRENE 'S her idea of housing ) Well if you can call a few inconveniences living with cockroaches in your bed /no hot running water / 4 of us in a bedroom / Outside toilet / I just wonder if Irene ever lived n one of those luxury cottage's??? Only kidding REV ,....
Comment by: Freddy on 12th October 2021 at 16:07
One of the houses that Graham Fairhursts shop replaced was a shop we called Nelly down steps.
Comment by: Cyril on 15th October 2021 at 15:59
Alan, there are quite a lot of ordnance survey photos from the 1940s and 1950s of Pemberton on Timepix, you may remember something on them.

https://www.timepix.uk/Collection-galleries/OS-Revision-Points-in-Greater-Manchester/1940s-1950s-Wigan/Wigan-west/i-RFVWhKq
Hello Cyril i would just like to thank you from the bottom of my heart for that link thus far i have spent a full day reminiscing and looking at the photo's of wigan in olden days then i found the O/S PHOTOS AND PICKED out 2 ex work mates whom i was with a stan derryick and a mick page ,it was truly ad will be very interesting in the future ,again thank you CYRIL can't wait to get back to the photo's ,i will just say seeong those of WIGAN in the 1950's it does show how i think that WIGAN was a bit of a poorer town so cheers again will keep in contact if ok by you i will put e-mail on for you .....BYE