Photos of Wigan
Photos of Wigan
Album Contents
Album Contents
Wigan Album
King Street & King Street West, Wigan
3 Comments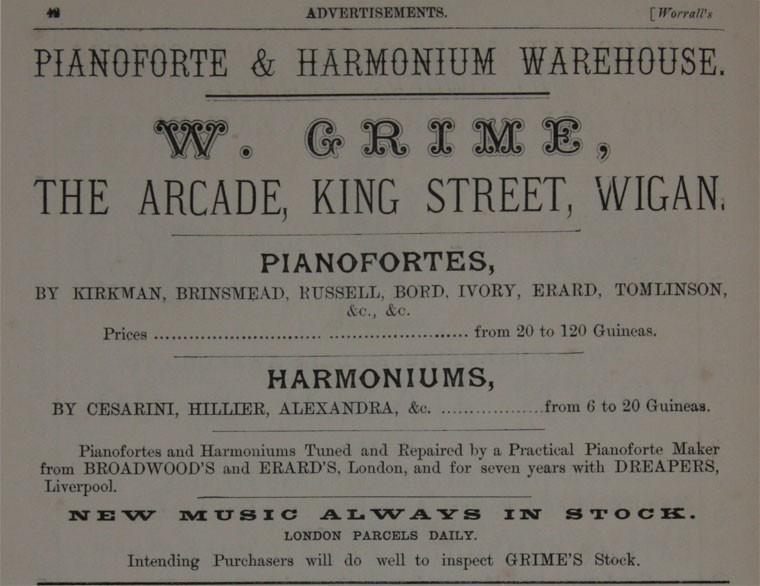 GRIMES ARCADE
Photo: RON HUNT
Views: 362
Item #: 33344
ADVERT FOR GRIMES MUSIC SHOP 1876
Comment by: Maureen on 22nd September 2021 at 19:53
It was a great shop which has been spoke about often on here,and just look at it now...it's very sad.
Comment by: Veronica on 23rd September 2021 at 14:13
I think one day - but not in our time Maureen shops will make a comeback. The pendulum will swing back again I am convinced. There's the good side to ordering on line and there's the bad side as well. There's convenience and inconvenience as well. It seems laziness to me that young ones would rather go online than walk around a lovely store. To me shopping for clothes and household goods was a pleasure. There must be others who feel the same. There's nothing worse than going in the post office with a queue a mile long with folk returning stuff, when all I want to do is buy some stamps.
It might get worse before it gets better... folk wont want to step out of the house especially in winter.
A chap was telling me the other day, that Debenhams is going to be a bowling alley....
Comment by: Derek Gibson on 28th September 2021 at 13:42
Grimes arcade was blocked up by the owner 35+ years a go why they did alterations to the shop it is still blocked off today. Yet another thing that Wigan Councill did nothing to have it reopened.