Photos of Wigan
Photos of Wigan
Album Contents
Album Contents
Wigan Album
Library Street, Wigan
5 Comments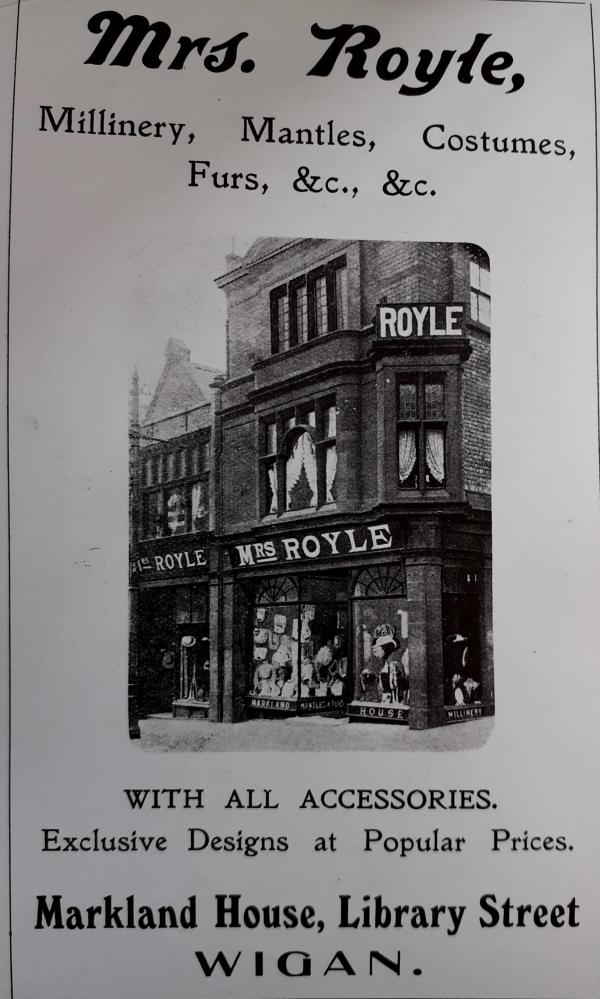 MRS ROYLE ADVERT
Photo: RON HUNT
Views: 376
Item #: 33339
ADVERT FOR MRS ROYLES CLOTHS SHOP. EARLY 1900'S
Comment by: Maureen on 22nd September 2021 at 20:19
Another brilliant shot..I think this is an Estate Agents now...mind you I haven't been down there for ages now,so it could be an entirely different shop.
Comment by: Veronica on 22nd September 2021 at 20:54
There was some very upmarket shops in Wigan in the past. Hard to believe that now. Coming from Scholes I always thought Wigan was a 'posh' town centre. The place you went to on Saturday for anything special. There was no need to go there during the week.
Comment by: Albert. S. on 23rd September 2021 at 11:04
Veronica. As regards a ladies shop, I thought Veronica Almonds, in Scholes, was a classy shop.
Comment by: Tom on 23rd September 2021 at 11:09
Ted Deakin is mate of mine he writes an article in the observer one is about old wigan town centre over the years since he was born 1931 , it may be progress but he says remember when it's gone its gone .
Comment by: Veronica on 23rd September 2021 at 12:00
It certainly was Albert. Me and my pal Carol as kids used to go and stare in the window - wishing we were grown up so we could wear the lovely clothes. It was always a well dressed window. You were 'posh' if you went there. We certainly had some really good shops in Scholes too numerous to mention and very high quality. We have lost so much in Wigan that can never be replaced. I do order from a reputable company online, but it is so irritating when you have to return clothes or waiting for an order or refund. It's just not the same as going in a shop and seeing the merchandise. But that's me!