Photos of Wigan
Photos of Wigan
Album Contents
Album Contents
Wigan Album
PUBS
8 Comments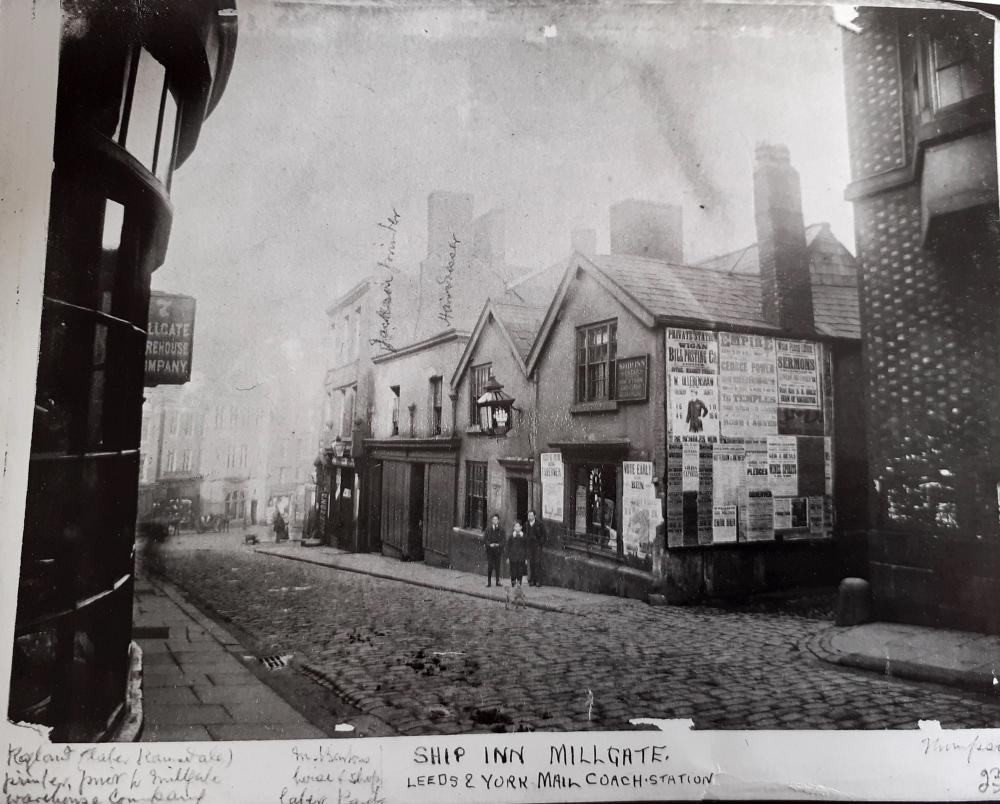 SHIP INN MILLGATE. MID TO LATE 1800'S
Photo: RON HUNT
Views: 977
Item #: 33327
AN EARLY VIEW OF THE SHIP INN MILLGATE ( THE IMAGE IS ALREADY ON THE SITE UNDER MILLGATE ) WITH INFORMATION THAT IT WAS THE COACH STATION FOR THE LEEDS & YORK MAIL STAGE COACH STATION,
I WOULD LOVE TO HAVE SEEN THE OLD STAGE COACH TEARING DOWN THE MILLGATE COBBLES. I WONDER HOW LONG IT TOOK TO GET TO LEEDS AND YORK?
Comment by: walt (nth Yorkshire) on 17th September 2021 at 19:41
I wonder as well Ron. Imagine those poor horses pulling the coach up and over the Pennines but before that, they would need to go via Bolton, Bury, Rochdale, using what we now know as the A58 probably a dirt track back then. And now, we grumble about the M62 and how long it takes to get to Leeds. ( I live near York so know very well !)
Comment by: Pete Barker on 19th September 2021 at 05:58
I live in Rochdale and Blackstone Edge would have crippled their horses. Allegedly an old Roman road, and which was described by the author Daniel Defoe, quite vividly.
Comment by: Albert.S. on 19th September 2021 at 09:49
Is the The Ship Inn still in existence as a licensed premises?. If so, has it's reputation altered from the late fifties, early sixties. Got my finger nearly bitten off, in a battle Royal, outside The Ship, in 1959. The doctor (Dr Calverly) later said to me. "The only bite worse than being bitten by a human, is being bitten by a camel
Comment by: Veronica on 19th September 2021 at 12:39
There's only the 'facade' left of the Ship Hotel Albert, but it looks more 'ship-shape' than it does in this photo. Another photo for the treasure trove. I would love to be able to go for a walk back into the past for a few hours. Just to see how it was and to listen to the people of that time. It would certainly be an eye opener...
Comment by: Albert.S. on 19th September 2021 at 13:58
Veronica. Somewhat of a kin to 'Jimmy, and his magic patch'. I think they were stories in a comic book series, as far as I can remember. It took him way back, into the past.
Comment by: Cyril on 19th September 2021 at 16:52
I never knew that The Ship Hotel was home to The Royal Adelphi Theatre and was in a room at the rear. An interesting read along with photos, see link below.
http://www.arthurlloyd.co.uk/Wigan/RoyalAdelphiTheatreWigan.htm

Jimmy was in The Beano Albert, his patch was like a strange Arabic design. It says in the article in the link that it was included in the 1940s, however I can remember reading the stories in the late 1950s and early 1960s. Veronica, Irene and yourself shall have to look out for some of those patches.
https://en-academic.com/dic.nsf/enwiki/3658514
Comment by: Edna on 19th September 2021 at 22:49
Albert, I remember Dr Calverly, he was my Aunty's doctor.I was 12 yrs old at the time it seems like yesterday.
Comment by: Albert. S. on 20th September 2021 at 11:02
Cyril. It would have been in the forties that I read them in the beano. I am more interested in the future, just depends as to whether, or not, God grants me much more of it.