Photos of Wigan
Photos of Wigan
Album Contents
Album Contents
Wigan Album
Outside Market
13 Comments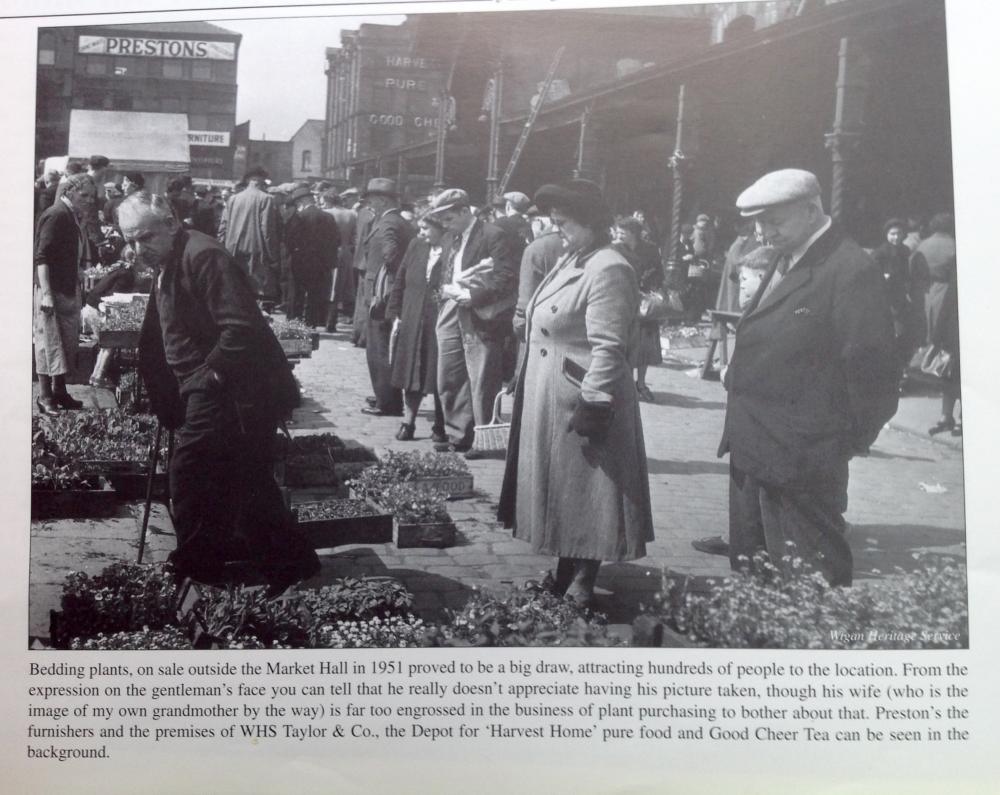 Outside Market
Photo: Veronica B
Views: 1,184
Item #: 33247
Plants for sale
1951
Comment by: Cyril on 15th August 2021 at 19:55
He's probably thinking of all the work soon to be coming his way, from digging, raking and then planting, and his rheumatic back will be playing him up for weeks after.

Wonder if it was the same Barlow family who later sold garden plants from stalls on the corner where the fish and game shops and chicken rotisserie were. They lived at Laurel House at Hindley with Laurel Nurseries behind it, looking from the road now it seems there's houses built on the area where the plant nurseries were.
Comment by: Albert.S. on 16th August 2021 at 09:38
The prominent lady as a look of Mrs Bessie Braddock, contemplating things. I suppose some of you are asking yourselves. 'Who is Bessie Braddock?.'
Comment by: Brendell on 16th August 2021 at 12:00
I remember Bessie Braddock, I once heard her speak in the hall at Ince Council Offices. This may have been late 50's early 60's. All I remember is what an inspiring speaker she was.
Comment by: Albert.S. on 16th August 2021 at 12:24
Yes Brendell. She was the well known, prominent Labour M.P. for Liverpool Exchange, from 1945 up to her passing away in 1970.
Comment by: Dave lewis on 16th August 2021 at 16:18
Good pic Veronica b, so nice to see all the proud people well dressed and with their caps and hats on.
Comment by: Veronica on 16th August 2021 at 17:14
The days when the older generation like the ones above you felt respect for, they were the 'salt of the Earth' and so dignified and dependable. Those men were probably veterans of the 1st WW.
Enjoying what's left of retirement and the wives as busy as ever making ends meet. So nice to see the ladies dressed up with hat and gloves, the men always wearing ties, even with the flat caps.
Comment by: Edna on 16th August 2021 at 22:26
Yes,I agree Veronica,and a lot of them came from the back streets, that Mick, keeps harping on about.
Comment by: Veronica on 16th August 2021 at 22:40
They certainly did Edna...
Comment by: Josh on 16th August 2021 at 23:14
Bessie Braddock, (1899-1970) what an inspiration for anyone considering a career in Politics. She is quoted as follows, "We had to have change. The conditions of the workers had to be improved. The bosses had to be forced to give up some of their enormous profits. The only way to achieve this was by fighting, and we fought all the time".
Comment by: Veronica on 17th August 2021 at 07:31
If only we had a Bessie Braddock nowadays. I remember her name mentioned a lot when I was young. She seemed to be a no nonsense woman and capable.
Comment by: Carole on 18th August 2021 at 06:21
There is a statue of Bessie Braddock at Liverpool Lime Street Railway Station.
Comment by: Donald Underwood on 19th August 2021 at 20:07
Not everyone shared the views expressed here about Bessie Braddock.At an open air meeting
I remember Bob Catterall calling her a daft wench, promising everybody fitted carpets
Comment by: Jack on 8th December 2021 at 00:15
It is said that Mrs Braddock said to Winston Churchill. Sir, you are drunk. Churchill replied. Madam you are ugly but tomorrow I'll be sober.