Photos of Wigan
Photos of Wigan
Album Contents
Album Contents
Wigan Album
Pavillion Cinema
32 Comments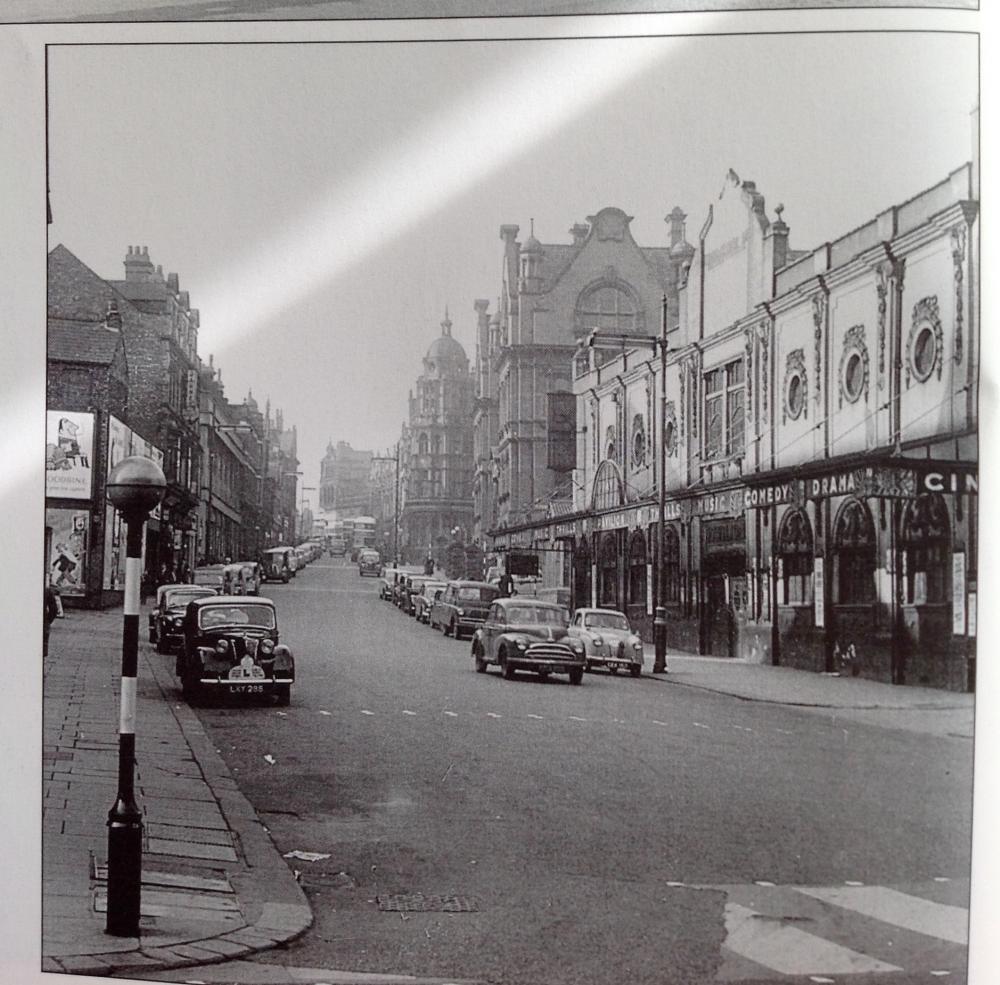 The Pavillion Cinema
Photo: Veronica B
Views: 1,725
Item #: 33245
At the bottom of Library St opposite the old Library now The History
Museum
Comment by: wigginlad on 13th August 2021 at 16:59
Veronica, if the good Lord was to grant me a wish before departing this world my wish would be " to spend a little time in the 1960s and be able once again to walk along Wigan's streets and alleyways and see the scene I'm looking at right now" what a way to go eh !!!. Great photo of yesteryear.
Comment by: Linma on 13th August 2021 at 17:14
You and me both wigginlad.
Comment by: Veronica on 13th August 2021 at 17:39
My sentiments exactly Wigginlad. Only those who were there can feel like that...far more interesting then than it is now. A 'proper' town.
Comment by: Carolaen on 13th August 2021 at 17:49
Wigginlad. I was also a nipper in the 1960s, and used to catch buses in Library St, but I have no memory of this building, which was demolished to make way for the nrw swimming pool - which weirdly I remember the building of very well as well as the old one which we used to go to.
Comment by: CJAlan on 13th August 2021 at 18:45
Is amazing to think that a beautiful cinema building like this was demolished to make way for the 1960s swimming baths building that was something of an eye-sore.

The iron veranda almost has a feel of Southport's Lord Street. Wigan town centre had a lot of charm and character back in the day. Such a shame it is now in a such a sorry state.
Comment by: Ray on 13th August 2021 at 19:27
The car on the left looks like a Jowett or a Lanchester. Not many people
nowadays will be aware of those makes of car. The car in the centre looks
like a Morris Oxford, the little one on the right, parked near the lamp post
is an Austin A30, and the dark coloured van behind is a Bedford.
Comment by: Rev David Long on 13th August 2021 at 20:51
Where are the pictures of Wigan folk protesting against the destruction of their town by laying down in front of the bulldozers?
Comment by: Edna on 13th August 2021 at 23:00
It's happening again now, by trying to demolish Wigan Market etc.The Government is involved in the plans now, wanting to know why Wigan Council spent so much money on the Galleries and New Market, to now want it all demolished AGAIN.,
Comment by: CJAlan on 14th August 2021 at 03:55
I have never understood the logic to Wigan Council's decision making over the years.

Millions of pounds of investment has been pumped into the town centre over the years, and it is now in a shoddy state and probably the worst it has ever looked.

There are people employed by the Council, earning decent salaries, who are responsible for the town's commerce. It makes you wonder what they are doing to justify their jobs?

The Grand Arcade in less than 15 years old, and is already something of a white elephant with vacant units/floor space that cannot be filled - and we have yet to await WHSmith's closure in December (yes it is going!).

Bad times.
Comment by: wigginlad on 14th August 2021 at 07:50
I became a teenager in 1960, this photo was, I imagine, taken at the end of the 1950s. The vehicles along the street I remember from my youth. On right - Austin A30, Hillman Minx, Bedford CA. Further along before the bus is an Austin A40. The vehicle driving along is a Morris Oxford, (big sister to the Morris 1000). On the left is a motoring school car a Vauxhall I think. Behind is a Rover and further up Library Street is a Morris delivery van probably belonging to the Royal Mail, I can also pick out a Ford Prefect. What a lovely reminder of my youth. The only thing in life that bothers me is "the speed of it" I'm in my middle 70s now, where did it all go !!. Thanks again Veronica.
Comment by: Helen of Troy on 14th August 2021 at 07:54
You are spot on David, nothing wakes up those who make decisions more, than getting a loud NO vote. A real good shake up works wonders . Perhaps those who have the power have been elected in once to often.
Comment by: Pw on 14th August 2021 at 09:03
Carolaen,we used to catch the bus in Library St. and I also have no recollection of this building.
Comment by: Veronica on 14th August 2021 at 09:29
It was the sixties when all the demolition of Wigan happened. Probably the people who did protest are long gone. My generation ( speaking for myself) were busy working, socialising and enjoying ourselves, the last thing on my mind was protesting about what was going in place of what was coming down. In other words no experience of what was taking place. Maturity finally came when it was too late - everything that should have been valued had gone, or was slowly crumbling away. Seen through hindsight is no use, but it seems lessons are not learned because most of what has gone up is now coming down again!.
Comment by: Albert.S. on 14th August 2021 at 09:38
Seen many a film at the Pavilion. The cat & the canary, showboat, plus many others. I remember being in there with my dad. He always took an orange. As he broke a segment off, the juice sprayed out onto a chap's bald head, sat in front of him.
Comment by: Veronica on 14th August 2021 at 09:40
You would have remembered the Pavillion if only for the smell walking past. In its hey day it would have been a wonderful building, It wasn't always a Cinema but I can't recall what it was in the beginning. ( not that I was there!)
Comment by: David on 14th August 2021 at 09:46
A real good shake up Helen ! Never in this town . Despite what they do the goofs continually re elect this appalling labour council .
Comment by: DerekB on 14th August 2021 at 12:10
Ray, the driving school car is a Lanchester. Probably one of the last before they were merged into Daimler, when they briefly retained the Lanchester name but became a less powerful and less well equipped, but bodily identical, car to the Daimler Conquest.
Comment by: Albert.S. on 14th August 2021 at 12:43
Veronica. In an earlier, similar picture. Ron mentions it, as at a previous time, being a circus.
Comment by: Mick on 14th August 2021 at 12:49
Only way to change Wigan is if you all voted for the Tory's
Comment by: Mick on 14th August 2021 at 13:07
Just look at that zebra crossing tarmaced over the white stripes.
A nice old fashioned belisha beacon, named after Les Belisha the minister of transport at the the time, he also installed the very first one in the world in Wigan in 1935
On this day in...
July 3rd, 1935
First 'Belisha Beacon' crossing installed in Wigan.
Comment by: Helen of Troy on 14th August 2021 at 13:15
I wonder if its a case of.... we have always voted for this or that party, without giving a thought wether you actually like what they are doing...or not doing. If you dont like what the party you voted for does, kick em out...vote with your feet, its quite easy !
Comment by: Veronica on 14th August 2021 at 13:31
That's right Albert I was racking my brains to think what was there before and I could only think of a skating rink***!
Comment by: Ray on 14th August 2021 at 15:34
Thank you for your confirmation DerekB. Although I mentioned it may be
a Jowett, my head was leaning more to it being a Lanchester. Cheers, Ray.
Comment by: Tom on 14th August 2021 at 17:03
A lot more towns in the northwest are in the same boat does protesting help these days .
Comment by: Ray on 14th August 2021 at 17:06
DerekB... Thank you for confirming the Lanchester car make. Although
I also thought of Jowett, I was leaning more toward Lanchester. Ray.
Comment by: AH on 15th August 2021 at 11:14
the pavillion closed in 1959 , i don,t know when it was demolished , later wigan international pool was built on this site ; construction was delayed due to mine workings near to the surface
Comment by: Brendell on 15th August 2021 at 12:27
The loss of shops and lack of forethought is happening all over the country. Living in the East I can confirm that towns like Boston and King's Lynn are suffering the same. When are the planners going to wake up and realize that large town centre shops are a thing of the past.
Comment by: Thomas(Tom)Walsh on 15th August 2021 at 15:36
The Pavilion; The building was open opened as The Coliseum Skating Rink, it became a cinema in 1910 and was renamed . Seating for 5000 probably on long wooden benches, with standing room for a further 2000 , when you consider the population of Wigan was approximately 64000 . Amazingly it could accommodate 10% of the population !
My mam took me here on one of my first ever cinema visits in the early/mid fifties.The film was The Quiet man with John Wayne and Maureen O'Hara.
Comment by: Jay Cee on 16th August 2021 at 17:48
Rev D long were you there lying down in front of the bulldozers
Comment by: CJAlan on 17th August 2021 at 22:19
Brendell

I totally agree that Wigan is not alone in present climate of decaying town centres. I mentioned Southport in a previous post - Lord Street is looking very battered and bruised these days, as are most towns.

The golden age of high street retail shopping is gone. Our Councils really need to start forecasting and planning forward to regenerate towns and develop them into more residential or entertainment areas where people can meet and enjoy the surroundings.

CJ
Comment by: ged on 18th August 2021 at 16:37
Anyone remember the Monkey Racks it was the balcony were all the young couples went when courting, The last film i saw was Mighty Joe Young , Also if the kids were a bit rowdy George would try to get them out, It was a skating rink as Tomas Walsh said.