Photos of Wigan
Photos of Wigan
Album Contents
Album Contents
Wigan Album
Angers...Wigans Twin Town
5 Comments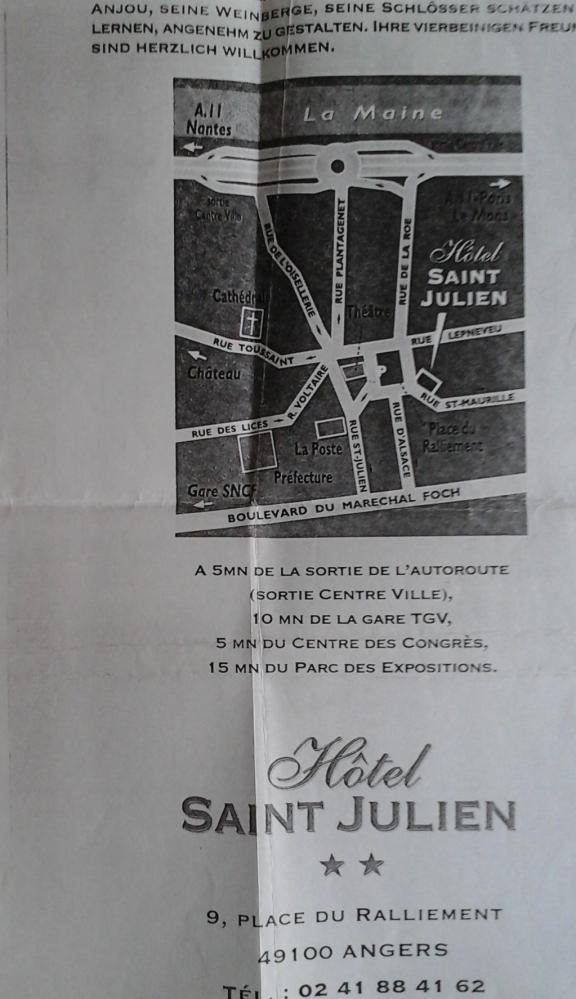 Hotel Saint Julien, Angers, France.
Photo: Ray
Views: 568
Item #: 33233
I was searching through a box of old photos and came across this street
map of the city centre of Angers, the twin town of Wigan. My wife and I
spent five nights at the Hotel Saint Julien so that we could attend the
wedding of Antonia, the daughter of our close friends who was to marry
Rafael, a young Frenchman from the nearby Loire Valley. We travelled to
Angers by car, having crossed the English Channel from Portsmouth to
Ouistreham on Brittany Ferries " Normandie ". Happy Days.
Comment by: Cyril on 6th August 2021 at 16:59
Wonder if these European towns twinned with United Kingdom towns shall eventually be revoked now we have left the EU?

The Angers Ambassadors were housed in one of the residents rooms at Mere Oaks School, no idea where the council housed them when that closed.
Comment by: The Real James Hanson on 6th August 2021 at 19:27
Wigan and Angers are as different as chalk and cheese. To make a "twin-town" comparison is nothing more than laughable.
Comment by: Julia on 6th August 2021 at 20:39
I have to agree with the last comment.
Comment by: Rev David Long on 6th August 2021 at 21:15
Twinning pre-dates the ECC and EU - and will continue no matter what.
Comment by: Cyril on 7th August 2021 at 00:02
The Real James Hanson, for once I totally agree with you, even the town of Niort described as being one of the ugliest in France is more beautiful than Wigan, especially the buildings.

https://www.thelocal.fr/20190104/four-reasons-to-visit-frances-ugliest-town/

Some towns and cities in the UK are actually un-twinning: https://www.bbc.co.uk/news/magazine-16408111