Photos of Wigan
Photos of Wigan
Album Contents
Album Contents
Wigan Album
CRISPIN ARMS
4 Comments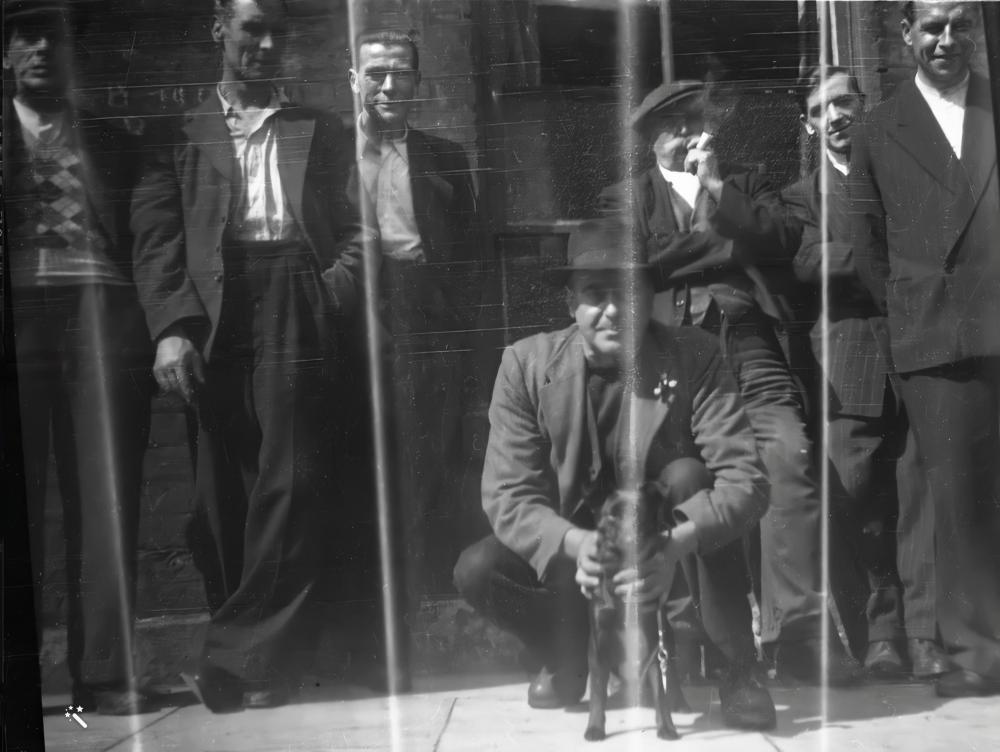 Crispin Arms customers, Birkett Bank 1951.
Photo: Keith
Views: 656
Item #: 33204
A damaged photo taken exactly 70 years ago, showing some Crispin Arms customers outside the pub in 1951. The first two gentlemen on the left of the photo I cannot recall but I do have a slight memory of the others. The gentleman smoking the clay pipe was known as "Long John" and lived in the Lodging house at the top of Birkett Street, the person on his left is definitely one of the Burgess family and the man with the dog I cannot remember his name but I know he kept whippets. Apologies for the poor quality but this is how it came back from Gratispool.
Gratispool....now there's a name I'd forgotten! I seem to recall a "Long John" when I was a little girl in Ince but it could have been a nickname for a tall man bearing the name John in various districts, and not necessarily the man in the photo. This photo is what this site is all about; thankyou for posting it.
Comment by: Veronica on 18th July 2021 at 09:20
I remember Gratispool as well after using my Corona camera. It was cheaper than going to the chemist and you got a free film with your photos. I don't think I ever had a set of photo without duds. They were either fuzzy or dark. I still have them ! The photo is typical of the 50's - how people were and how it was at that time. So homely and familiar.
Comment by: Arburthnot on 19th July 2021 at 16:49
My great grandmother owned the lodging house on Birkett bank in the 40s and 50s then my great uncle Tommy ( Burtney ) took over after she passed
Comment by: Methinks on 20th July 2021 at 23:14
Did the lodging house become a youth club for St Catharine's Church?