Photos of Wigan
Photos of Wigan
Album Contents
Album Contents
Wigan Album
BUS STATION
5 Comments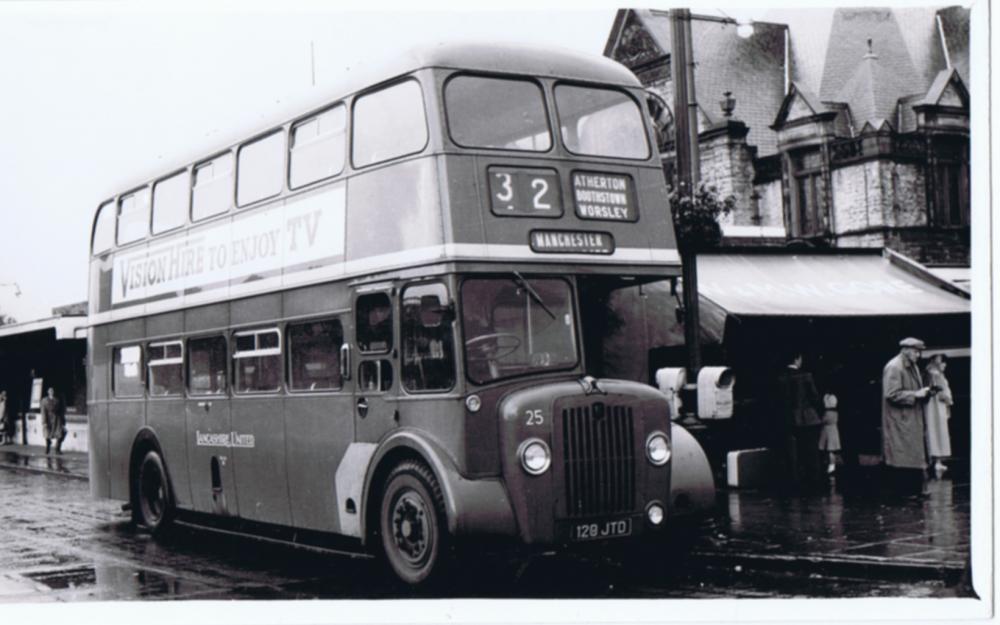 L.U.T. BUS AT BUS STATION
Photo: RON HUNT
Views: 609
Item #: 33164
PHOTOGRAPH OF A L.U.T. MANCHESTER BOUND BUS ON STAND AT THE OLD BUS STATION c 1950's/60's
Comment by: e on 7th June 2021 at 01:49
The rain doesn't drown my heartfelt
for a place that I once stood,
A meeting place for friends we had and
even those we loved.
The grey skies may seem dreary,
but it's not so in my mind,
it holds such special memories,
I just look and then rewind..
Comment by: Ron Hunt on 7th June 2021 at 11:32
Used to meet a couple of girlfriends here. Then at the end of the night see them back onto their last bus home..
Comment by: Mr X on 7th June 2021 at 23:20
Lancashire United Transport with three depots at Atherton, Hindley and Swinton was established in 1906 with three Scott Stirling saloon buses, BN139 275 276, but did not get off to a good start.
In 1914 there was a second attempt with three Dennis 28 seat charabancs, and again that failed.
Third time lucky in 1919 and 1920 with 44 14 or 28 seat charabancs by Unic, Dennis, Orwell and Fiat, KB344, B865-76, 8765-76, TB1100 1157-66, 160-166. And the first 32 seat motorbuses by AEC and Daimler, TB1123-1125 1229 1427 2513 2514 2528 2529 2535 2595 2603 2612, B1013, TB2626 1236.
In 1922 four AEC, KB1983/5/7/9. In 1923 six Bristol 4 ton TC3779-82 4005/6.
In 1924 two Bristol 2 ton TC9786 9812.
In 1925 nine Leyland TD2108 2109 2263 2264 2233 2231 2236 2234 2235
and 2 AEC TB7888-90.
In 1926 the first double deckers, ten Leyland with outside stairs, TD5989/90 6244/82 6508, 8173-8175 8233 8232, and seven single deckers TD6648 6647 8068 8069 8103 8171 8172.
In 1927 all secondhand single deckers from West Riding and Webster, 30 Bristol and Leyland, HL2036-43, TE1896-1905 EK4573/5/75946 TB1069 B8570 VA3006 EK487 VA3009.
In 1928 ten Leyland TD1 d/deckers, lowbridge outside stairs TE2772-2781, and ten Leyland s/deckers TE2436-2445.
In 1929 four Leyland d/deckers TE6161 6162 6254 6255, 36 single deckers TE6665-7 7064-89, and five ex Tognarelli from Bolton, BN9774 WH733 1333 734 475 1920.
In 1930 three Leyland d/deckers TF339-41 and 17 s/deckers TF1523-26 1775-78 813-821.
In 1931 ten Leyland d/deckers TF3565-74 and 20 s/deckers TF3575-94.
In 1932 seven Leyland d/deckers TF7376-82 and eight s/deckers TF7383-90.
In 1933 two Leyland d/deckers TJ1165/6, six Dennis s/deckers TJ1966-71, one Dennis Lance and two Guy Arab d/deckers TF2777 TJ2667/8.
In 1934 three Leyland and Dennis s/deckers TJ5739-44.
In 1935 ten Leyland d/deckers TJ9376-85.
In 1936 ten Leyland and seven Dennis s/deckers ATE801-10 ATJ172-178, and four Leyland d/deckers ATE811-814.
In 1937 four Leyland d/deckers BTD32-35 and 22 s/deckers BTf571-592.
In 1938 15 Leyland d/deckers full height CTC731-745, and 17 s/deckers CTD71-78 CTF422-438.
In 1939 seven Leyland d/deckers DTF240-246 and 24 s/deckers DTF247-270.
In 1940 ten Leyland d/deckers ETE891-900 and 20 s/deckers ETF521-540.
In 1941 nine Leyland d/deckers full height ETJ531-533 and lowbridge FTB41-46.
In 1942 six Leyland d/deckers FTB745-750 and 14 Guy Arab d/deckers FTC204-210 751-758.
In 1943 four Daimler d/deckers FTD182 181 183188 and 18 Guy Arab d/deckers FTD 184-187 189 190 580-590.
In 1944 22 Guy Arab d/deckers FTE31-40 329-340, now full height.
In 1945 four Guy Arab d/deckers FTJ936-939.
In 1946 12 Leyland PD1 d/deckers GTC351-362 and five s/deckers GTD516-520.
In 1947 20 Dennis Lancet s/deckers GTE841-860 and nine Dennis Lance d/deckers GTE861-869.
In 1948 ten Leyland d/deckers JTC681-690, six Guy Arab d/deckers JTD991-996, nine Leyland s/deckers JTJ91-99.
In 1949 20 Guy Arab d/deckers KTB106-115 lowbridge KTE621-630 full height, 10 Guy Arab s/deckers KTB101-105 KTJ311-315, ten Dennis Lance d/deckers, LTB261-270, five Dennis Lancet s/deckers LTB256-260.
In 1950 12 Guy Arab d/deckers MTB51-62.
In 1951 ten Guy Arab caoaches MTJ81-90, five Foden d/deckers NTC243-247, ten Guy Arab d/deckers MTJ91-100.
In 1952 11 Guy Arab d/deckers NTF431-440 OTE72, seven Guy Arab coaches NTJ177-182 OTE71, ten Atkinson s/deckers OTD531-540.
In 1953 ten Atkinson s/deckers RTC681-690, six Leyland coaches CTF434/5/8 DTF266/9/70 ten Guy Arab d/deckers RTC691-700.
In 1954 six Guy Arab coaches STF201-206, ten Atkinson s/deckers TTD291-300, ten Guy Arab d/deckers TTE141-150.
In 1955 ten Guy Arab d/deckers WTB41-50, ten Atkinson s/deckers WTB61-70, two Leyland s/deckers WTB71 72.
In 1956 24 Daimler d/deckers YTD871-894, ten Guy Arab d/deckers 311-320ATC (320ATC the first 30 ft d/decker).
In 1957 five Leyland coaches 951-955BTF.
In 1958 30 Guy Arab d/deckers 871-886DTB 347-360FTB, five Leyland coaches 431-435DTF, 14 Leyland PD3 d/deckers 561-574FTF.
In 1959 five AEC Reliance s/deckers 241-245GTJ, two Dennis Loline, ten Daimler, and ten Guy Arab d/deckers 101-122JTD.
In 1960 eight Leyland coaches 121-128MTE, four Dennis Loline d/deckers 826-829MTD, eight Guy Arab d/deckers 141-148NTF.
In 1961 32 Guy Arab d/deckers 531-540RTB (Metro Cammell) 501-520VTB 565-566VTJ (N Counties all future d/deckers by N Counties).
One Guy Wulfrunian d/decker 802 RTC. eight AEC Reliance s/deckers 271-278STF.
In 1962 eight AEC Reliance coaches 621-620WTE, 17 Guy Arab d/deckers 567-583TD, seven Daimler Fleetlines 561-566 8100TD.
In 1963 17 Guy Arab d/deckers 6204-6220TF (6220TF the first front entrance), five Daimler Fleetline d/deckers 4611-4615TF, eight AEC Reliance s/deckers 8087-8094TE.
In 1964 eight Leyland s/deckers DTF581-588B, ten Daimler Fleetline d/deckers ETD941-950B, seven Guy Arab d/deckers HTJ521-525B, JTD299-300B.
In 1965 15 Guy Arab d/deckers KTC791-795C RTC351-360C, five Daimler Fleetline d/deckers PTE631-635C, eight Leyland coaches LTB305-307C LTE264-268C, seven Leyland s/deckers LTB301-304C LTE261-263C four Leyland s/deckers TTF175-177D YTC249D, four Leyland coaches UTC766-769D, 23 Guy Arab d/deckers WTE141-163D.
In 1967 20 Bristol RE single deckers CTE471-490E, three Leyland single deckers ETJ125-127F, 26 Guy Arab d/deckers ETJ901-926F.
In 1968 three AEC Swift and 20 Bristol RE s/deckers NTC108-130G.
In 1969 four Leyland coaches RTF847-850G, 20 Bristol LHL s/deckers UTD281-300H.
In 1970 20 Seddon RU s/deckers WTD671-690H.
In 1971 six Daimler Fleetline d/deckers ATJ272-277J, 30 Seddon RU s/deckers DTC712-741J.
In 1972 ten Daimler Fleetline d/deckers RTJ422-431L.
In 1974 ten Daimler Fleetline d/deckers VTC494-503M, ten Bristol RE single deckers TTB445-449M VTC733M TTB451-454M, one Leyland s/decker GBN331N, five Leyland coaches XTB748-752N.
In 1975 five Leyland Leopard s/deckers JDK921-925P.
Greater Manchester Transport took over LUT in 1976.
In 1976 30 Leyland Leopard s/deckers LTE486-495P MTE13-32R.
In 1977 15 Leyland National s/deckers NEN952-966R, five Leyland coaches OTD824-828R, 30 Leyland Fleetline d/deckers OBN502-511R PTD639-648S.
In 1978 25 Leyland Fleetline d/deckers PTD649-658S, TWH690-704T, seven Leyland National s/deckers PTD667-673S, five Leyland coaches TWH685-689T.
In 1979 11 Leyland Fleetline d/deckers WWH94T YTE584-593V, 23 Leyland National s/deckers WBN462-484T, four Leyland coaches YBN629-632V (buses now in GMT orange and white).
In 1980 34 Leyland Fleetline d/deckers BCB610-618V DWH682-706W, three Volvo coaches DEN245-247W, and 20 secondhand Daimler Fleetlines from London Transport MLH407 452 458 460 465 466 489L MLK584 587 588 591 597 603 615 622 632 634 635 675L TGX710M.
Also the 71 South Lancashire Transport trolleybuses new 1930-1948:
1930 ten Guy BTX/Roe TF2072-2081 lowbridge
1931 twenty Guy BTX/Roe TF5792 5793 5240 5794-5796 5241 5797-5808 6951 lowbridge.
1933 16 Guy BT/Roe TJ3320-3335 lowbridge.
1935 1 Guy BT/Guy full height and all the following.
1936 four Leyland/Roe ATE792-795.
1937 two Leyland/Roe BTE951-952.
1938 six Leyland/Roe DTC261-266.
1943 four Sunbeam Karrier/Weymann FTD452-455.
1944 two Sunbeam Karrier/ Weymann FTE152-153.
1948 six Karrier MS2/ Weymann HTD863-868.
The trolleybuses finished on September 1 1958.
Comment by: cindy on 8th June 2021 at 13:52
Was there 2 bus depots in Hindley I seem to remember 1 on the left (wigan road} before You got to the center of Hindley & another 1 on the left (liverpool road}before You got to Platt Bridge.
Comment by: RON HUNT on 8th June 2021 at 14:10
Mr X you sure know your buses.. I've Just obtained a collection of local bus photographs, Leigh and Wigan. and a lot of Bus and Tram books for all over the country. Some of the photographs show the LUT bus depot but I don't know which one it is?