Photos of Wigan
Photos of Wigan
Album Contents
Album Contents
Wigan Album
Market Place, Wigan
14 Comments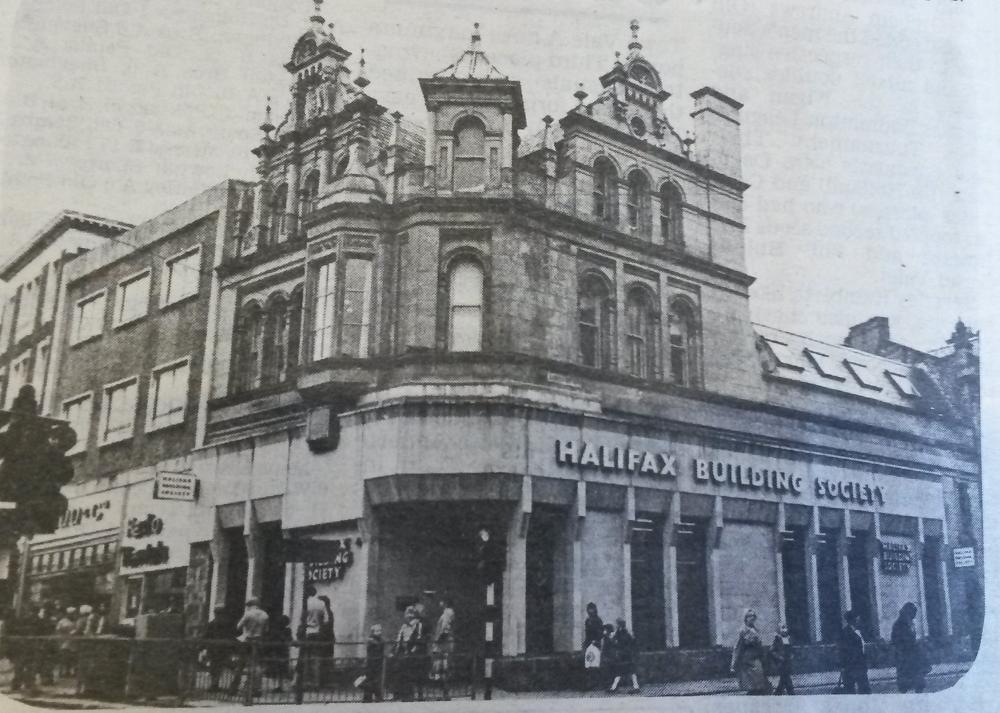 Halifax Building Society
Photo: RON HUNT
Views: 985
Item #: 33161
Now 'THE MOON UNDER THE WATER'
Comment by: Edna on 1st June 2021 at 23:05
I never would have thought that building was once The Halifax, do you know what year this was Ron?
Comment by: Jack on 2nd June 2021 at 00:19
Bought my first record player from there, when it was Broadmeads.
Comment by: Elizabeth on 2nd June 2021 at 07:00
I remember going for a job interview there about 1979 or 1980,but the photo looks older somehow.
Comment by: A.W. on 2nd June 2021 at 09:32
I would guess this photo to date from the 1980's, Dunn & Co Gent's Outfitters shop is visible on the left of the photo, Dunn's shop was on Wallgate opposite the post office till the late 70's or early 80's.
Comment by: Albert.S. on 2nd June 2021 at 09:54
Spent a few hours here on point duty, late fifties, early sixties. The police telephone post was were the boy, or girl is stood. No traffic lights then, just an overhead light to illuminate the bobby on point, and that was a late addition. After an hour on point, you must have breathed in a ton of exhaust fumes.
Comment by: Ian on 2nd June 2021 at 10:42
I remember it being the Halifax in mid 1980's as I used to pay the mortgage there. There was also one in Crompton Street. Then I think for a spell the Market Place branch in the photo became a electric / gas showroom. Unless Ive dreamt it! Can anyone confirm that?
Comment by: DerekB on 2nd June 2021 at 11:34
Don't think it was ever a Gas or Electricity showrooms, Ian. From the late 50s it was Broadmeads selling electrical goods such as radiograms, record players and radios etc. As Jack recalls, in an earlier posting, buying his first record player there. I bought my first Pye transistor radio there. Don't think they ever sold white goods. Prior to Broadmeads I seem to remember it was a bank branch .
Comment by: tuddy on 2nd June 2021 at 12:17
I think it was an electrical shop before it was the Halifax.
Comment by: Albert.S. on 2nd June 2021 at 13:46
Derek B. I can only recollect the Gas & Electricity showrooms in Standishgate, further along from Mesnes Street.
Comment by: Linma on 2nd June 2021 at 16:08
Comment by: DerekB on 2nd June 2021 at 17:15
Albert, the building in Standishgate was the electricity showrooms only. The Gas showrooms were originally in Library Street, moving to Rushtons Building in New Market St. when Pendleburys moved out to their post fire rebuilt store. The final Gas Showrooms were a smaller premises in Standishgate opposite what was C&A and now Primark, though you might not be familiar with these stores which were roughly where Mark Williams butchers shop was.
Comment by: Veronica on 2nd June 2021 at 22:07
I remember the Gas Showrooms opposite C&A. I bought a lovely fire from there for my last house with a wooden fire surround, which would have been in the late 80's early 90's. Excellent quality, - I miss being able to go in a showroom to buy those items.
Comment by: Albert.S. on 3rd June 2021 at 09:53
Thank you DerekB. The time that I am referring to, the gas, and the electricity would have been two separate companies. I hadn't considered that.
Comment by: cindy on 4th June 2021 at 15:40
My mother bought an H M V reel to reel tape recorder from Broadmeads in the sixties And It still works.