Photos of Wigan
Photos of Wigan
Album Contents
Album Contents
Wigan Album
WIGAN MARKET
5 Comments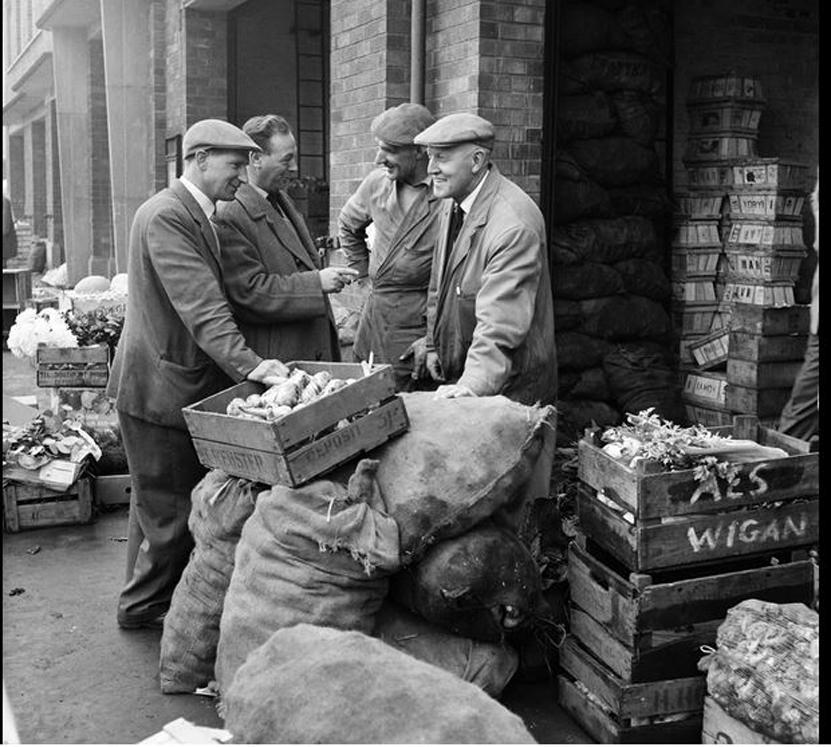 Wigan market 1960
Photo: Keith Beckett
Views: 818
Item #: 33152
Market stallholders getting organised with supplies for another day selling to the locals.
Comment by: Jack on 24th May 2021 at 07:51
I think AES on the crate was AE Saunders.
Comment by: Veronica on 24th May 2021 at 08:00
That generation of men always kept up appearances with their shirts and ties and baggy suits, not forgetting finishing off with the flat cap even for work. It was almost like a uniform, perhaps because it was in a way, a remnant from their days of serving in the forces. I remember when I first left school it was the same in factory's and later on at the ROF they still wore shirts and ties underneath their obligatory overalls and peaked caps. No matter how messy the job was. Just an observation of how I remember those days.
Comment by: Edna on 24th May 2021 at 08:03
Its really good these photos were taken of old Wigan Market, for us to look back on, thank you Keith for sharing. They bring a lot of memories back. They all have their suit's on as well.They seemed to do everything in their suit's, even working on the market's.
Comment by: Keith Beckett on 24th May 2021 at 12:21
Jack. In a 1960's directory AE Saunders are listed as fruiterers in Wigan Market. Well done.
Comment by: g p on 28th May 2021 at 02:42
The crate on the sacks says Websters on it,there is a couple of Websters farm around the Rainford area.