Photos of Wigan
Photos of Wigan
Album Contents
Album Contents
Wigan Album
PUBS
4 Comments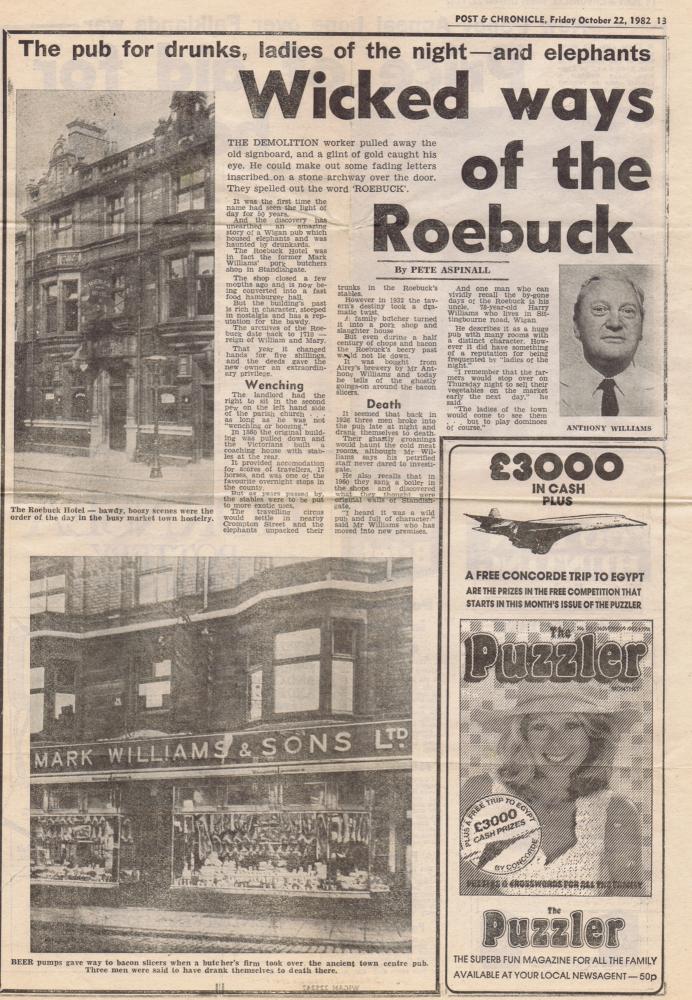 ROEBUCK HOTEL NEWSPAPER CUTTING 1982
Photo: RON HUNT
Views: 631
Item #: 33123
CUTTING FROM THE POST & CHRONICLE OCT.1982. ANOTHER OF WIGAN'S LOST HISTORIC BUILDINGS
Comment by: alan winstanley on 28th April 2021 at 14:27
I know we have to move with the times but there is something endearing about how are old buildings were as for myself i miss the OLD ways and buildings ..
Comment by: Carolaen on 28th April 2021 at 16:09
Alan. I don't know about the building but I certainly miss the old Mark Williams shop. Its been 50 years (Where does the time go ?) since I left living in Wigan but I still remember the taste of their mini pork pies with the jelly. Savoury Duck anyone ?

PS I googled the name and an entry came up for a small butchers shop in Ashton. is this the same company ?
Comment by: Veronica on 28th April 2021 at 16:24
Fascinating reading, so much interesting history in Wigan going back centuries if you care enough to look for it. Next time I'm in Wigan I will look up at the building and imagine the events that happened. From across the road of course. You never know I might see a ghost looking out of the window.
Comment by: Cyril on 28th April 2021 at 16:33
What a superb building The Roebuck was, a pity the ground floor was altered for Mark Williams, though the upper facade is still there. In the late 1960s when working at the Co-op I would walk past Mark Williams twice a day and there was a permanent smell drifting up to Standishgate from the alleyway to the abattoir, it was always gut wrenching but even more so in summer!