Photos of Wigan
Photos of Wigan
Album Contents
Album Contents
Wigan Album
The National Museum. The Aboretum.
4 Comments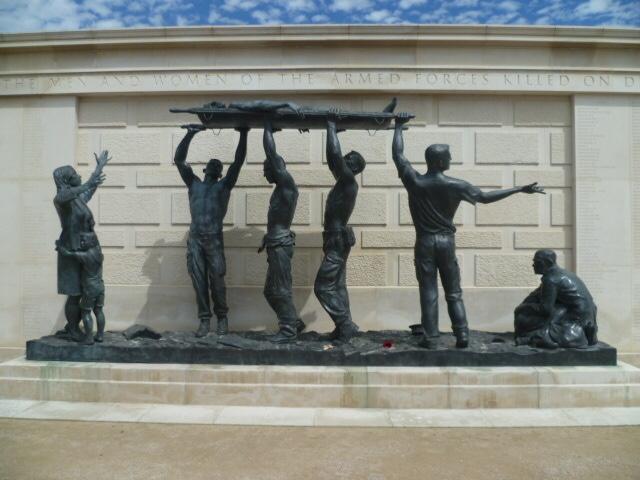 National Memorial. Wigan's fallen are remembered there.
Photo: Albert.S.
Views: 932
Item #: 33122
Some may ask. What has this got to do with Wigan. The very substance of the National Memorial is made up of every city, town, Village, or Hamlet of the United Kingdom. The depiction is just a small item of its large expanse, encompassing many, many monuments, and memorials to the Army, Navy, and Royal Air Force. The main memorial itself contains thousands of names, that lost their life in safeguarding our nation. God Save the Queen.
Comment by: Cyril on 27th April 2021 at 13:47
Thanks for sharing this photo Albert, I hadn't seen it before.
Comment by: Rainh on 28th April 2021 at 01:20
Thank you for posting Albert.
I was reading about the ages of the young boys who enlisted in the British Army during WW1. Also about Sydney Lewis who was the youngest at 12 years and 5 months . He was fighting on the Somme at just 13. Thankfully for him he was sent home after a few weeks after requests by his mother. I read that boys 14 and over were coming forward in droves to enlist, which they were allowed to do even though the enlisting sergeants knew full well they were under age. Some say you had to be 19 to fight others 18, which ever was correct they were neither. We owe those young men so so much. To see their young faces in their army uniforms when basically many were still just kids. It's heart-rending.
Comment by: Helen of Troy on 28th April 2021 at 07:24
It is a very moving place to visit & the main memorial says it all about war.
Comment by: Albert.S. on 29th April 2021 at 09:09
In addition to the monuments, and memorials to the armed forces, there are numerous others, acknowledging the humanitarian organisations that unselfishly dedicate themselves to alleviating suffering throughout mankind, and the animal world. It amazed me, plaque after plaque, in the merchant navy area, how many ships, of different shipping lines, were sent to the bottom of the oceans', and seas'. by enemy action. Thousands, and thousands of tons.