Photos of Wigan
Photos of Wigan
Album Contents
Album Contents
Wigan Album
Market Street, Wigan
7 Comments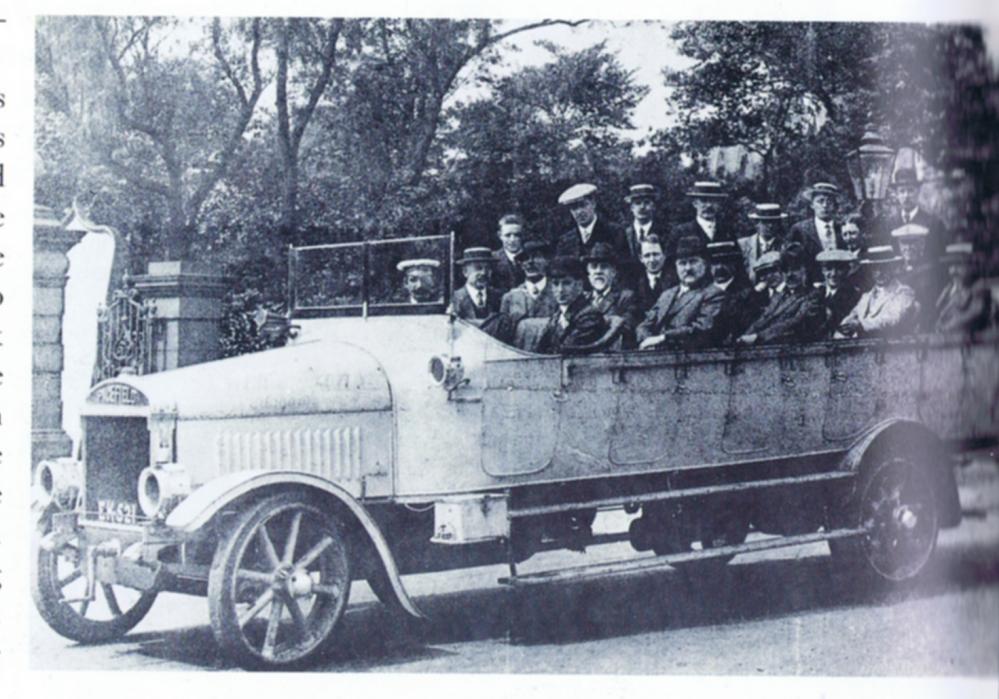 Smiths Charabanc 1921
Photo: RON HUNT
Views: 863
Item #: 33096
Ready for a day in Balckpool. Charabanc made by Walkers Bros.Engineers Wigan
Comment by: Phil Taylor on 15th April 2021 at 19:20
Parked up outside the entrance to Mesnes Park at the Junction of Bridgeman Terrace and Mesnes Park Terrace
Comment by: Cyril on 15th April 2021 at 19:28
Mmm, going to Blackpool on that would be fun, wonder how many times they had to stop to retrieve blown off hats.
Comment by: Jack on 17th April 2021 at 10:30
I would think they spent more time travelling there and back, than they spent in Blackpool.
Hi Ron,
I am pleased you posted the evergreen photo of the Smith owned, Walker Bros Charabanc again, as there were circa 730 views when I posted Item 31952 but no comments; so hopefully your clearer photo might enable Wigan World readers to identify more of the passengers on the Charabanc?
Also, could you please clarify that 1922 is the newspaper publication date and that the photograph was taken, circa 1912/3, as according to Wigan Heritage Centre photo, item 31949 the gentleman with the distinctive beard is Mr. E. R. Walker, who died in 1923.
Comment by: RON HUNT on 17th April 2021 at 10:57
Hi John, didn't realise it had already been put on the site. I got the image from a book and it stated the photograph was 1921?
Comment by: RON HUNT on 17th April 2021 at 10:59
John's posting from the other image.on the site
Walker Brothers (Wigan) Ltd employees about to set off on a 12 mph trip to Blackpool in one of the towns first charabancs made by Walkers and owned by Smith Tours.
E R Walker WW item 31949 is most probably the gentleman with the distinctive beard and possibly Jim Walker with the flat cap and John Staveley Chief Patter Maker on left of E R Walker.
Can any ex employees or descendants of the following Walkers heads of department and or pattern shop employees supply any further information
Messrs L Chamley G H Sauter R Seddon J H Norris E Hall S Hall S Penson W Williamson and W Nicholls some of the Pattern shop employees Messrs James Walmsley John Mort Joseph Ball Arthur Gibson Will Rimmer Ralph Rimmer Joe Malady and John Leyland
The esteemed author of the book might, like me putting Charabanc 1922 instead of 1921, have made a similar typo and put 1921 instead of 1912 as my great grandfather John Staveley seated on E. R. Walkers left died in 1913 so most probably 1912 photo?