Photos of Wigan
Photos of Wigan
Album Contents
Album Contents
Wigan Album
Market Place, Wigan
9 Comments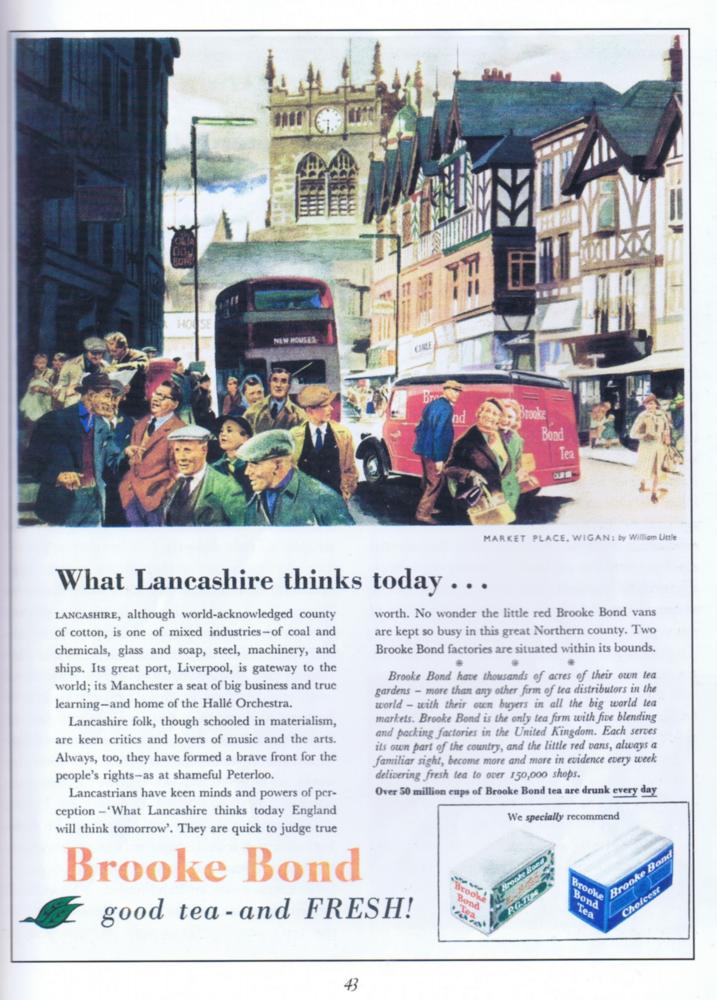 BROOKE BOND TEA ADVERT
Photo: RON HUNT
Views: 829
Item #: 33093
1950's advert for Brooke Bond Tea
The Brooke Bond van is a Trojan - I have a Dinky Toy model of it. One of the engine options for it was the Perkins 3-cylinder diesel - and my narrow boat was powered by an early post-war model of it (said to have been a Brooke Bond spare engine) - sadly I had to replace it in about 1997 as it eventually succumbed to the effects of the boat having sunk at its moorings five years earlier. Its replacement was a 1963 refurbished ex-Army JCB Perkins 3-cylinder engine - which is still going strong.
Did a Wigan bus ever carry a blind for "New Houses"?
Comment by: RON HUNT on 13th April 2021 at 20:26
Rev I'm sure there was a part of Pemberton or Winstanley they called NEW HOUSES??
I have an original Brooke Bond Tea enamel sign that was once outside of a shop, advertising 4d a lb off! xx
Comment by: Edna on 13th April 2021 at 22:45
Quite a lot of information on the Brook Bond tea advert, I like the photo.I remember writing a small shopping list for my mother, to help me with my spelling, as I was going to the Co-oP for her, at the top of our street,when I was a young girl,and I can hear her saying "If they haven't got Brook Bond tea, don't get any." Just a little memory. Thank you Ron.
Comment by: Dave johnson on 13th April 2021 at 23:04
I think the bus to Windy Harbour used to be called New Houses?
Comment by: Veronica on 14th April 2021 at 10:57
Far more interesting Town in those days compared to the bleak place it is now. A good mix of working class and the aspiring middle class folk. To me
( through the eyes of a child )Scholes were 'working class' and people who came from around Wigan Lane area were the 'posh folk' . These days there's hardly any difference.
Comment by: DerekB on 14th April 2021 at 11:57
Rev David Long. Wigan Corporation buses definitely had a route designated New Houses. Never quite knew where it went but the bus on that route went down Wallgate and on beyond Newtown somewhere.
Comment by: Dave johnson on 14th April 2021 at 13:22
DerekB the bus went up Victoria St.
Comment by: DerekB on 14th April 2021 at 15:56
Dave Jphnson - thanks for that info.