Photos of Wigan
Photos of Wigan
Album Contents
Album Contents
Wigan Album
market outdoor
10 Comments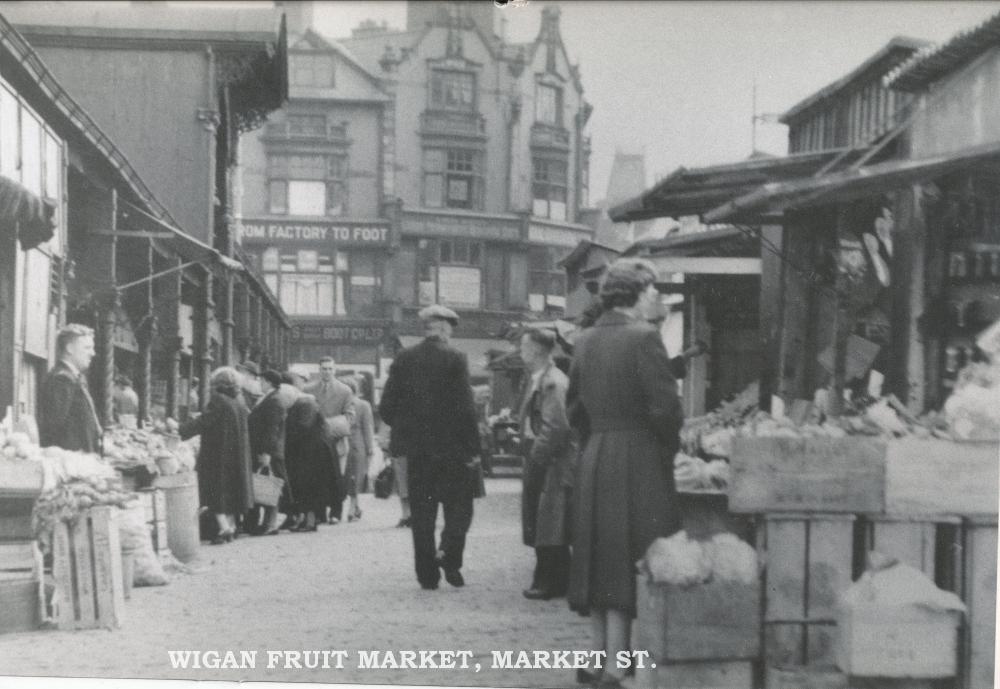 Market Street Outdoor Fruit Market
Photo: RON HUNT
Views: 1,528
Item #: 33082
Photograph taken 1950's
Comment by: Darlier on 9th April 2021 at 12:52
That's my dad on the extreme left who is stood in between the fruit and veg boxes waiting for a sale.
He went on to run Macs stores in the fruit market. I spent many years helping and have some great memories. My family had an opportunity to go into the current market but didn't take it up.
Comment by: RON HUNT on 9th April 2021 at 15:23
"1 kilo of potatoes, 1/2kilo of onions and 250grams of peas please...".
Comment by: Edna on 9th April 2021 at 15:50
Its lovely when an old photograph pops up on here, and some one recognises someone in their family or a friends Time's gone sadly.
Comment by: Cyril on 9th April 2021 at 16:15
Customers would have probably got rotten tomatoes thrown at them if they'd asked that in those days Ron.

I still always ask for a pound or so this or that, and also a quarter of whatever, though probably get the equivalent in the metric weight.
Remember the Newcastle market greengrocer who was hounded through the courts by bureaucrats because his customers preferred his produce to be marked up and sold in pounds and ounces rather than metric, I couldn't see why it mattered, as in France you could have asked for un libra of potatoes, for example, and they would weigh the potatoes using a one pound weight on their scales. Thankfully it doesn't matter, since we are now thankfully free from the EU silly laws that we adhered to and they all ignored.
Comment by: Joe Thomas on 10th April 2021 at 13:28
Here here Cyril i wont talk centigrade always fahrenheit
Comment by: RON HUNT on 10th April 2021 at 13:37
I've been trying to find out what the name of the shop in the background "? Boot Co.Ltd. "FROM FACTORY TO FOOT" I've checked a couple of Directories but can't fine anything?
Comment by: Jack on 10th April 2021 at 14:23
I remember some of the stalls used lanterns when it went dark.
Ron, I actually feel I remember that "from factory to foot" sign from when I was a small child in the 1950s. Perhaps I'm wrong and just imagining it. It's so tantalising just not being able to quite see the name!
Comment by: Cyril on 10th April 2021 at 19:03
Ron, you put another photo on the Album of that shop and Meeson's, link below, it was Northants Boot Co Ltd.

https://www.wiganworld.co.uk/album/photo.php?opt=4&id=16735&gallery=Market+Street&page=1

and when you paid 2/6d for an empty Quality Street tin Irene.
Comment by: Edna on 11th April 2021 at 21:59
I think this poem is just right for the 1950s. Sent to me by a friend. Back in the days of tanners and bobs, When Mothers had patience and Fathers had jobs. When football team families wore hand me down shoes, and TV gave only two channels to choose...Back in the days of three penny bits, when schools employed nurses to search for your nits.. When snowballs were harmless; ice slides were permitted, and all of your jumpers were warm and hand knitted. Back in the days of hot ginger beers, when children remained so, for more than six years. When children respected what older folks said, and pot was a thing you kept under your bed. Back in the days of listen with Mother, when neighbours were friendly and talked to each other. When cars were so rare you could play in the street..When Doctors made house calls; Police walked the beat. Back in the days of Milligan's Goons, when butter was butter, and songs all had tunes. It was dumplings for dinner and trifle for tea, and your annual break was a day by the sea.Back in the days of Dixon's Dock Green. Crackjack pens and Lyons ice cream..When children could freely wear National Health glasses and teachers all stood at the Front of their classes..Back in the days of rocking and reeling, when mobiles were things that you hung from the ceiling... When woodwork and pottery got taught in schools,and everyone dreamed of a win on the pools..Back in the days when I was a lad,I can't help but smile for the fun that I had..Hopscotch and roller skates, snowballs to lob..Back in the days of tanners and bobs.