Photos of Wigan
Photos of Wigan
Album Contents
Album Contents
Wigan Album
saddle junction
14 Comments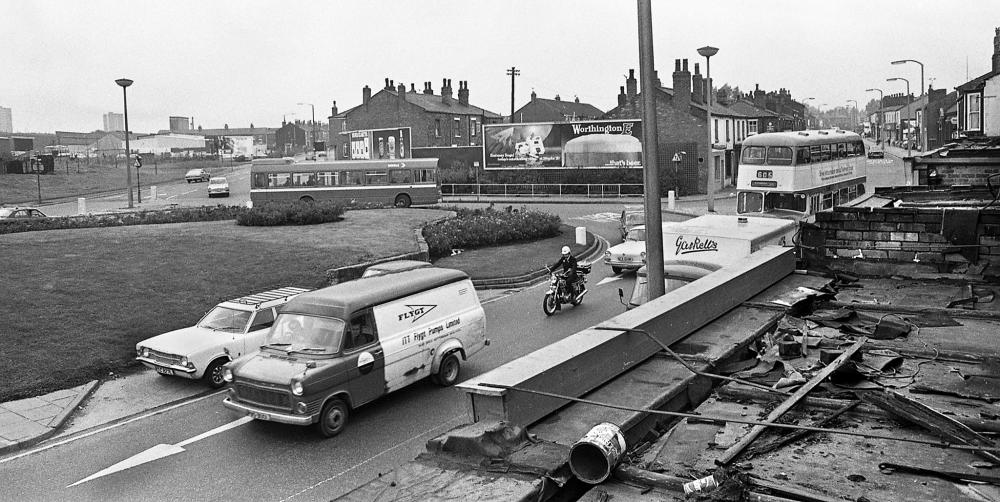 SADDLE JUNCTION
Photo: Frank Orrell
Views: 2,367
Item #: 32754
The Saddle junction in the early 1970s with Ormskirk Road on the right and Warrington Road on the left with the Worsley Mesnes flats in the background.
Comment by: Poet on 1st November 2020 at 09:20
I remember as a boy watching with utter fascination from the front seat of the bus , how the driver had to wrestle the steering wheel first right , then left , then right again in order to get round the Saddle and into Scot Lane .
The driver then was isolated in a little cab and to my eye the wheel looked huge like that of a sailing ship .
A brilliant photo Frank that's stirred a tiny memory that I'd forgotten all about . Cheers.
Comment by: Mr X on 1st November 2020 at 09:47
Saddle junction where two main roads Ormskirk and Warrington Road converge (almost three with Victoria Street and Billinge Road that goes to St Helens). There is a big LWB Ford Transit van and a motorcycle behind, and parked is an early Mk3 Ford Cortina estate with a roofrack.
I don't remember the junction when there was grass and flower beds. The trio of flats at Worsley Mesnes demolished in 1991 were Dryden, Thackeray and Masefield House. Two advertisment boards showing cigarettes and beer. The two buses are an ex Wigan Corporation GMT Leyland long PD3 with Northern Counties, not Massey body and is GJP11-16 and HJP5-11. The Ribble is an early Leyland National and that is a PTF L or NTC M registration on account of the long roof heating pod. (later Nationals had shorter roof pods).
The flat roof of that building is in a dangerous state and needs urgent repairs. One thing I remember just up the road was a taxi firm with battered Datsuns, later Ford Orions known as rent a wreck.
Comment by: Cyril on 1st November 2020 at 15:42
The driver of the Flygt pumps van seems to have spotted you Frank, just to the left of the photo stood the Queen's Head, it was a superb pub though with being on an island in the middle of roads could be a tad dicey to get to, and especially after a few pints, from.

The Chinese take out behind the Worthington E ad hoarding was one place locals wouldn't go, there were copious gory horror stories doing the rounds, thankfully it was closed down following inspection, allegedly after a bag of pelts was found dumped locally.
Comment by: DH on 1st November 2020 at 15:51
I remember as a kid taking the number 1 bus back home from Wigan to Ashton in the 70's, there would be some allotments and then a sweet smelling bakery factory on the left. If I went up Ormskirk Rd to my nan's at Norley, or my mum's work at Plessey's, I would always marvel at how those terraced houses seemed so ornate and fancy
Comment by: james rudd on 1st November 2020 at 19:17
I remember a derelict pub on the traffic island,just off photo, sneaked into it to explore with some mates before it was demolished late 60,s i think. Also Browns off licence at the entrance to Scot Lane in mid 70,s where we would get booze under age. Further up Ormskirk Rd was Aladins Cave. Used the Rent A Wrek cars when first married in 1980 and did our Big Shops at Asda, they were filthy and smelled of petrol. Happy days.
Comment by: Gary on 1st November 2020 at 20:18
That set up looks like it would work better than it does today......with a little tweaking.
Comment by: Cyril on 1st November 2020 at 23:50
Spot on there Gary - it was simple to negotiate and it did work, that is until the early 1970s when the Queen's Head pub on the island closed and the traffic department began (as they then called it) to improve the layout and allow more traffic flow, thus the start of the endless chaos at the Saddle Junction.
Comment by: CJAlan on 2nd November 2020 at 08:51
Thank you for this picture.

I grew up in Pemberton and I went to St Thomas More just round the corner.

I remember the layout of the junction remained unchanged until around 1999/2000 when they got rid of the central island and put in multiple lanes going straight across.

I don't remember the concrete lamps with the circular bowls - the junction has always been lit by steel lighting columns in my life time, although the concrete ones further up Ormskirk Road were around until the early 1990s.

Them were the days before LED when roads were lit up by orange.
Comment by: WN1 Standisher on 2nd November 2020 at 13:31
The motorcycle looks like a Honda, possibly a CB250
Comment by: Farrie50 on 4th November 2020 at 14:49
In the early 50s we lived in a terraced house about where the estate car is parked.It was a one up,one down with a small scullery, outside lav,gas mantles for lights and ONE electric socket.Next door but one was a pub (queen's head?)Mam Dad my sister and me all slept in the room which was candle lit, freezing in winter.Good old days eh??????
Comment by: g p on 14th November 2020 at 14:05
the van with Gaskells on is from their bakery in old rd Ashton
Comment by: Dave johnson on 24th March 2021 at 21:23
Only two blocks of flats in view the other is the top of Rathbones bakery.